Article
Home of the Month: William Martin Armistead Home
An elegant 1940 Colonial Revival on its own private island.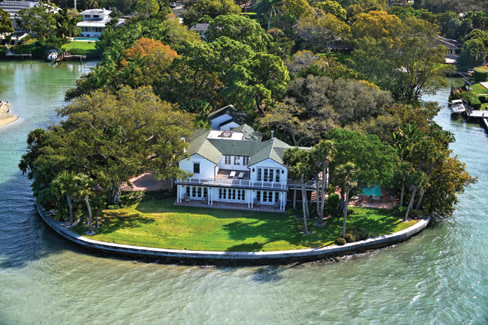 The grand old homes of the pre-war era that add such character to cities up North are a rarity in Sarasota. Here the housing stock was much simpler, more rustic. But a few of these American classics were built here and are still around—though none has quite as much style and panache as this one.
Constructed in 1940 as the retirement home of advertising pioneer William Martin Armistead—his launch of Camel cigarettes in 1913 created the modern tobacco industry—the residence sits on a unique 1.14-acre island where historic McClellan Park meets the bay. You enter through a gated landbridge to discover an old-Florida landscape of oaks, pines and palm trees, with the blue of the bay waters shimmering on every side.
The home itself is Colonial Revival. An old-fashioned porte-cochère greets guests, and there is a detached garage with a second-floor guest apartment. A heated saltwater pool is tucked away on one side, along with a full-sized tennis court. There is also a boat dock and canal access for protected mooring.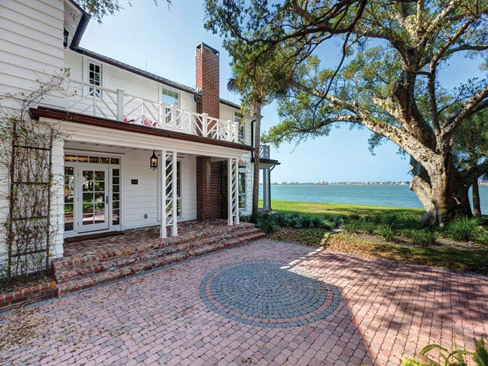 The interior features large, airy rooms that evoke the privileged feeling of a Katharine Hepburn-Spencer Tracy movie. One almost expects a tinkling piano in the next room, or a tea party out on one of the many terraces. A tent can be set up on the lawn for large-scale entertaining; the property can accommodate several hundred guests with room to spare.
Though the atmosphere is drenched in nostalgia, the home has been beautifully maintained and updated. The large kitchen has every convenience, including top-of the-line appliances and black granite countertops. The master bath has been substantially enlarged, with a glamorous tub clad in Mexican onyx.
The Armistead home is listed on the National Register of Historic Places. It contains four bedrooms and five baths, and is priced at $8,995,000. For more information call Joel Schemmel (941-587-4894) or Cheryl Loeffler (941-302-9674) of Premier Sotheby's.
Click here to read Bob Plunket's "Real Estate Junkie" blog.