Article
One Great Room: Master Bedroom in Jewels on the Bay Showhouse
A serene master bedroom steals the show at Sarasota's Jewels on the Bay showhouse.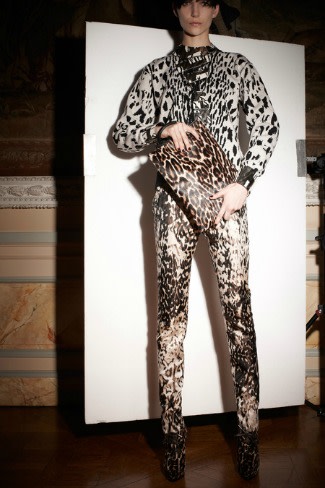 Nothing murmurs "sweet dreams" like this master bedroom dressed in soothing neutral tones of ivory, beige and gray. Architect and interior designer William Dobson, who moved to Sarasota and opened Grand Design in August after 27 years with an architectural firm in Tampa, created a lot of buzz with this room he designed for this winter's 18th annual Jewels on the Bay Showhouse.
Dobson got the look by keeping the color scheme muted and adding a mix of rough and refined textures, a pop of green, and a little bit of sparkle, "just enough to give it an edge," he says.
The room's architecture assisted him in his mission, he says. Surrounded on three sides with abundant tropical plants and views of Sarasota Bay, it felt separate from the rest of the house. "The other architectural feature was the vaulted ceiling," he says. He covered the original rough textured drywallwith tongue-in-groove planks. "It created something that echoes Florida more than just plain drywall," he says.
Elements of Style
Subtle paint choices laid the foundation for the serene design. Dobson chose off-white for the ceiling and grayish beige ("I call it greige") to provide a slight contrast for the walls. He drew inspiration from the natural Belgian linen headboard and the draperies, which have a natural linen stripe with ivory stripe.
The floor-to-ceiling drapery softens surfaces. "They weren't done to cover the windows, but instead to acoustically bring the sound factor down to literally no echo," he says.
A hand-knotted wool Moroccan rug in the same silvery gray and ivory tones of the rest of the bedroom grounds the design. "It's one of my favorite items in the room, and it sold right away," says Dobson. The rug is placed over handsome driftwood-toned white oak floors that the homeowners installed to replace tile and carpet that had run throughout the house.
Texturally speaking, Dobson contrasted rough raw-wood elements with more refined linenandsmooth marble urn lamps on the mirrored nightstands.
A tri-toned green throw, a jade plant on the nightstand and Dobson's own green-hued painting propped under the console inject colorand help bring in the foliage in from outdoors, he says, "kind of like adding spice."
For sparkle, a variety of metal finishes was selected: silver leaf on the chandelier arms and silver foil on the interior of the shades; polished silver on the silver- button reed bowls; and tarnished silver on the tripod lamp and small table lamp on the console under the window. Metallic-fabric bed pillows add more shine. And even the chair upholstered in ivory chenille has silver nail-head trim.