Article
The Luxury Home
Building news on Longboat Key, a report from the Parade of Homes and more.

On the Homefront
With the announcement this spring of its first luxury beachfront condominium project in nearly seven years, sleepy Longboat Key is starting to stir.
The 11-residence Infinity, on the site of the old Holiday Beach Resort at 4765 Gulf of Mexico Drive, kicked off sales in March. Residences will range from $2,825,000, for a three-bedroom, three-and-a-half-bath unit with 3,380 square feet, to two four-bedroom, four-and-a-half-bath penthouses with 5,456 square feet for $4.95 million each.
"The timing is perfect," says Amy Drake, director of new homes and condominiums for Michael Saunders & Company, which is handling sales for Atlanta-based developer Crossgate Partners. "Nothing new has been built for nearly seven years. The luxury market is making a strong rebound. Plus, there's just not much to buy on Longboat Key; there are limited resales, and buildings with these amenities and price point are 15 to 20 years old now."
Originally rolled out by Crossgate Partners in 2006 as Bleu Claire, the project collided with the real estate meltdown of the late 2000s. After recent focus groups revealed that buyers are looking for a fresher, more contemporary look, they retooled the units slightly and went to Mark Sultana of DSDG Architects for a cleaner-lined "Coastal Contemporary" design. "They extended the terraces and they're huge, with room for summer kitchens," says Drake. "Some of them are larger than a downtown condo."
Crossgate Partners also developed the Bay Street Village retail center in Osprey, and has built projects on Madeira Beach and in Miami. It also owns the Postcard Inn on St. Pete Beach.
Drake says the announcement about the Infinity was released to the broker community on a Friday, and by Monday the first reservation had already come in from a Maryland buyer. "Interest has been extremely high," she says.
Marketing by Design
Kudos to Joel Schemmel of Premier Sotheby's International Realty for coming up with a bright way to garner international attention for a unique property: an international design competition for architecture students around the world.
Schemmel calls the assemblage of Indian Beach property, set on five acres with 600 feet of bayfront, a "once in a generation" opportunity. It is anchored to the north and south with two houses—one built by noted architect Thomas Reed Martin in 1935 and the other built in the 1950s—which he suggests would make good guest, staff or office quarters. The entire property is listed at $12.9 million, making it at press time the fourth-highest-priced residential listing in Sarasota County.
A $2,500 prize is promised to the first place winner, and Premier Sotheby's will feature the top three winning designs in its international marketing materials.
After contacting architecture schools around the country and posting on several websites, Schemmel says more than 50 students from places as far flung as India, Taipei and Hungary had applied in just a couple of weeks.
"It's a fun time in real estate again," says Schemmel. "Things are very dynamic right now."
Best of the Parade of Homes
Model homes from Parrish to North Port tooted their horns in this year's Parade of Homes, and by mid-March more than 20,000 people had toured 66 models in developments ranging from Tidewater Preserve on the Manatee River to Harbour Isle on Anna Maria Sound, Lakewood Ranch, The Founders Club and The Venetian Golf & River Club. There was even a smattering of new models in the established West of Trail area of Sarasota.
This was the fourth straight year that the number of parade models increased since the start of the Great Recession, says Alan Anderson, executive vice president of the Home Builders Association of Manatee-Sarasota. "That's a good thing," he says. "More of our builders are back in the parade and back in the market, and they're reporting a lot of homes being contracted."
There's also been a change in the composition of buyers, he says. While for "the last few years the lower end of the market was selling, and there are always people who continue to buy at the upper end, the middle section—from the mid-$300,000s to $700,000—was kind of slim," Anderson says. "That's come back this year."
Neighborhood Watch: Indian Beach/Sapphire Shores
BY THE NUMBERS
.......................................
1,000
Number of Indian Beach-Sapphire Shores properties
.......................................
62
Number of sales in 2012
.......................................
$62,000 to $3.2 million
Range of sale prices
.......................................
824 to 6,073
Square footage of homes sold
.......................................
Lucky residents of Indian Beach and Sapphire Shores, two of Sarasota's oldest, most eclectic neighborhoods. They have a broad swath of Sarasota Bay and leafy, mansion-lined Bay Shore Road at their doorsteps, and plenty of access to Sarasota Bay thanks to two well-used bayfront parks. "People can enjoy the sunsets, throw a ball for the dog and even launch kayaks, canoes and small sailboats in several locations," says David Jennings of Coldwell Banker Residential Real Estate.
Bounded by the Ringling College of Art and Design to the south and the Ringling Museum-FSU Center for the Performing Arts complex and New College to the north, Indian Beach and Sapphire Shores attract a vibrant, creative group of homeowners. The vast range of homes, from the turn of the last century to ultra-modern, reflects the diversity of the residents. "On a walk through the neighborhood, you may see a millionaire opening her bayfront house for the season within a block or two of someone building a tepee in their back yard, which is just across the street from a new house being built, just around the corner from a world-renowned mid-century renovation," says Jennings. "And watch out for the peacocks."
Top of the Market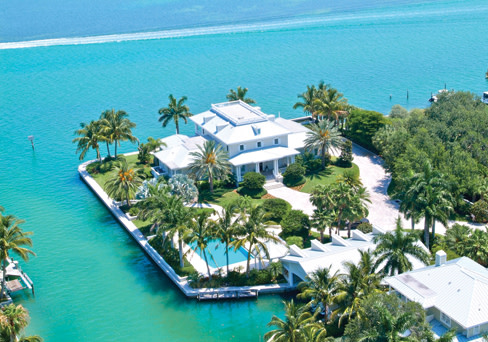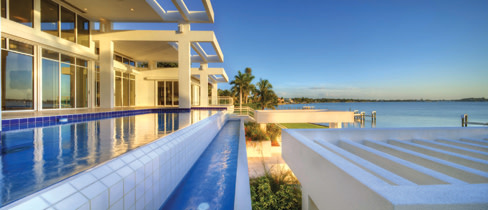 In one lightning-quick week between the end of February and beginning of March, two big, big residential real estate sales made top-of-the-market headlines.
First, the magnificent Snook Inn estate at 3410 Flamingo Ave. on the north end of Siesta Key sold in February to a couple from New England for $10 million, making it not just the top sale of the month, but one of the five highest all-time residential sales in Sarasota County. Designed by architect Cliff Scholz in a coastal style and built in 2000, the almost 7,200-square-foot home sits on nearly two acres on Bay Island and has 500 feet of waterfront on Sarasota Bay and Hansen Bayou. It has a one-of-a-kind deep-water boat house that accommodates two boats. Marcia Salkin and Paulene Soublis were the listing agents; Pam Charron represented the sellers. All three are with Michael Saunders & Company.
A week later, the sleek, chic, ultramodern Nelson residence at 1452 Hillview Drive in Harbor Acres sold for $7 million, after just three months on the market. With a soaring open floor plan and acres of travertine floors, the 6,700-square-foot home opens out to a broad terrace with infinity pool along the south-facing shoreline. There's garage parking for eight to 10 cars. Kim and Michael Ogilvie of Michael Saunders & Company were the listing agents; John Woodward of Sarasota Real Estate Group represented the buyers, who are an international businessman and his wife from New York who've owned another home in Sarasota for several years.
For more Sarasota real estate news, read Bob Plunket's Real Estate Junkie blog.