Real Estate Junkie
From the Archives: Villa Solstice
Our April 2013 Home of the Month is a Sarasota gem: Charles and Kim Githler's Villa Solstice.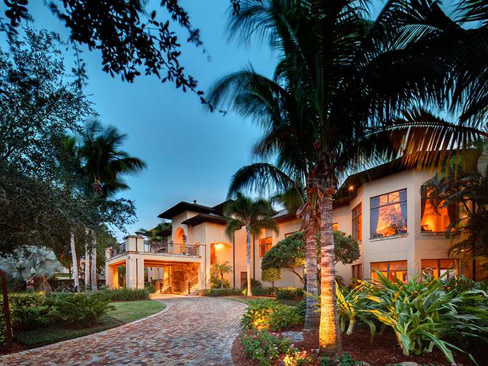 Editor's note: A fire this past weekend caused major damage to Villa Solstice, the multimillion-dollar former home on South Shore of now-divorced power couple Charles and Kim Githler and our April 2013 Home of the Month. Cause of the fire is being investigated.
The wood paneled study in Charles and Kim Githler's home has the mellow, well-cushioned feeling of great power and wealth. It's the kind of place where important decisions are talked over and confidences are exchanged. Just ask John Boehner, Newt Gingrich and Rudy Giuliani, all of whom have settled into its buttery leather armchairs during their visits to Sarasota in search of cash and support for Republicans with presidential aspirations.
The Githlers, who made a fortune in investment seminars and real estate, named their home Villa Solstice. The Githler home is unique in Sarasota, and not just for its social history or because it is one of the most expensive real estate listings in town. It's got more than 11,000 square feet of living space, two elevators, parking for eight cars and the most spectacular view in town—facing south, across the water to Longboat Key and downtown; the vista changes from room to room. That it also has a game room, a gym, a catering kitchen, servants' quarters, theater, bar, aquarium wall, music room, wine room and two docks almost goes without saying.
The museum-area home was completed in 2005 and built to unusual standards. Twenty-seven pilings go down to bedrock, and the roof is slate. And though the feeling is a successful mix of Mediterranean and Palladian, the concept is more Polynesian—three separate wings, connected by "bridges," offer privacy and intimacy unusual in a house so large.
The central wing has lavish spaces for entertaining, including a living room with high, coffered ceilings and a fireplace. There's a multi-sided music room with a grand piano, a leather-clad bar, and an octagonal dining room with a Baccarat chandelier and silk-paneled walls. To the west is the family wing—two bedrooms, each with a bath, and a family room on the main level, with the elaborate master suite upstairs. It features his and her baths and room-sized closets, plus an office.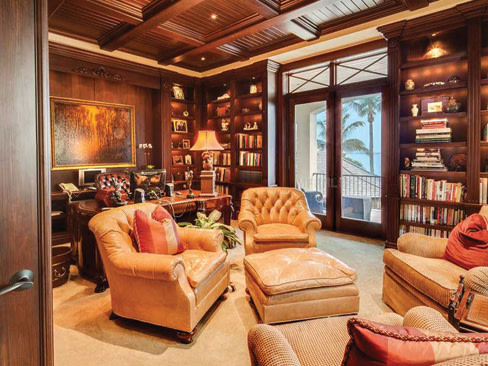 The kitchen, which adjoins two informal dining areas, one indoors and one outdoors, is surprisingly small. It's designed for the preparation of family meals. Food preparation for entertaining—the Githlers have regularly entertained as many as 250 guests at a time—is handled in the catering kitchen on the lower level, which is complete with commercial-grade appliances and its own enclosed parking dock.
The east wing of the home contains the atmospheric study and, upstairs, a private guest suite. Like all the major rooms, it faces the water and offers a terrace overlooking the view. The lower level of the home contains spaces for more informal entertaining—the game room, another bar, the theater and gym. All open to a pool with spa and fountain, a gazebo, fire pit, bocce court and two docks, all on 1.2 acres of land.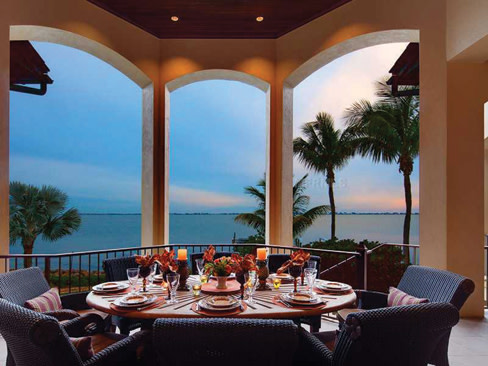 This is a Home of the Month that is more like a Home of the Decade, the decade being 2000-2010, when—at its beginning, anyway—prosperity was at its peak and Sarasota was eager to show its muscle as a reigning capital of Florida affluence and opulence. This is its first time on the market. It's priced at $14.9 million.
374 S. Shore Drive, $14.9 million. Contact Linda Dickinson, (941) 350-3304, Michael Saunders & Company