Article
Close Encounters of the Geodesic Kind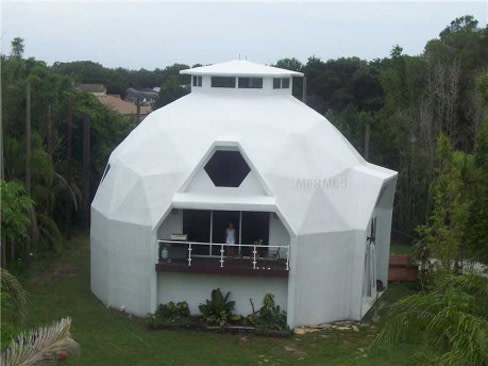 Well, here's something different. A geodesic dome house. It's enormous, four stories high and more than 3,300 square feet (although I must say you have to be a math major to figure the square footage in a house like this.) And it's made out of concrete. And it's not stuck out the country, either, where eccentric owners usually build such things. It's right on Tallevast Road, just a short walk to the Palm Aire Country Club. You've probably never noticed it, as you have to approach down a long driveway and it's pretty well hidden.
[caption id="attachment_866" align="alignnone" width="488"]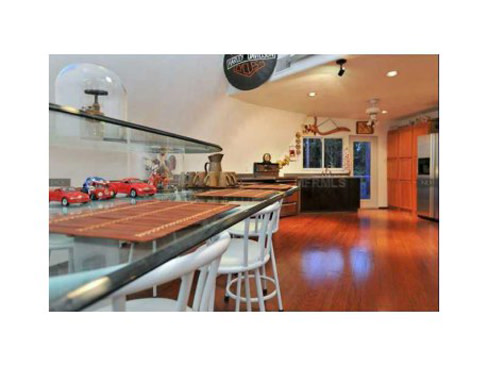 Kitchen[/caption]
A dome house has to be the ultimate man cave. I can't see chicks liking them very much. They take their design aesthetic from the world of machinery and carburetor parts rather than Palladio and Louis the XIV. And with all those strange angles they must be impossible to decorate. Not that men worry about such things--as long as it has a four-car garage, as this one does.
I actually snuck down the driveway to take a closer look, through the barbed- wire fence and the signs that say "Keep Out, Hazardous Materials." I was expecting some shabby hippie lair, but this is really on the level. It's startling, as I said, but very well kept and presentable and looking as solid as the Rock of Gibraltar. I kind of like it.
[caption id="attachment_867" align="alignnone" width="488"]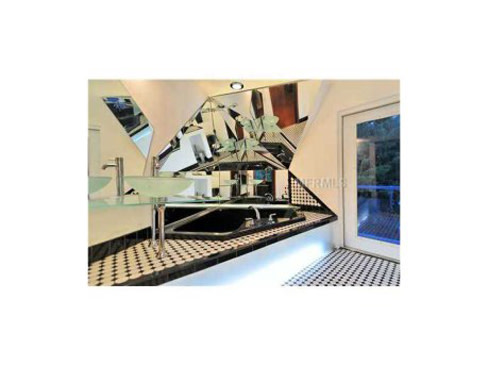 Bathroom[/caption]
It has three bedrooms and three baths and was built in 2004. The asking price is $599,000. I only have two pictures of the interior. If somebody can figure out what is going on in that bathroom, please let me know.
Here's a video tour of the home:
4060 Tallevast Road. Listed by William Geller of ReMax Platinum. 941-374-4530.
See more of Bob Plunket's Real Estate Junkie finds and home tours by clicking here.