Healthy Eats
Recipe: Healthy, Easy Veggie Burritos
Roasted cauliflower makes a great addition to my already delicious veggie burrito.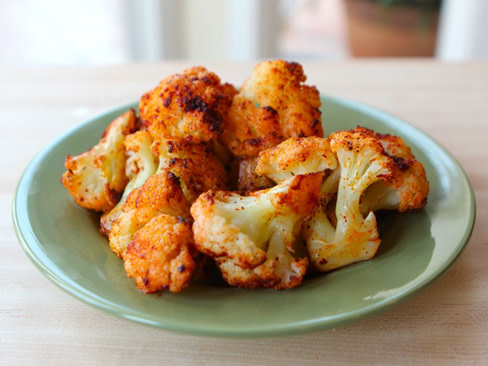 I saw an article the other day touting cauliflower as the next big vegetable—specifically roasted cauliflower. It's packed with nutrients and has some of the lowest pesticide levels, according to the Environmental Working Group. Being impulsive—and a sucker for roasted veggies (broccoli and Brussels sprouts are regular go-tos)—I immediately went out and bought myself a head.
The first recipe I found suggested, as had been my instinct, to prepare it with roasted garlic—sold. This is perfectly delish on its own, but I also saw a suggestion to use the roasted cauliflower as burrito filling.
Immediately I was transported in my memory back to Boone, N.C., circa 2003, when I worked with the Duke T.I.P. program on Appalachian State's campus. There was a vegetarian restaurant there—alas, it is no more—and while I'm not vegetarian, this place succeeded in creating hearty, flavorful vegetarian (even vegan) dishes with a universal appeal.
I still crave their burritos.
Fortunately, they're pretty easy to approximate, and you can really go crazy with the ingredients. For me, it all starts with three keys:
cubed, roasted sweet potato
roasted garlic (the restaurant used whole cloves, which is now, for me, the only way to go)
Those things together in a tortilla make for an explosion of flavor—and so filling, too! No need for anything processed or artificial. And from there you can keep building, filling it up with flavors from the farmers market: corn, avocado, a squeeze of lime, raw onion—you name it—plus any herbs and spices you're craving. (Cheese and sour cream are also perfectly acceptable in my book.)
And now I'm going to add roasted cauliflower to my wrap. Give it a shot—I don't think you'll be disappointed.