Article
13 New Medical Breakthroughs in Sarasota-Manatee
They're happening in our region every day thanks to trailblazing new procedures and technologies.
Medicine is advancing at unprecedented rates. Sarasota surgeon Dr. Thomas Sweeney, who now uses the first robotic system approved by the FDA for spine surgery, compares the current medical evolution to the late 20th century's acceleration of computing technology: "Twenty or 30 years ago, we couldn't have envisioned having powerful computers on our laps," he says. "Now, every 18 months we double our computing speed." Today, he says, medicine is racing ahead at a similar rate, with new treatments and technology that would have seemed like science fiction only a few years ago. Thanks to our demographics (aging residents who want and can afford the latest care), which attract topnotch medical professionals and fuel the growth of state-of-the-art facilities, Sarasota-Manatee residents can enjoy front-row seats in this theater of innovation. Here are 13 medical breakthroughs that are improving—and even saving—lives in our region right now.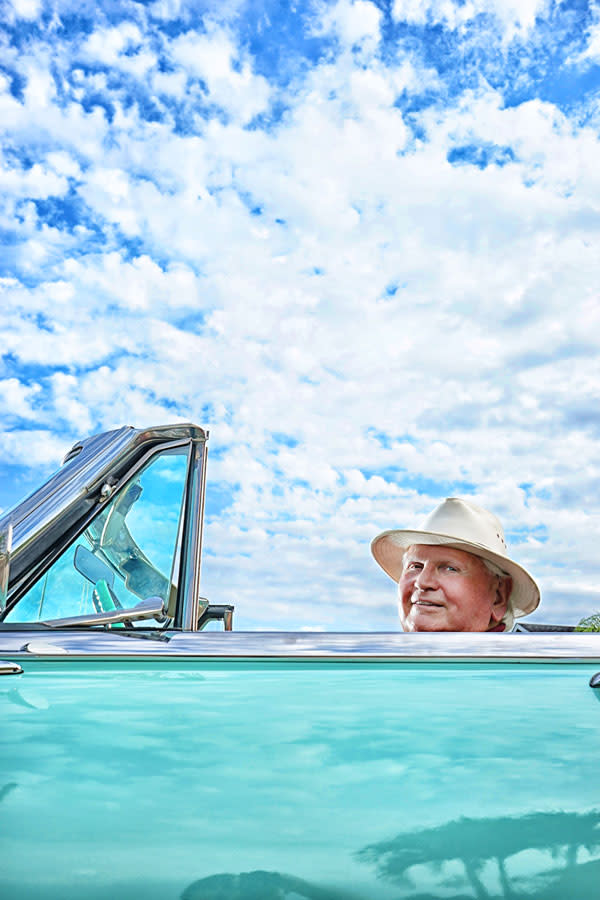 Let There Be Sight
A revolutionary reversal for age-related macular degeneration.
At 78, Bob Kneebone loves cars—driving them, fixing them up, showing them. But a few years ago, a sudden change in his vision threatened his favorite hobby. "I was having trouble seeing the streetlights changing," he admits. By the time he visited Dr. Keye Wong of the Retina Associates of Sarasota, the streetlights had all but faded into nothingness: Kneebone was legally blind.
Wong diagnosed Kneebone with wet age-related macular degeneration. For many patients, AMD can be caught early and slowed down with medications. But until now, it couldn't be reversed. "In my career, all of our therapies were to slow down the decline," says Wong. "The average patient would slowly get worse."
Brand-new medications are changing that prognosis. Wet AMD is caused by leakages of blood or fluid that pool and obstruct the macula, the central portion of the retina, where light-sensitive tissue lines the back wall of the eye. These new medications, called "anti-VEGFs," target the molecule that causes those leakages.
Kneebone was given shots of Lucentis, one of three primary anti-VEGF brands, in both eyes, and he noticed the effects almost immediately. Within a few months, his vision had gone from legally blind to an astounding 20/25. "I don't even use glasses anymore," he says.
He'll continue to receive the injections every eight weeks for the rest of his life, but there's no reason to believe their effectiveness will diminish. Now he's back to spending most of his time behind the wheel or under the hood.
Wong is quick to point out that anti-VEGF medications aren't perfect. Injections to the eye risk serious infection, and not everyone experiences Kneebone's astonishing success. Still, Wong likens the new drugs to finding a cure for pancreatic cancer—the reversal of a seemingly unstoppable disease. "People just lost vision before these medicines," he says. "And now, 30 to 40 percent of people regain vision."
A Procedure That Dramatically Reduces Asthma Attacks
Before now, 24 million American asthma sufferers relied on medications to keep their breathing difficulties at bay, and those with severe, persistent attacks still endure frequent emergency room
visits. But this year, bronchial thermoplasty, the first non-drug procedure approved by the FDA, has come to Sarasota specifically for severe asthmatics for whom other treatments haven't worked.
SMH critical care pulmonologist Joseph Seaman uses a bronchoscope to heat the inside of the lungs to 149 degrees, shrinking the smooth-muscle tissue that usually swells and restricts breathing during an asthma attack. The procedure has been shown to reduce the frequency of asthma attacks by a third, while drastically decreasing their severity across the board. The very first bronchial thermoplasty in Sarasota was performed by Seaman this spring.
When Open-Heart Surgery Isn't an Option
Those who need heart surgery the most may be too frail to go through it. But now, at a number of local facilities, Transcatheter Aortic Valve Replacement (TAVR) allows surgeons to replace a faulty heart valve through a catheter inserted via a small incision in the thigh or the side of the chest. It's much less traumatic for the body than open-heart surgery and allows for improved blood flow through the heart itself, relieving symptoms such as angina and fatigue, and ultimately lowering the risk of heart failure.
"Very sick patients who might otherwise be turned down for bypass or other surgical options have had years given to them thanks to the TAVR procedure," says Enrique Rivera, an interventional cardiologist at Blake Medical Center.
Bariatric Surgery Gets Respect
Sometimes a medical breakthrough can be a shift in doctors' attitudes. Such is the case with bariatric surgery, which is only now shedding its negative reputation as a cosmetic weight-loss shortcut. In fact, according to Venice surgeon Dr. Joseph Chebli, decades ago studies showed gastric bypass surgeries create immediate metabolic changes—including triggering insulin production and the creation of more insulin receptors—that can reverse conditions like type 2 diabetes and hypertension well before any weight loss occurs. And bariatric surgeries are actually safer than other common procedures like ventral hernia repair or gallbladder surgery.
The medical community is finally taking note. Diabetes organizations and endocrinologists have joined forces with metabolic and bariatric surgeons, and even orthopedists are discussing bariatric surgery as a way to prevent future joint problems. "Here we are in 2015, [and] people say to me, 'Can you believe this stuff?'" says Chebli. "I'm trying to get people to understand, we've been doing this for 15 years."
Helping Chronic Wounds Heal Themselves
The problem with chronic wounds, like diabetic ulcers and pressure ulcers, is that eventually, the body stops trying to heal them; and skin grafts and other treatments flounder when there are no growth factors to encourage new skin. "The longer you're open, the higher the risk of infection, which can lead to amputation," says Anne Beckford of the Center for Wound Care and Hyperbarics at Venice's HealthPark.
But in just the last year, a new generation of "skin substitutes" began changing the game. These new dressings are made from growth factor-rich human tissue like dried amniotic fluid or foreskin. Unlike traditional grafts, which cover the wound, these skin substitutes are absorbed by the body, giving it the growth factors it needs to heal itself. Now, says Beckford, "They're healing so much quicker."
Distracting Ringing Ears with Soothing Sounds
Tinnitus, or chronic ringing or noise in the ears, can be caused by aural trauma or just aging, and the condition, which can be distracting to a maddening degree, affects a fifth of the population. "[The ringing] is a threatening tone, so you start paying more attention to it. The more attention you pay, the louder it's perceived," explains Dr. Jeff Lezynski of Sarasota's Silverstein Institute. "You lock yourself in a cycle."
For those trapped in this cycle, the Widex Zen device is, literally, music to their ears. Either on its own or as part
of a hearing aid, Zen technology trains the brain to break free of the tinnitus cycle by playing subtle—but more interesting and less frightening—sounds. Patients are distracted by the new sounds and learn to ignore the constant ringing of tinnitus. "It takes away some of that fear," says Lezynski. "[Tinnitus] is always there, but with Zen, it kind of drops to the background."
Brand-New Joints, STAT
Not long ago, having a knee or hip replaced meant an extended hospital recovery period. Now, thanks to across-the-board evolutions, orthopedic surgeons like Sarasota's Dr. Adam Bright perform joint replacement as an outpatient procedure. "I replace knees using custom guides based on MRI, so when my team and I prepare for the surgery we already know what size the replacement should be and where it should be positioned," says Bright. "This eliminates 22 steps. The surgery is faster, more accurate and with less bleeding."
An intravenous infusion also reduces bleeding, and patients are encouraged to exercise before their surgery so they are more prepared and can recover more easily. "It's not a single thing but rather a gradual evolution and perfection of an already great procedure," says Bright.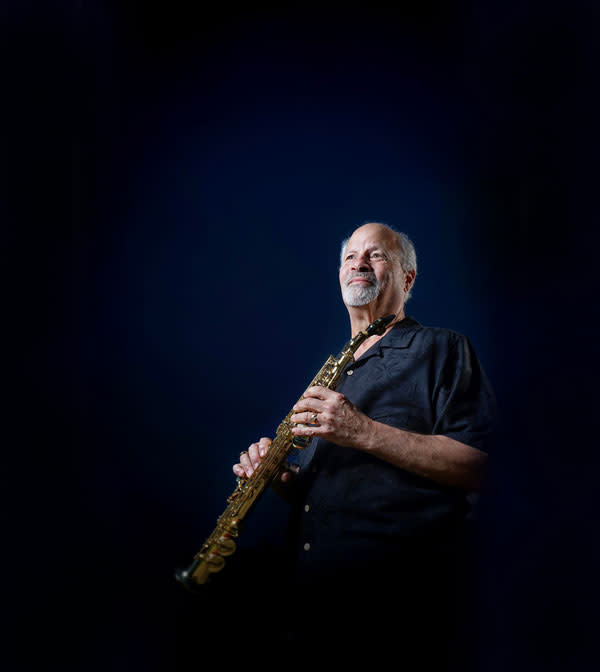 Back to Better
The first robot in spine surgery.
By the time he met with Dr. Thomas Sweeney of Sarasota's Southeastern Spine Center, Mark Levenson, a human resources professional, had already undergone five spinal surgeries. A car accident in the late '80s left him with multiple back injuries, and each surgery required large incisions through muscle and ligament in order to implant, swap out or rearrange various pins and rods in his vertebrae. And still Levenson suffered with numbness and pain.
But Sweeney had the answer: the Mazor Robotics Renaissance guidance system. Though da Vinci systems have made robotically assisted, minimally invasive surgeries de rigueur in many other fields, the Mazor technology is the first robot to be cleared by the FDA for spinal surgery. There are only about 50 of the machines in the entire country, and Doctors Hospital of Sarasota has one.
Surgeons start with a CT scan and practice by performing the surgery virtually, using the Mazor software. Then, during the actual surgery, the robot acts as a guide, with precisely positioned tubes that allow for accuracy within 3/10ths of a millimeter—much more than even the best surgeon could do manually, because "the human hand shakes," says Sweeney. "I hope that I see in my lifetime that no one ever has to have open back surgery."
Sweeney replaced two rods in Levenson's back. The Mazor technology meant less blood loss during a faster and more precise procedure, which also reduced Levenson's recovery time. Now, the 66-year-old Levenson can embrace his hobbies, including playing saxophone with the Sarasota Concert Band and even spending time on the podium, conducting with his natural verve.
"I'm a very physical conductor," Levenson says. "Prior to the surgery, I wasn't able to be me. I can be more 'me' now than I was before."
Protecting Healthy Organs from Radiation
Part of the risk associated with treating prostate cancer with radiation is the collateral damage suffered by surrounding organs. Dr. John Sylvester of Sarasota's 21st Century Oncology has begun using a revolutionary protective substance only recently approved by the FDA. The SpaceOAR (Spacing Organs At Risk) "hydrogel" system is injected into the body as a liquid that almost instantly solidifies into a gel, which creates a barrier, protecting the sensitive rectum from radiation damage. With that barrier, in place, doctors can use higher doses, allowing for faster, more effective cancer eradication. Within six months, the gel reliquefies and is flushed from the body.
A Robot Operating Through a Keyhole
Just released in November 2014 and arriving at Sarasota Memorial Hospital shortly thereafter, the da Vinci Xi represents the very latest in minimally invasive surgical technology—a machine that allows surgeons to visualize and operate through keyhole-size incisions. Dr. Kenneth Meredith, one of SMH's dozen or so experienced robotic surgeons, has performed more robotic esophageal surgeries than anyone else in the world and today leads the hospital's gastrointestinal oncology program. "Each generation of the [da Vinci] robot extends the surgeon's reach, vision and precision," says Meredith. "Now we can access areas within the body safely, from almost any position."
Removing Cataracts without Cutting
Nearly 19 million people undergo cataract surgery every year, making it the most commonly performed surgery in the world. The femtosecond laser has revolutionized eye surgery. Combined with a 3-D imaging technology as part of the LensAR Laser Cataract System, the femtosecond laser creates precise, perfectly round openings in the eye's cloudy lens, which is then softened by the laser so that it can be quickly removed. With customizable and easy-to-reproduce precision, the whole process is finished in a matter of minutes. In 2012, Dr. David Shoemaker, CEO of Sarasota's Center for Sight, was among the first to perform LensAR laser cataract surgery in the U.S.
A Better Facelift
Developed in part by Sarasota's Dr. J. David Holcomb, AccuLift (or laser-assisted facial contouring) uses a fiber laser to target and break up fatty tissue under the skin of the lower face and neck. The procedure can then be combined with a laser-assisted facelift, creating better, longer-lasting results, according to Holcomb, who's also overseen studies on combining the laser contouring and facelift procedures.  AccuLift triggers emulsification, softening the tissue so that it can be easily removed with a small tube. Explains Holcomb: "The laser-assisted facelift technique directly targets the jowls for removal—not just repositioning, which often proves unsatisfactory against the unrelenting force of gravity."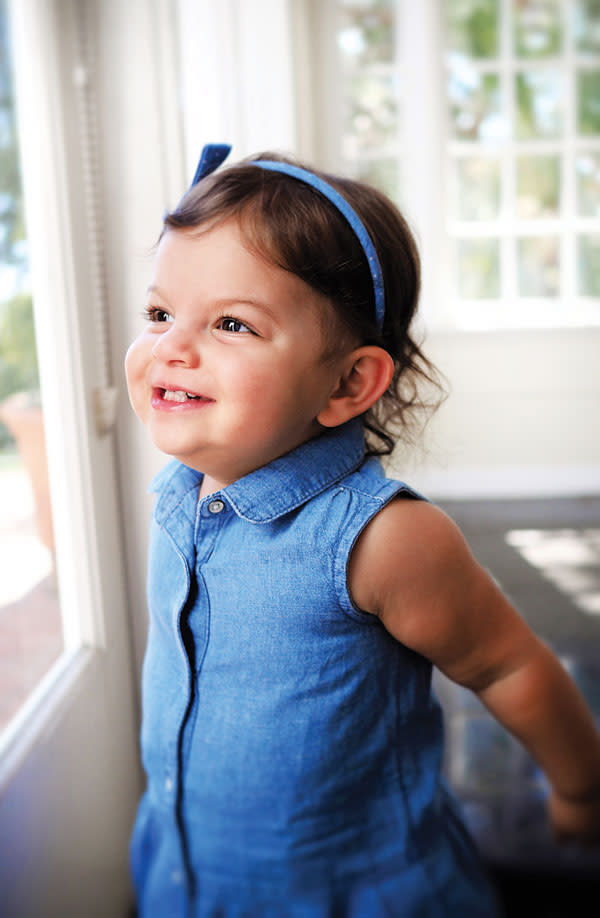 Look Here
A machine that revolutionizes pediatric eye care.
Lena Chesnoff was only one year old, but her mother, Holly, was worried about her eyes. Holly had endured treatment for amblyopia, or "lazy eye," as a child, and she feared Lena might have the same condition. If left untreated, amblyopia causes the brain to ignore signals from the drifting eye, rendering it essentially useless. Once that happens, there's no reversing the loss of sight.
Early diagnosis can be difficult. Traditionally, doctors would cover one eye and then the other, back and forth, in the hopes of "catching" an eye's deviation from forward—an imperfect technique at best, and especially difficult in wriggling young children.
But at Lena's one-year checkup, pediatrician Dr. Robert Weiss was able to capture a full picture of Lena's ophthalmological health in, literally, the blink of an eye. The Spot Vision Screener uses an infrared beam to collect data throughout the eye. Unlike traditional ophthalmological instruments, Spot Vision automatically and instantly performs its test when it senses it's at the right distance—about three feet—away from open eyes; no physical contact is necessary, and the test only requires a split second for a full scan.
The device even emits lights and birdlike noises to help capture young patients' attention.
"One-fourth of preschoolers have eye problems," says Weiss, who now uses Spot Vision to assess all of his patients, starting at six months of age, to detect everything from astigmatism to a retinal tumor.
Lena, it turned out, did have amblyopia. Weiss referred the Chesnoffs to a specialist, who recommended immediate treatment, starting with an eye patch worn on alternate eyes to train the brain to use each one equally. "I remember I was wearing a patch when I was in elementary school, and I was embarrassed," says Holly. But Lena, now 2, is unfazed.
Click here to see our exclusive listing of the region's best physicians from Castle Connolly's medical researchers.