Article
Sarasota Health News: April 2014
An interview with a celebrity burn survivor, new warnings about acetaminophen and a look at fitness program Gyrotonics.

Embracing His Scars
The Dancing with the Stars winner, who spoke at this year's Tidewell Hospice's spring luncheon, on adversity, recovery and hope.
At 19 years old, just seven months after enlisting in the U.S. Army, J.R. Martinez's life changed forever when his Humvee hit a roadside bomb in Iraq. Martinez suffered third-degree burns to 34 percent of his body and endured 33 surgeries during nearly three years in the hospital. Somewhere along the way, he convinced himself that a positive outlook was his only option. Now, as an actor and motivational speaker, he shares his positivity with others. In 2011, he won Dancing with the Stars. He now appears on the TV series SAF3, and his memoir is called Full of Heart: My Story of Survival, Strength and Spirit.
What was the recovery process like, physically and emotionally?
You go through a lot of stages of recovery. You really grieve. For 19 years I was accustomed to seeing one thing, but now I looked different. I had to grieve the loss of the old J.R. and accept this new person. There were all these feelings of anger and depression and regret. I was having victim syndrome, like I was the only one in the world and everything was against me. It literally came down to me saying to myself, "I've got to find a way to be positive, to survive, to stay upbeat."
There was a lot of talking with my mom, tears, frustration, screams and yells, and trying to make sense of it all. What really helped me was that you really don't have any other choice. I was open and willing to start over. Knowing you used to be able to walk and run, now you're going to have to crawl? You've got to start crawling.
I had to learn how to accept my new body, learn how to button a shirt, zip up my pants, because my hands were burned, too. How do I get my hands to do the things that for 19 years I never thought about doing? I had to think about everything. I had to think about accepting myself when I walk out the door.
Why did you decide to share your story?
The first time someone asked me to speak, I thought, I don't want to do that. I was 20. What 20-year-old wants to be a motivational speaker? People fall asleep on speakers all the time. [Laughs.] But [the subject] just kept popping up. I finally tried it, and after I stepped off the stage, people walked up to me and told me what it did for them. It was a big light switch. I thought, Maybe a possibility. Let me go down this road and just see what happens. I started to realize I was able to have an impact.
It was doing something for me as well. When anybody goes through any kind of trauma and gets that opportunity to talk about it, it helps. That became my new goal: I'm going to be the best motivational speaker on the market. I got out of the Army in 2006 after being in the hospital almost three years. In 2008 joining All My Children [as Brot Monroe] introduced me to a whole new audience.
Who responds to your story?
It's not just burn survivors. Single mothers, people who've been abused, cancer survivors—I had a woman, she always stands out in my mind, she was being treated for cancer and had lost her hair. She wore a wig. After she saw me on Dancing With the Stars, she no longer wore a wig. She was more comfortable with showing herself—just bald and proud.
It's not necessarily about how we face adversity; it's the fact that we've all faced adversity.
Do you think your scars help?
Absolutely. We live in a visual world. We're quick to judge. We're quick to come up with a theory when we see something. How many times are we standoffish? We don't see adversity on a person's face; we don't see pain on their body. When you're able to see that on them, you sympathize. You give them a moment to share, you open up your heart. Then, depending on what they say, they may just go into your heart and never come out. This is actually a nice thing that I have these scars. It buys me a few seconds where people will give me their attention—out of curiosity, or out of disgust. I'm able to capitalize on my opportunity.
Going Gluten-Free?
Local nutrition experts discuss the popular diet.
Eve Prang Plews, licensed nutrition counselor
[Gluten-free is] totally appropriate for the gluten-sensitive and a must for the celiac client; I see no hazard, but also no benefit from removing wheat, rye, barley, spelt and kamut if you are not gluten intolerant.
Tara Pomerhn, food operations dietitian, Sarasota Memorial Hospital
Avoiding gluten is the only way to eliminate symptoms of abdominal pain, vomiting and diarrhea as well as nutritional deficiencies for those with celiac disease. Since gluten or wheat products are found in most processed foods, [gluten-free] encourages people to eat more fresh fruits and veggies. But unless you have celiac disease or have been medically diagnosed to have a gluten intolerance, gluten-free diets are not necessary for maintaining overall health.
Rebecca Kloss, nutritional therapist, Doctors Hospital of Sarasota and Food for Thought LLC
Gluten-free dieting is very trendy right now. It's not harmful, but it's difficult to follow and likely not necessary for most people. I have many clients with a lot of food allergies and food sensitivities who are not affected by gluten.
Celiac Attack: According to the Mayo Clinic, the classic symptoms of celiac disease are diarrhea and weight loss (though about half of those diagnosed are asymptomatic). Only 10 percent of those with celiac disease are obese.
Other symptoms might include
Anemia
Osteoporosis, or softening of bone (osteomalacia)
Itchy, blistery skin rash
Damage to dental enamel
Headaches and fatigue
Nervous system injury, including numbness and tingling in the feet and hands, and possible problems with balance
Joint pain
Acid reflux and heartburn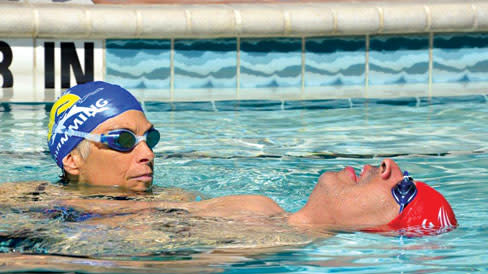 April is Adult Learn-to-Swim Month
40: Percentage of adults who can't swim the length of a 25-yard pool.
Sarasota-based U.S. Masters Swimming is promoting Adult Learn-to-Swim month. Sarasota has several excellent resources for adults who want to learn to swim, including two Swimming Saves Lives Foundation partners:
The Sarasota Swim Academy (sarasotaswimacademy.org) for learning to swim or improving your basic swim skills.

For adults who are afraid of water and have been unsuccessful in traditional swim classes, Miracle Swimming (conquerfear.com) is based here in Sarasota.

Also, check with your local Sarasota Y for classes there
About that Acetaminophen
The FDA recently recommended that doctors stop prescribing medications with more than 325 milligrams of acetaminophen, a non-opioid analgesic found in over-the-counter brands like Tylenol, Excedrin, Sudafed and NyQuil, as well as prescription drugs Vicodin and Percocet. One tablet of Extra-Strength Tylenol has 500 mg.
What's the risk? Acetaminophen is primarily metabolized by the liver, so it can be directly linked with severe liver damage—especially when you take too much or combine it with alcohol.
And acetaminophen may work differently from other painkillers—addressing the central nervous system in a way that makes it less ideal for muscle pain (though effective for headaches and fever).
325 mg.: Highest FDA recommendation for acetaminophen in prescription acetaminophen
500 mg.: Amount of acetaminophen in one Extra-strength Tylenol caplet or tablet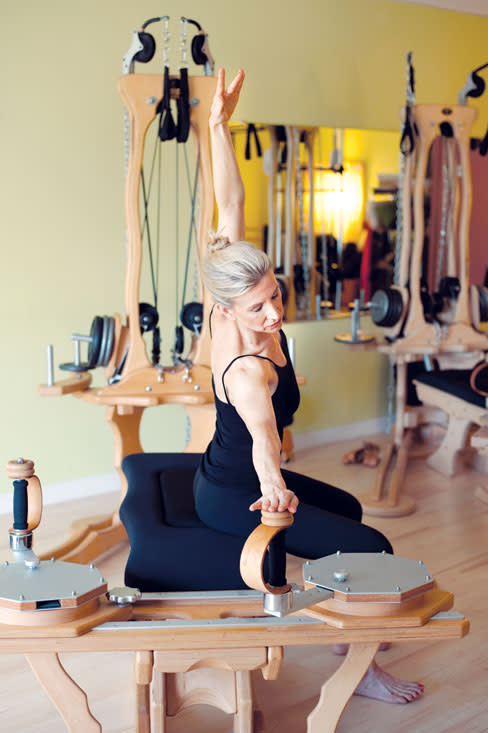 Do you Gyro?
Though it's more than 30 years old, Gyrotonics may be the latest functional movement phenomenon you've never heard of.
What it is: A fitness regime stemming from yoga, gymnastics, swimming and ballet, emphasizing core strength and range of motion through coordinated circular movements as opposed to isolated muscle contractions. "You're twisting, working deep from the core," says certified Gyrotonic instructor Cinde Carroll, who also teaches Pilates, yoga, TRX and more through her Sarasota-based Integrated Fitness and Movement Arts. "With Gyro, you're doing multiple movements throughout your body. Every movement is emphasized from your abdominal region."
Equipment: A Gyrotonics Expansion System, similar to a Pilates Reformer machine, incorporates a range of Gyrotonic exercises and abilities. There are also mat-based exercises.
Where it came from: Juliu Horvath, a Hungarian gymnast and professional dancer who turned to yoga to battle injuries and eventually mastered and blended several disciplines. He began teaching his new discipline as "Yoga for Dancers" in the 1980s, then refined it for non-dancers as the Gyrotonic Method.
What it does: "You get more space between the joints, as well as strength and coordination of movement," says Carroll. "You're trying to ground yourself but also create length in your body. It realigns your bones, and there's also a lot of breath work involved, so you stimulate the nervous system, too."