Article
Health Report
Sarasota health news: February 2013.
By Hannah Wallace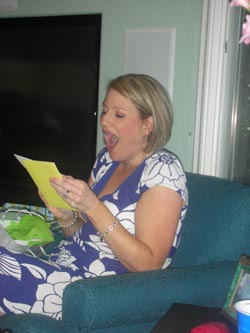 Mediterranean Couscous Salad
This healthy, flavorful recipe comes from Sarasota Memorial Healthcare dietitian Adeana T. Osika. Semolina-based couscous is less refined than standard pasta and includes beneficial protein, potassium and antioxidants. Plus, the chickpeas provide a heap of dietary fiber. This dish is a popular option on Sarasota Memorial's patient menu, says Osika. And there's only 62 calories per 1/3 cup serving.
Ingredients
1 pound couscous
1 ½ tablespoons vegetable broth
1 ¼ teaspoon olive oil
1 ¼ teaspoon lemon juice
teaspoon granulated garlic
⅓ teaspoon ground cumin
⅓ teaspoon ground coriander
⅛ teaspoon ground ginger
Salt to taste
3 ounces pimientos, diced, drained
22 ounces chickpeas, drained
1 tablespoon fresh parsley, chopped
Cook couscous per package directions; set aside to cool. Toss in the chickpeas and pimientos. In a separate bowl mix together the vegetable broth, olive oil, lemon juice, garlic, cumin, coriander, ground ginger, salt and parsley; whisk well. Pour dressing over couscous and toss.
Depression Remission
An exciting new treatment for depression has come to Sarasota. TMS, or transcranial magnetic stimulation, only received approval from the FDA in 2008, but results so far have been exceptionally positive, according to Dr. Rebecca Cohen of Comprehensive MedPsych Systems. (Cohen headed a TMS program in Boston for two years before bringing the technology, called NeuroStar, to Sarasota-based Comprehensive MedPsych in September.) Think of TMS as a focused, concentrated MRI: A device is placed in an exact location above the patient's left eyebrow, supplying painless electromagnetic bursts that stimulate the brain's mood center. The 37-minute sessions are performed five days a week for a period of four to six weeks.
"It sounds a little 'Harry Potter,'" Cohen admits. "I didn't believe it [at first]." But she was quickly convinced by the results, which are monitored using clinical surveys. "These people feel awful," she says. "Then, over the course of the [six-week] treatment, you can see how much better they feel." A study showed that after six months, 90 percent of TMS patients stayed well. "I have yet to have a patient say, 'I wish I hadn't done it,'" says Cohen.
In the future, TMS may be used to treat any number of psychological disorders by stimulating other portions of the brain.
You're Invited: Tidewell Hospice's Compassion in Caring Luncheon
This year's event on Feb. 15 features keynote speaker Lisa Niemi Swayze. On Sept. 14, 2009, Swayze's husband of 34 years, Hollywood icon Patrick Swayze, lost his battle with pancreatic cancer, a disease he had battled for nearly two years. From the heartbreak of his death, Swayze has channeled her experiences into life-affirming work. She's now the national spokesperson for Pancreatic Cancer Action Network and offers advice about wellness, being a caregiver, facing terminal illness and dealing with the loss. In her new book, Worth Fighting For, which was released in January, Swayze opens up about her experiences as a wife and caregiver facing the terminal illness of her beloved husband.
Feb. 15, 2013
The Ritz-Carlton, Sarasota
Call (941) 552-7660 for reservations.
February is American Heart Month
Cardiovascular disease remains the leading cause of death in the United States, accounting for approximately 800,000 deaths a year. For a healthy heart, get at least 30 minutes of exercise five days a week (check with your doctor first, of course) and remember your ABCS:
Aspirin, when recommended by your physician
Blood pressure control
Cholesterol management
Stop smoking
Visit millionhearts.hhs.gov for more information on heart health.
Flying Fitness
The circus is more than entertainment; it's a workout, and now Sarasotans can feel the burn as they feel the breeze, thanks to Circus Sarasota's flying trapeze classes—no experience necessary. This acrobatic opportunity is unlike any other fitness class out there, and a fun and foreign environment is a great way to break out of an exercise rut and get your workout in without even realizing how hard you're working. Call (941) 556-5480 for more information.
Hip Replacement Gets Precise
What: MAKOplasty robotic surgery, a combination of a surgeon-guided robotic arm and three-dimensional imaging that is revolutionizing total hip replacement.
Why: If the ball-and-socket hip joint isn't precisely placed, the patient's movement is compromised, and further joint problems (including dislocation) may follow.
How: Following a three-dimensional image based on a CT scan of the patient's hip, surgeons control a sensitive but precise robotic arm, which gives tactile feedback so that they can "feel" the surgery, to secure the implant.
Additional uses: The MAKOplasty procedure is also used for precise knee resurfacing in patients suffering from osteoarthritis.
Where: Lakewood Ranch Medical Center recently became the first hospital in the area to offer the technology.
Skincare Savvy
Sarasota's Monee Arpin, one of only a dozen electrical estheticians in the U.S., combines personalized, low-current electrical treatments, which stimulate the skin on a cellular level, with marine, botanical and biological serums to address specific skin imbalances. Here, she shares her top skincare do's and don'ts.
Do use products that are appropriate for your particular skin type. If you are unsure about your skin type, get a consultation—it's worth it.

Don't over-exfoliate, either manually or chemically. Less is more.

Do baby your skin and treat it with love, and, "just like a baby who flourishes when treated with love," says Arpin, "that loving feeling will get programmed into your brain, and your cells and your skin will flourish."

Do eat healthy and stay well hydrated.

Do use quality products; they make a difference.
Phone For Food
How's this for a smart phone? A new device uses your phone's camera to detect food allergens—like nuts or gluten—in whatever edible item you happen to have in your hand. Developed by UCLA researchers, iTube can tell you the amount of allergen in parts per million, although the technology is still a little rough: You have to mix the food in a test tube and apply various testing liquids before iTube can optically detect the allergens. Still, for those with potentially deadly allergies to common ingredients, the 20-minute process might not seem like much of a burden.
Click here to read Hannah Wallace's "Health and Fitness" blog.