Article
The Laugh Cure: Tim Wilkins
Sarasota-based standup comic Tim Wilkins' top 10 reasons to love the Sarasota healthcare system.
Standup comic Tim Wilkins' top 10 reasons to love healthcare in our region.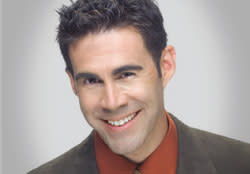 Sarasota-based Tim Wilkins is a 20-year veteran standup comic and TV personality who currently appears weekly in more than 250 markets. He has opened for such stars as Aretha Franklin, Diana Ross and Julio Iglesias and has written a motivational best seller, Winning Nice.
10 Medical labs have valet parking to make it easier to give samples.
9 If you can't afford healthcare, you can corner a doctor in the buffet line at a charity gala.
8 The most-searched site on the Internet is WebMD.
7 You can actually give these directions: "I'm on the corner of Walgreen's and CVS."
6 When upscale restaurants closed after the real estate meltdown, hospitals could hire chefs that gave their cafeterias that coveted Michelin star.
5 It's the only place in the country where you can find a Groupon for a colonoscopy.
4 Medicaid and TSA have joined forces at SRQ airport so you can get a combination physical and security check. They already had a glove and X-ray machine, right?
3 Viagra and Lipitor are potential sponsors for local sports teams.
2 Blue Cross and Blue Shield are the most popular tattoos seen on North Lido Beach.
1 The most-viewed billboards are the ones with digital wait times for the ERs.