Article
Don't Leave Home for Healthcare
A variety of indicators show that Sarasota now scores high in treating even the deadliest health conditions.
A variety of indicators show our region now scores high in treating even the deadliest conditions.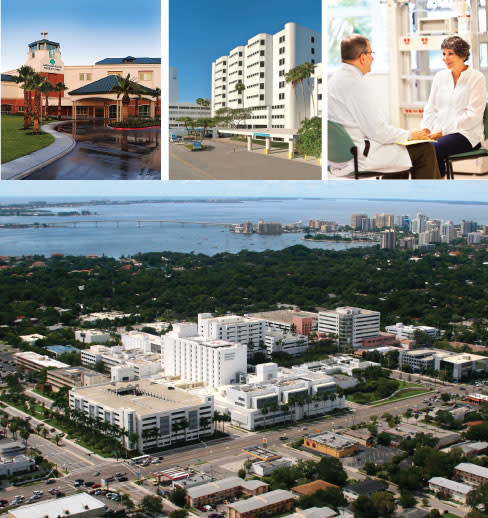 About 20 years ago, during a break in a meeting of local healthcare managers, one insider asked another where to go for good healthcare.
"The airport," the colleague joked.
When confronted with a serious diagnosis, patients and their often desperate loved ones still ask the same question: Do you have to travel to major Northern centers to receive high-quality medical care?
The answer? You can save those airline reward miles.
Fierce competition for patients among area hospitals, the embrace of evidence-based medicine, a medical technologies weapons race, the recruitment of specialists, an active clinical research community and generous philanthropists have expanded the breadth and depth of quality healthcare in Sarasota and Manatee counties.
In a 2011 nationwide study by the Robert Wood Johnson Foundation and the University of Wisconsin Population Health Institute, Sarasota County ranked second among Florida's 67 counties in the quality of available healthcare, and first in morbidity, which is a measurement of overall freedom from health problems. Manatee County ranked 20th in morbidity and 18th in the quality of care.
Manatee and Sarasota hospitals and physicians show particular clinical strength in treating some of the illnesses that claim most lives: heart disease, cancer, stroke and accidents. And we also have excellent rehabilitation facilities that play a role in treating all of those disorders. Orthopedics is another strength for the region, with its large population of seniors whose aging backs and hips may need repair.
QUANTIFYING CARE
Consider first that hospitals in Sarasota and Manatee counties and many of their ancillary programs are accredited by The Joint Commission, an organization that certifies more than 19,000 U.S. healthcare organizations and programs based on quality and safety performance standards. It's the "Good Housekeeping seal of approval" equivalent for healthcare. The intensive accreditation processes requires providers to prove year in and year out that they meet or exceed national quality benchmarks for care.
Thanks to healthcare reforms imposed in the past decade, consumers today have access to voluminous reports on patient outcomes and other quality indicators. Patient outcomes—measures such as mortality, complications and infection rates—provide apples-to-apples comparisons of quality of care. Patient outcomes weigh heavily in accreditation, reimbursement from Medicare and Medicaid and regulatory compliance. Private-sector organizations such as HealthGrades and Thomson Reuters base their quality ratings of hospitals and physicians on patient outcomes. Providers use positive ratings to differentiate themselves among their competitors when marketing services.
HealthGrades ratings, quoted throughout this story, are independently created. Hospitals can't opt in or opt out of being rated, and no hospital pays to be rated. Mortality and complication rates are risk adjusted, which takes into account differing levels of severity of patient illness at different hospitals and allows for hospitals to be compared equally.
If the quality of hometown care equals or exceeds the quality of care at an out-of-town medical center, local care offers several distinct advantages, including proximity to family and friends. "Having a support system is important," says Paula Jefferson, a nurse and clinical manager at Manatee Memorial Hospital. "With my mother or relative, I would encourage them to stay in town."
Kathy Mitchell, RN, the chief nursing officer at Doctors Hospital of Sarasota, agrees. Staying close to home usually means starting treatment sooner and being treated by physicians and nurses the patient has come to trust. "If you are going through a bad time," Mitchell says, "being in your own back yard is a comfort in itself."
Competition Breeds Quality
Because of its size, array of services and longevity, Sarasota Memorial Health Care System is the alpha dog in the region's healthcare ecosystem. Established in 1925, the public system draws about 700,000 patient visits a year, anchored by its 806-bed acute care hospital. Intensive competition for patients among the region's Hospital Corporation of American (HCA) hospitals (Doctors Hospital of Sarasota, Blake Medical Center and Englewood Community Hospital); Venice Regional Medical Center, operated by Health Management Associates (HMA); Sarasota Memorial; and Manatee Memorial Hospital and Lakewood Ranch Medical Center, owned by Universal Health Services, has benefited healthcare consumers throughout the region.
As Sarasota County's "safety net" hospital, the public system is obligated to provide a greater variety of clinical services, including unprofitable programs that the proprietary hospitals avoid, says Dr. F. Stephen Taylor, chief of medical operations for Sarasota Memorial. It is often recognized nationally for quality care across a broad spectrum of services.
"I can't think of a whole subset of patients based on their diagnosis who would be referred out [of town]," he says. "It's an unusual or rare condition that might go to Shands [Hospital at the University of Florida]."
The region's quality of life and well-equipped, well-staffed hospitals attract specialists and subspecialists. "This is a desirable place to live," Taylor says. "So physicians have come here to fill the niche specialties and [physician] groups have recruited to replenish their ranks. We don't have a lot of gaps in the specialty roster on the medical staff."
Severe trauma and burn patients and children who require complex surgery have no local options. Help for them is less than an hour away, however, at Tampa Bay trauma center and academic hospitals.
Cardiac Care
Heart disease is the No. 1 killer of Americans, making cardiac care the No. 1 service line at most U.S. hospitals. It's profitable, so competition for patients is intense. Manatee and Sarasota hospitals ensure they have the latest-and-greatest technology, special-purpose facilities and patient support systems in place to attract the business of cardiac physicians and surgeons, and in turn, their patients.
Blake Medical Center, named one of America's 100 Best™ for Cardiac Surgery by HealthGrades, earned 5-Star ratings for its care of heart attack and heart bypass surgery patients as well as a Cardiac Surgery Excellence Award. More than 5,000 open-heart procedures have been performed at Blake's Heart Institute since 1989.
The latest Joint Commission report, using 2010 data, placed Venice Regional Medical Center and Doctors Hospital of Sarasota in the top 14 percent of U.S. hospitals for the treatment of heart attacks and heart failure. Doctors Hospital's Chest Pain Center is accredited by the Society of Chest Pain Centers and received a HealthGrades 5-Star rating for heart attack patient care. Thomson Reuters named Venice Regional a Top 50 Cardio Hospital because of the performance of its cardiac catheterization laboratory; it received Chest Pain Center accreditation in January. Last October, Lakewood Ranch Medical Center was also accredited as a Chest Pain Center and was the first medical center in the area accredited as a Heart Failure facility by Society of Chest Pain Centers. Manatee Memorial earned a three-star rating from the Society of Thoracic Surgeons.
About 1,000 cardiovascular surgeries and more than 5,000 cardiovascular procedures are performed each year at Sarasota Memorial, the only hospital in the region to be named one of America's 50 Best Hospitals by HealthGrades. The hospital has earned HealthGrades 5-Star ratings for the treatment of heart attack and heart failure every year since 2003. Sarasota Memorial's comprehensive array of cardiac specialty and subspecialty programs draws patients with more serious and complex heart problems from throughout Southwest Florida.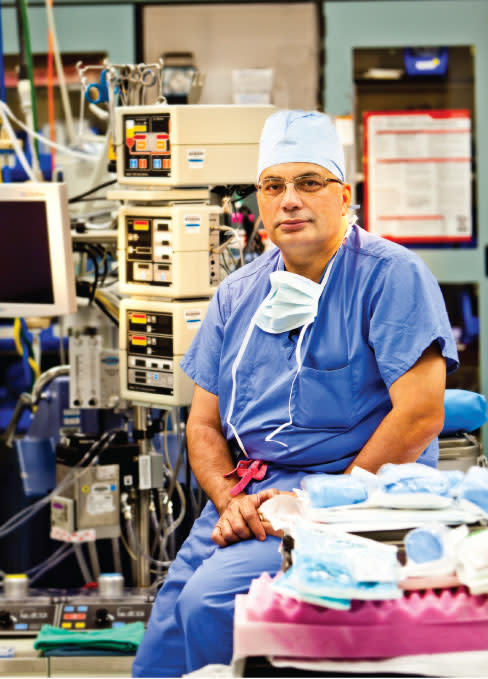 Breakthroughs
Surgical Robotics
More Manatee and Sarasota surgeons are learning to perform minimally invasive surgery with the assistance of a robot. During minimally invasive robotic surgery, a surgeon makes three tiny incisions in the body through which three robotic arms are inserted; one holds a video camera, the others, surgical instruments. At a computer console about 10 feet from the operating table, the surgeon views a three-dimensional image from inside the patient's body. From the console, the surgeon controls the robotic arms inside the patient.
Sarasota Memorial introduced the use of surgical robotics in Florida in 2006, when it acquired one of the first da Vinci surgical robots. It acquired a second system and dedicated an operating room to minimally invasive robotic heart surgery two years later. Today, Sarasota Memorial has FDA approval for procedures in heart surgery, prostate and uterine cancer surgery and other gynecologic procedures. Other providers quickly established surgical robotics programs, requiring big investments in equipment by the hospitals and a commitment by surgeons to adopt the new technology. Surgeons at Manatee Memorial use the advanced da Vinci S robot to perform general and thoracic surgery and minimally invasive prostatectomies, hysterectomies and other gynecological and oncological procedures. Venice Regional Medical Center cardiovascular and thoracic surgeons, urologists, general and vascular surgeons and gynecologists use the new da Vinci S robotic system, as do physicians at Doctors Hospital in urology, general surgery, gynecology and gynecologic oncology.
Physicians in Sarasota and Manatee now repair heart mitral valves through minimally invasive rather than open-heart surgery. Manatee Memorial has created a "hybrid room" – the combination of a cardiac catheterization lab and an operating room, preparing for the day when physicians will replace valves without open-heart surgery. Not "cracking the chest" of a patient reduces the potential for infection, lessens blood loss and trauma to the body, and speeds recovery.
Cancer Care
First, the bad news. One in two American men will probably develop cancer in his lifetime; one in three women. Florida is second only to California with new cancer diagnoses. The good news: The five-year relative survival rate is 68 percent, up from 50 percent in 1975. Many survivors, their cancer managed with medications or therapy, lead active lives for years. Manatee and Sarasota providers have decades of clinical experience, a growing cadre of subspecialists and new-generation drugs and medical technologies to diagnose and treat cancer. The most common cancers treated in Manatee and Sarasota: breast, prostate, lung, colorectal, uterus and bladder.
In 1979, Manatee Memorial was the first hospital to establish dedicated oncology services in Manatee County. The American College of Surgeons Commission on Cancer accredited the hospital's program in 1985, and has approved it as a Community Hospital Cancer Program (CHCP). The commission accredited Sarasota Memorial's Institute for Cancer Care, which treats more than 1,500 patients a year. Since 2001, Sarasota Memorial has been an affiliate hospital of H. Lee Moffitt Cancer Center & Research Institute in Tampa. The affiliation with Moffitt, the state's only National Cancer Institute Comprehensive Cancer Center, offers Sarasota Memorial patients quicker access to Moffitt's advanced diagnostics, treatments and clinical trials.
Cancer survivors are well served by a robust infrastructure of support groups developed by the American Cancer Society, hospitals, physician groups, patient advocates and family members. The Center for Building Hope Florida Suncoast, an affiliate of the national organization, serves thousands of Sarasota and Manatee patients and their family members on its five-acre "healing campus" in Lakewood Ranch.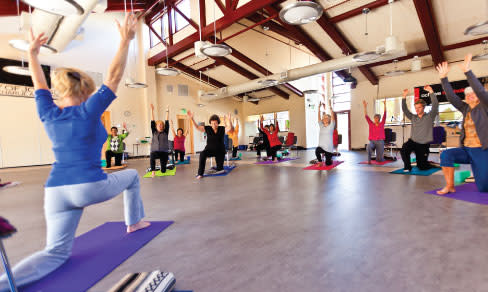 Breakthroughs
Delivering deadly radiation to tumors
At Lakewood Ranch Medical Center, interventional radiologist Gerald Grubbs, M.D. is using a technique pioneered in Australia to treat patients with advanced liver cancer. SIR-Spheres microspheres are tiny polymer beads loaded with yttrium-90, a radioisotope that emits pure beta radiation. After injection into the artery supplying blood to the liver tumor, the spheres are trapped in the tumor's bed of blood vessels, where they destroy the tumor cells by delivering the radiation.
Stroke and Neurological Care
Every 40 seconds, an American suffers a stroke. Strokes are the leading cause of adult disability as well as the third-leading cause of death in the United States. To minimize brain damage and improve a patient's chances for recovery, physicians must begin treating stroke patients within three hours of a "brain attack." Traveling out of town for care is not an option.
Manatee and Sarasota residents are within an hour's reach of area hospitals staffed with neurosurgeons, neurologists and interventional radiologists, equipped with sophisticated imaging technology and stocked with the advanced medicines such as clot-busting medicines crucial to treating stroke victims.
The Joint Commission has certified Sarasota Memorial and Venice Regional as a primary stroke centers, and Doctors Hospital as an advanced primary stroke center. About one-third of stroke patients suffer complex strokes that require the higher level of care. The state has designated Sarasota Memorial as a comprehensive stroke center that offers a wider range of specialists and more advanced treatment options for those patients. For example, Dr. Nasser Razack, one of about 300 neuro-interventional radiologists in the nation, was recruited by Sarasota Memorial in 2008. Neuro-interventional radiologists use specialized tools and minimally invasive techniques to pull blood clots from the brain, clear blockages and repair other abnormalities in the blood vessels of the spine, neck and head. Working with neurologists and neurosurgeons, neurointerventional radiologists use microcatheters, stents and balloons to diagnose and treat aneurysms, clots and strokes.
In Manatee County, Blake Medical is Joint Commission-certified as an advanced primary stroke center. Manatee Memorial's Stroke and Cerebrovascular Center has been recognized by the American Heart Association/American Stroke Association for the quality of its stroke care and received a HealthGrades 5-Star rating for the specialty, as did Blake Medical, Doctors Hospital and Sarasota Memorial.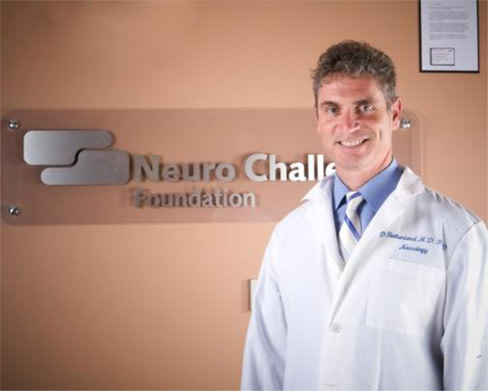 Breakthroughs
Deep brain stimulation
It is estimated that as many as 1.5 million people in the United States have Parkinson Disease. In Southwest Florida, the progressive neurological condition affects about 9,000 people, and an even greater number of families and professionals involved in their care. Locally, Sarasota Memorial Health Care System and the Neuro Challenge Foundation have combined forces to bring the nation's best health options to people in our community, from early detection DatScan imaging and neurosurgical interventions, to a full range of rehabilitation and exercise programs designed to slow progression of Parkinson's and other movement disorders.
Orthopedic Care
"Orthopedics and heart are the backbone of this institution," says Kathy Mitchell, the chief nursing officer of Doctors Hospital. (Not surprising in a region known for it high percentage of senior citizens.) The hospital holds specific Joint Commission accreditations for total knee, total hip and spinal fusion. Orthopedic surgery at Doctors Hospital ranks in the top 5 percent in the nation and No. 1 in Florida, according to HealthGrades. Doctors Hospital received 5-Star ratings in total knee replacement, total hip replacement, hip fracture repair, back and neck surgery and spinal fusion surgery.
Its TLC Program (Transportation, Lodging and Comfort) draws in-state patients who spend the night before surgery at the hospital with family members. A similar medical tourism program is geared to out-of-state patients.
"I'd rather have great care here in Sarasota in the winter than great care in Minneapolis," Mitchell says.
At Venice Regional Medical Center, hip fracture repair and total hip and knee replacement were rated at 5 Stars, and the hospital received HealthGrades' joint replacement and orthopedic surgery excellence awards for 2010 and 2011. Venice Regional offers MAKOplasty®, which is a robotically assisted, minimally invasive partial knee replacement surgery.
More than 4,500 orthopedic and neurosurgical procedures are performed annually at Sarasota Memorial, which garnered 5-Star ratings for overall orthopedic services, hip fracture treatment, spine surgery, back and neck surgery and spinal fusion.
Breakthroughs
Minimally invasive hip arthroscopy
At Lakewood Ranch Medical Center, Dr. Daniel Lamar is one of a few local orthopedic surgeons performing hip arthroscopies. A minimally invasive procedure, arthroscopy has become routine treatment for knees and other "shallow" joints. "The hip joint has been more challenging because it's so deep, a deep socket, a tight joint," says Lamar. "Two years ago we were sending people to Nashville and New York. The science and techniques were advancing, but the [medical device] industry wasn't catching up to it." New, longer instruments now allow for guided entry into the joint through three small incisions the size of the end of a pencil.
In many cases, Dr. Lamar says, candidates for total hip replacements can postpone surgery because they find relief with hip arthroscopy. Dr. Lamar, who also serves as a Tampa Bay Buccaneers team physician, says his patients range from age 16 to "their golden years." Most return home on the same day of surgery.
Treating Trauma
Physicians call it the "Golden Hour." For the seriously injured, receiving emergency care within 60 minutes following a traumatic event significantly improves their chance of survival and recovery. All Sarasota and Manatee counties residents are less than a half-hour's drive to one of the several emergency rooms in the region. For life-threatening trauma, help is less than an hour away at Tampa Bay trauma centers.
"We have great emergency rooms, both counties," Doctors Hospital chief nursing officer Mitchell says. "We're very fortunate."
Emergent care is among the most expensive care delivered in any hospital. Today, most employ board-certified emergency medicine physicians or physician groups. Gone are the days when an OB/GYN or gastroenterologist working an emergency room shift to pay off medical school loans might be tasked to set a broken bone or treat an asthma sufferer. Emergency centers today deploy some of the most sophisticated diagnostic and treatment equipment in the hospital, especially as they serve as the clinical entry point for stroke and heart attack patients.
Capacity is becoming an issue, however. The American College of Emergency Physicians has been warning for the past several years that patient care at the nation's emergency rooms will suffer as more uninsured, underinsured and undocumented patients use ERs as their primary care physicians. For example, Sarasota Memorial's Emergency Care Center, which earned a HealthGrades 5-Star rating in 2010 and 2011, handles more than 80,000 patient visits a year. About 28 percent are unpaid, the hospital estimates. To offload some of that volume, hospitals are establishing off-campus "urgent care" centers to handle less serious medical issues.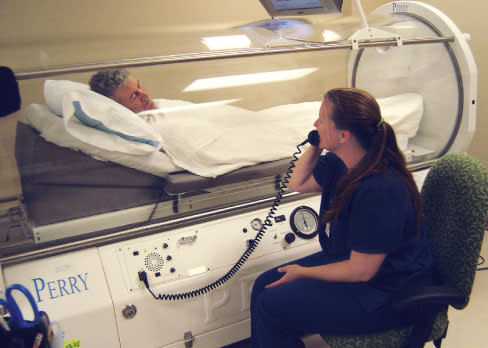 Breakthroughs
Trauma Center at Blake Medical Center
Until recently, Manatee and Sarasota children and adults who suffered severe trauma or burns were strapped inside one of Bayflite's $5 million helicopters and flown to either the Level II trauma center at Bayfront Medical Center in St. Petersburg, the pediatric-only trauma center at All Children's Hospital in St. Petersburg, or Tampa General Hospital's Level I trauma center. The average cost to the patient: $8,000 for the flight alone.
Tampa General is one of the state's seven Level I trauma centers and a regional burn center. It must maintain the 24/7/365 clinical infrastructure to care for every aspect of injury, from dedicated operating rooms to a roster of 15 in-house and on-call physician specialists available right now.
Blake Medical Center recently received permission from state regulators to open a Level II trauma center. Level II centers must be able to provide initial trauma care, regardless of the injury.
When stabilized, patients requiring more advanced care are transferred to a Level I facility. Blake's center is now treating trauma patients from Manatee, Sarasota and DeSoto counties for a provisional year to assess its performance before full certification is granted. Blake Medical's parent company, HCA, wants to open a network of trauma centers at some of its Florida hospitals.
Rehabilitative Care
In 2008, chronic lower respiratory diseases became the third-leading cause of death in the United States. Most patients suffer from chronic obstructive pulmonary disease (COPD), which includes emphysema and chronic bronchitis. Patients who suffer from chronic diseases require both short-term and long-term therapy. Local hospitals and physician groups have well-developed pulmonary, cardiovascular and physical medicine rehabilitation programs. Seriously ill patients have a hometown option at HealthSouth Rehabilitation Hospital of Sarasota, an 86-bed acute medical rehabilitation hospital.
Breakthroughs
Hyperbaric oxygen therapy for wound care
Patient with chronic blood vessel conditions, or diseases that inhibit oxygen or blood flow to a limb, such as diabetes, are most at risk for chronic wounds, infections and other serious complications that can lead to amputations. Venice Regional Medical Center, Sarasota Memorial and Manatee Memorial have established wound care and hyperbaric treatment centers. Hyperbaric oxygen therapy (HBOT) promotes faster healing and can help prevent bone infection and subsequent limb amputation. The treatment delivers pressurized oxygen to the wound site to help speed the healing process. During HBOT, oxygen is delivered at up to three times the atmospheric pressure, stimulating new blood vessel and cell growth to promote quick healing.
Sarasota's Mike Vizvary has reported on business for leading Florida newspapers, including the Miami Herald and Sarasota Herald-Tribune, as well as magazines and trade publications. He also writes for not-for-profit clients in healthcare, economic development, financial services and higher education.
---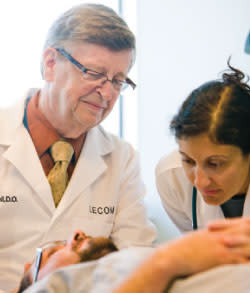 The Next Generation
Two medical schools in our region are training future doctors.
We all know Sarasota is popular with doctors. But did you know that two medical schools with nearly 700 medical students are also in our midst?
The majority—632 of them—attend LECOM, or Lake Erie College of Osteopathic Medicine, which has had a campus in Bradenton since 2004. LECOM trains students in osteopathic medicine, which focuses on the well-being of the whole patient and emphasizes health education along with injury and disease prevention. Osteopathic physicians can practice any type of medicine, perform surgery and prescribe medications, but have additional training in osteopathic manipulative medicine. LECOM students are trained to be primary care physicians in family medicine, pediatrics, internal medicine, and obstetrics and gynecology. The students here do clinical rotations at area hospitals, clinics and doctors' offices.
Kelly Rosborough, a 27-year-old LECOM medical student from Columbus, Ohio, says she chose to attend LECOM Bradenton in part for its "problem-based learning" curriculum, where small groups of students practice solving actual patient cases.
"PBL taught me how to seek the answers to medical problems, a skill that I will utilize daily when treating patients in the future," says Rosborough.
One of only 26 colleges of osteopathic medicine in the United States, LECOM was established in 1992 at Millcreek Community Hospital in Erie, Penn., to alleviate its region's physician shortage. LECOM later built a campus in Bradenton in response to Florida's shortage of physicians. It's now grown to be the largest medical school in the country, with more than 2,000 medical students between two campuses in Pennsylvania and one in Bradenton.
In addition to the College of Medicine, LECOM Bradenton also boasts a School of Pharmacy and a new School of Dental Medicine. Thus far, 591 students have graduated from LECOM Bradenton with a Doctor of Osteopathic Medicine degree, and 77 have graduated with a Doctor of Pharmacy degree.
The Tallahassee-based FSU College of Medicine has welcomed up to 40 third- and fourth-year medical students to its regional Sarasota campus each year since 2005. During their time in Sarasota, FSU med students do rotations in a variety of specialties in the context of a unique mentorship program. While most medical schools are tied to hospitals, where students are trained by interns, residents and fellows, FSU pairs each medical student with a carefully chosen physician.
"I got to see a lot of patients and do a lot of procedures, and got comfortable spending time with patients," says Brian Cogburn, a 27-year-old student at the FSU College of Medicine, of his time in Sarasota.
Dr. Bruce Berg, dean of the Sarasota campus, hopes that students will realize that Sarasota is an excellent place to live and will return here to practice medicine after their residencies. Out of 91 graduates, three former students have returned to the area to practice, but Berg hopes to see even more come back in the future.—Sarah Gassel