Article
On Trend for 2016: Everything Precious
Fashion forecasters were abuzz over the 2016 trend dubbed "precious," encompassing a return to extraordinary home decor, jewelry and accessories.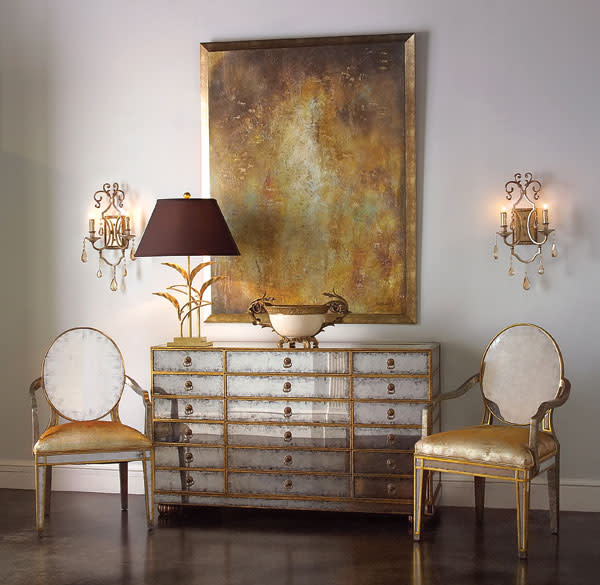 At September's Maison & Objet lifestyle show in Paris, fashion forecasters were abuzz over the 2016 trend dubbed "precious." Encompassing a return to extraordinary decorative arts, jewelry and accessories, the theme evokes a comeback of hard and semi-precious stones in works that flaunt them, brilliantly crafted silks, mirrored objects and a metamorphosis of gold into bold faceted pieces that reinvent the notion of luxury. From St. Armands Circle to the Mall at UTC, the trend is already cropping up in Sarasota.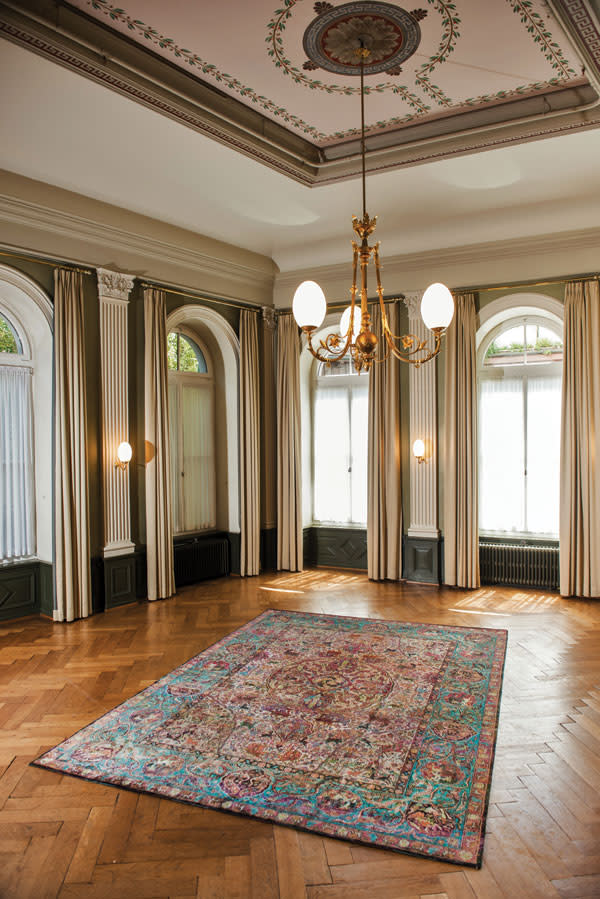 Shown at Maison & Objet in Paris, Zollanvari's hand-knotted pure silk pile carpets like this 9-foot-by-12-foot piece in tones from amethyst to turquoise ($19,500) are finely woven, exquisitely detailed and sold locally to designers and homeowners across the country. Art to Walk On, 16 S. Palm Ave., Sarasota, (941) 951-5454.
Fifty-seven individual clear and green pieces of mirrored glass are set in a hand-wrought frame finished in Renaissance gold for Cailloux by Christopher Guy, a piece inspired by Art Moderne style but decidedly contemporary (price on request). Available through designers.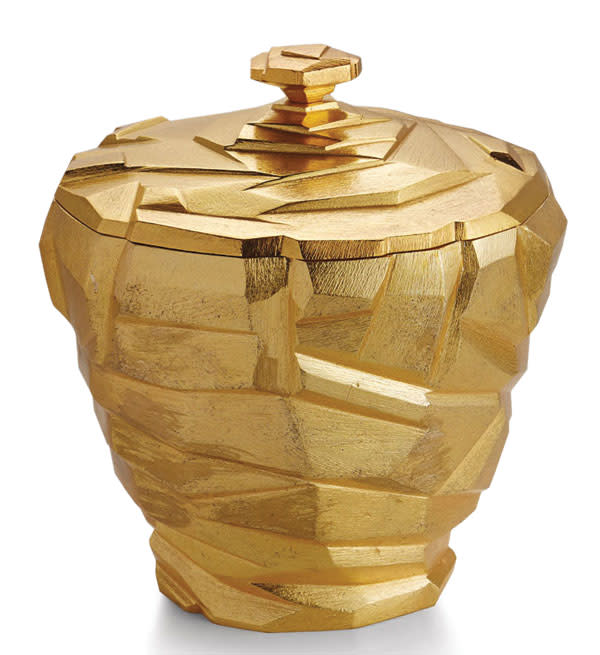 Inspired by jagged-edged stone formations, Cubism and Art Deco, Michael Aram's Rock Collection includes an array of faceted decorative vases, cake stands, ice buckets and more in gold tone stainless steel ($130 to $350). Macys.com. Order online; pick up in store.
The modern alchemy at John Richard creates a 12-drawer chest in aged eglomise finish with antique gold leaf accents and brass loop hardware ($5,430, pictured at top). To order at Sarasota Chic Fine Furniture, 7484 S. Tamiami Trail, Sarasota, (941) 924-8666.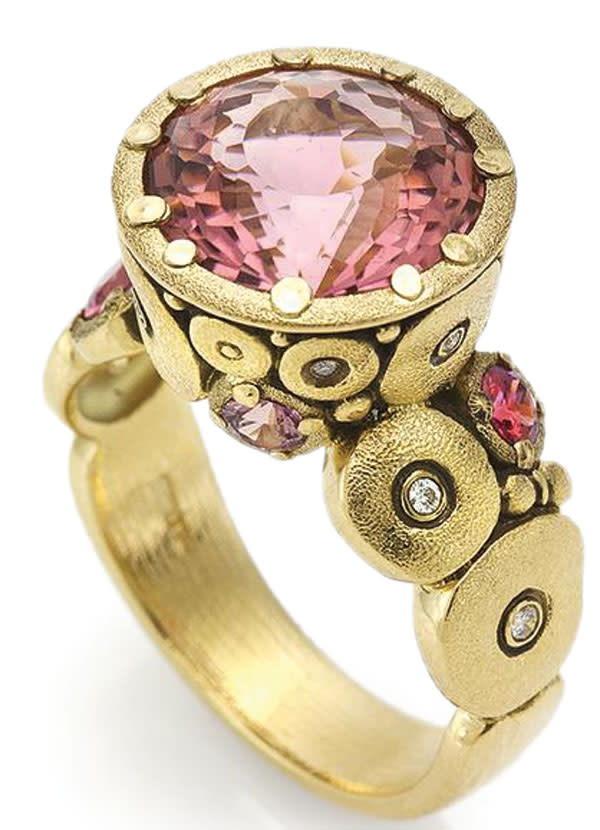 This Alex Sepkus cocktail ring of hand-tooled 18K yellow gold with 4.87 c. orchard rubellite, four orange sapphires and 12 diamonds exudes sheer luxury ($8,620). Tilden Ross Jewelers, 410 St. Armands Circle, (941) 388-3338.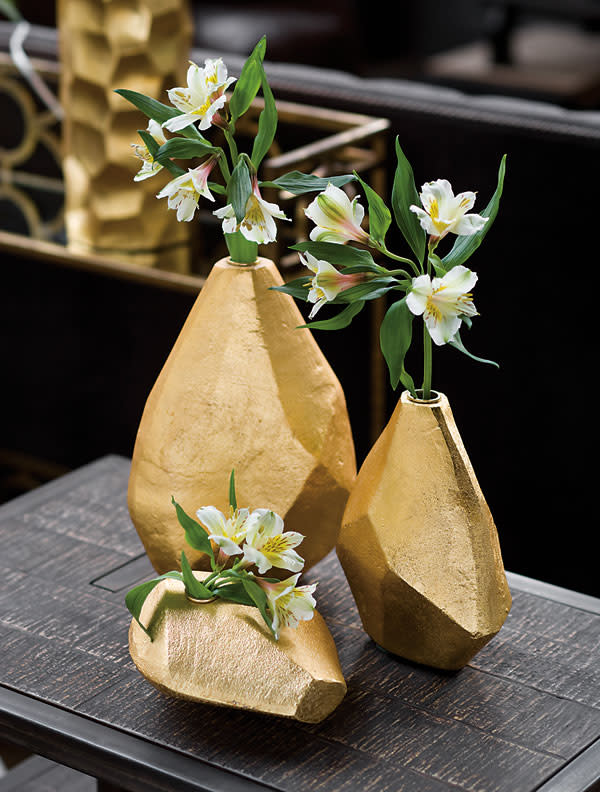 Gold makes an opulent statement at Regina Andrew Design, where decadent gold finishes transform everything from faceted vases to filigreed console tables, and lamps are accented with agates or mirror. Order at Indigo West, 134 S. Pineapple Ave., Sarasota, (941) 487-7160.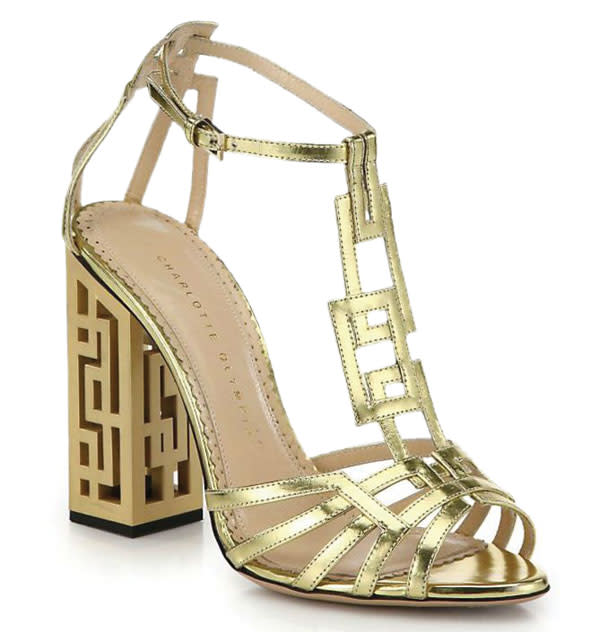 Wearable works of art, these glamorous metallic leather scandals by Charlotte Olympia are sculpted with a chic cutout heel and straps in a geometric motif ($1,295). Exclusively at Saks Fifth Avenue, 120 University Town Center Drive, Sarasota, (941) 364-5300.