Article
Their Sarasota Wedding: Jenn and Denver Stutler's Longboat Key Wedding
Jenn and Denver Stutler celebrated their wedding with a New Year's Day brunch on Longboat Key.
Jenn and Denver Stutler were married on Longboat Key on New Year's Day. Jenn is the operations director at Sarasota-based Seaward Development and also owns BDN Solutions, a construction consulting firm. Denver is the CEO of Polston Applied Technologies and the former Secretary of the Florida Department of Transportation and Chief of Staff for Gov. Jeb Bush. The two were introduced through a mutual friend; here's the inside scoop on all the pretty details from their January 2014 wedding brunch on the beach.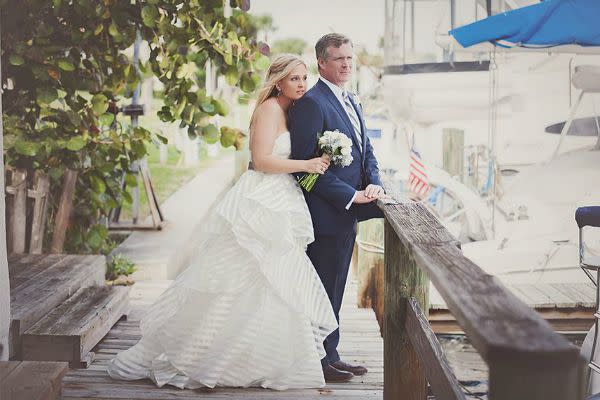 Tell us how you came to the decision to get married on New Year's Day.
Jenn: [The theme was] "new beginnings," and nothing says that better than New Year's Day! We even incorporated the theme into our invitations, which were "poppers" that you had to twist for the invite to come out! I put them all together by hand.
We knew we wanted to do two things: have a brunch and have it on the beach. Brunch because who doesn't love it? And the beach because being close to the water is why I live here.
The style was "coastal modern"; we wanted it to feel fresh and comfortable. We also wanted something fun, as this was a second marriage for us both. All the colors were beach-inspired--corals, blues, sandy yellows and turquoise.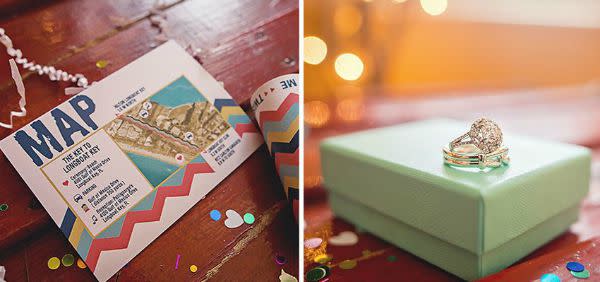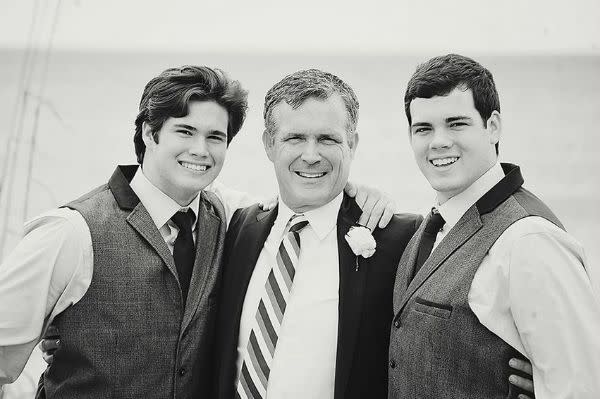 Jenn, how did you find your absolutely stunning dress?
Jenn: I saw the dress in a magazine [Hayley Paige's "Guindon"] and hunted it down. I found it in a bridal couture shop in Orlando and tried it on, and 15 minutes later it was on order. I still love the dress and get compliments on it all the time!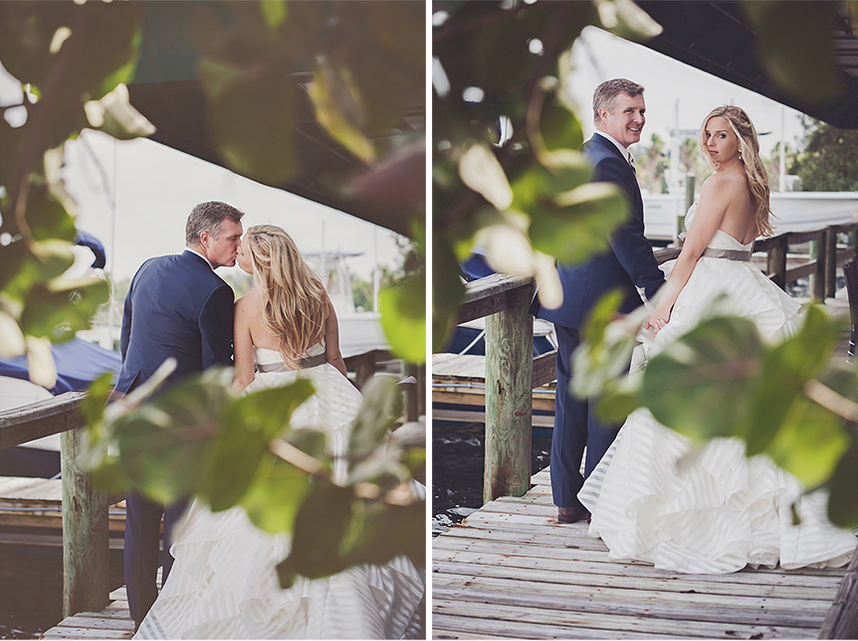 What are your favorite moments from the wedding?
Jenn: One of our favorite things were the vows. We both wrote our own and let our officiant review them, but we didn't read or see each other's vows before we spoke them. This made the moment very special for us both.
On a non-sentimental note: another favorite was the bacon bar! We had six different types of bacon-related items…it was a hit and even made the news the following week.
Note: Renee Phinney was my "maid of everything," and I am so grateful to her.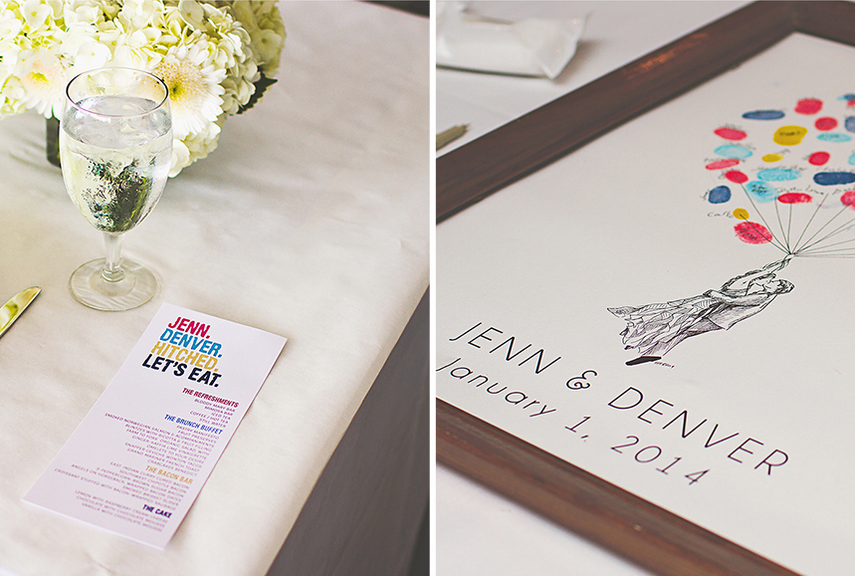 Do you and your husband have any fun anecdotes about each other to share?
Jenn: Denver is a big goofball. Most people think being former Chief of Staff to Gov. Bush or the Secretary of the Department of Transportation would make him a serious kind of guy--and he is, when he has to be. But at heart he is a big kid. That is his draw and what people remember about him. He is one of the best joke tellers I know.  Also, he loves Pilates and hot yoga.
Denver: Jenn has a huge heart. She is in a business that is tough (construction), and she has a reputation for being firm in business, but once you know her, you know that there is something soft and gentle in her, and she loves to help people. It's something only those close to her get to see. And she loves Pure Barre and can cook up barbecue on a Green Egg like a pro.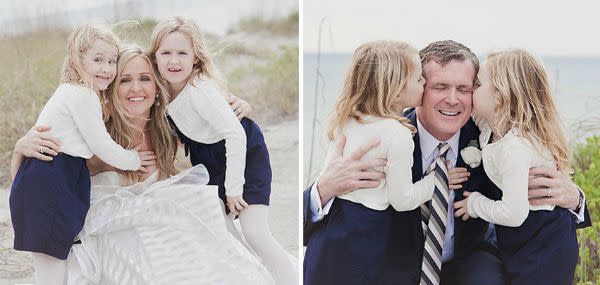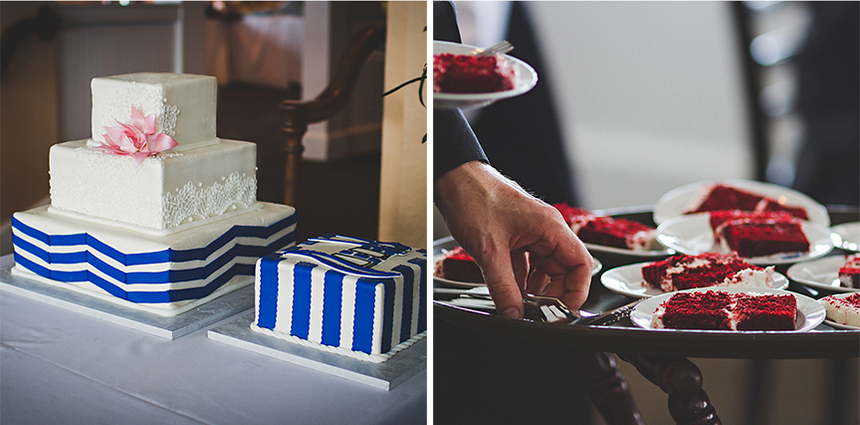 Photography by Tara Tomlinson Photography.
Cakes: Cakes By Ron
Day-of coordinator: Holly Lundgren
Music: Matt Gerhardt
Flowers: Roger Capote