Article
Blush Bridal Opens in Downtown Sarasota
Blush Bridal, a couture bridal boutique, has opened its doors on First Street in downtown Sarasota.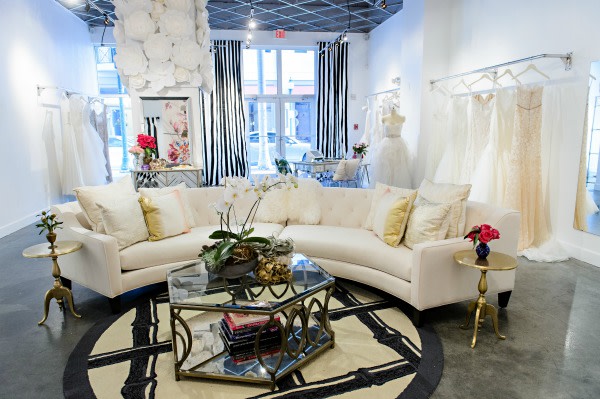 If you've been to downtown Sarasota lately, you've likely noticed an infusion of feminine entrepreneurial spirit popping up all over--the latest being Blush Bridal.  One step inside and you feel like you could be in any chic metropolitan city shopping for the dress. But you'll feel right at home in the boutique because the creative founders are the sharp and lovely Fondren Watts (Sarasotan by birth) and Nicole Mei (of the Cafe Baci family); both community-minded women who call this wonderful city home.
The fashion-minded duo were inspired to bring Blush to Sarasota by their own search experiences for their dream wedding gowns. That's why you'll find a carefully curated selection of couture wedding dresses for the discerning bride in a modern, fresh setting in which you'll feel just as special as a bride-to-be-should.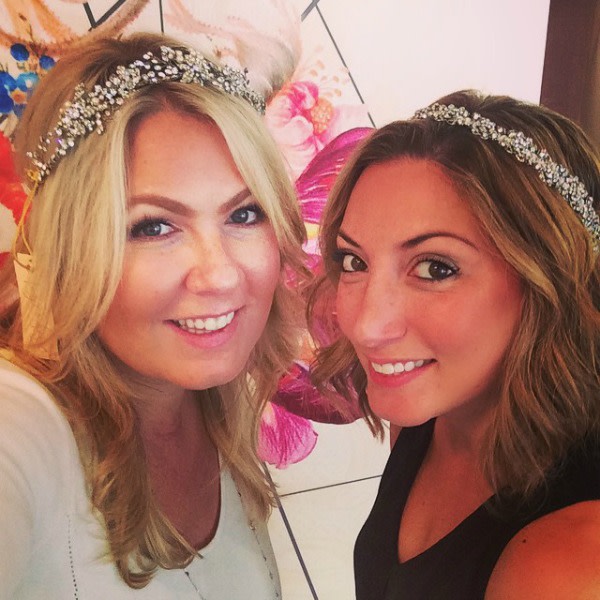 Lets begin with some advice for the newly engaged who's out shopping for the dress?
Fondren Watts: Have fun with this experience--don't let the stress of finances and other people's feelings get the best of you. This should be one of the best times in your life and we hope you live it up.
Nicole Mei: We recommend dress shopping no less than six months prior to your wedding. Our gowns are custom-made and thus take time to be delivered (plus you'll need time for alterations). Bring people whose opinions you value the most, but try to keep your entourage to around four people at most. Too many opinions can distract and confuse you. Most of all, try to relax and enjoy your time in the boutique!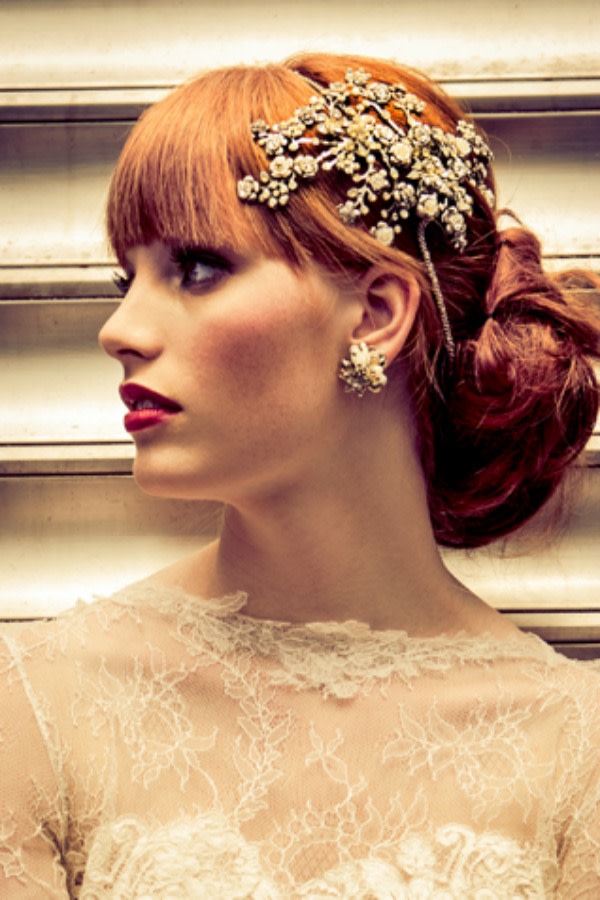 What should a bride look for when selecting a boutique to work with?
FW: Consider what designers the boutique carries, what the price range is, if it offers in-house alterations. An equally important question for the bride is, "Who will I be working with?" At Blush Bridal, Nicole and I are the chefs, cooks and bottle washers. We are here to support our brides from start to finish. Our priority is to ensure you have a great, comfortable experience. We want the very best for our brides and feel strongly that, as the store owners, we should be the ones providing that for them.
NM: Personalized customer service is our mantra. We cater specifically to the bride. If one of our designers carries a gown you want to try on, but we don't have it in permanent inventory, we will have it flown in for your appointment. We want our brides to have the true fairytale experience and will go above and beyond to achieve that.
Blush Bridal boasts some of the must-have names in the industry--what did you take into consideration when choosing lines to carry?
FW: We wanted to bring the best to Sarasota. It was important to us when defining our mission that we would carry the top designers in the industry. We took into consideration our personal favorites, as well as the designers that our friends love and wore. We also look forward to adding more couture designers over the years who are in high demand.
NM: We wanted to bring in the high-end designers to Sarasota that girls have been traveling outside of our market to find. Our city is a growing, thriving, modern and luxurious place to live--we felt passionately that the designers we carry should represent that too. Exclusivity was a big deal when deciding who to represent, as we want to be the west coast of Florida's premier destination for brides in search of a couture gown.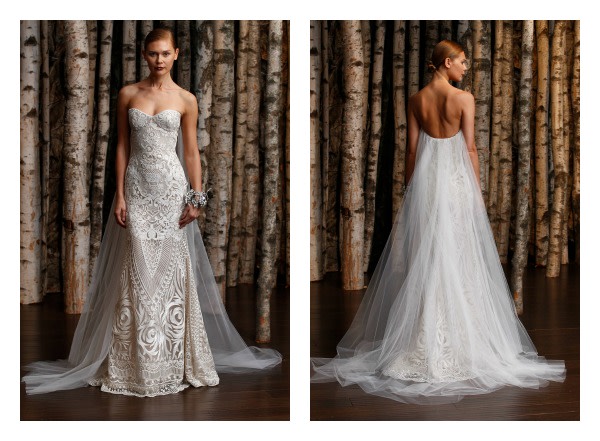 What are the latest trends in bridal?
NM: This season we're seeing a departure from the strapless gowns that have been very popular over the past few years. Whether in a delicate beaded cap sleeve or a dramatic lace long sleeve, sleeves are back in a big way. [Another trend is] beautiful illusion necklines--we have a gorgeous one from Amsale with an illusion back and crystal beading. We're also seeing lots of deep V necklines and low backs. Brides are showing more skin, but in a tasteful way--if you go for a low back, balance that out with a sleeve or a higher neckline.
FW: I think my most favorite trend that I'm seeing a lot of right now is the "two looks in one" style. Designers like Inbal Dror, Naeem Khan and Reem Acra are having a lot of fun creating a layered look by offering detachable skirts that can be purchased separately to create a ceremony look that is completely different from the reception look. It offers a playful alternative to purchasing an entirely different gown like some brides have chosen to do in the past. Another look we loved this season was the detachable bow train on the Lara gown that Ines Di Santo showed in its Spring 2016 runway show.
How about insight for the bride who has no idea what she wants in a wedding dress….
NM: Keep an open mind! Many times girls are sure that a certain style will not look good on them, but once they try it on they fall in love. Try on different silhouettes to see what you're comfortable in and what flatters your figure. Ultimately, you should choose a gown that you feel radiant and beautiful in, and that reflects your personality. A few other helpful factors to consider are your venue, time of year of the wedding and formality.
FW: Fit, fit, fit. The way a gown fits will truly define the gown and the look. Just because something is "on fleek" on Instagram right now (as my niece would say!) doesn't mean that it is the style for you. I am a true proprietor of following your natural instincts--you know your body, and choosing your gown is one of the best times to stay true to those instincts.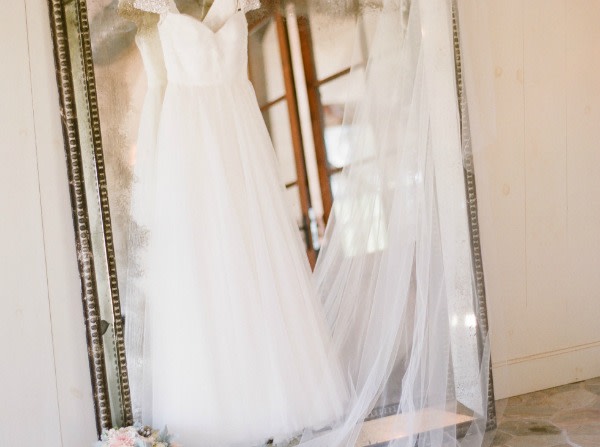 And what about post-big day–how should a bride store her wedding dress for posterity?
FW: Well, first things first ladies, dry clean those red wine stains out of your gown from crazy uncle what's-his-name ASAP! And the best way to store post dry-cleaning is to have it professionally preserved in a gown box (I kept mine in my closet for two years until I opened a bridal boutique--to each her own, though).
NM: Many women opt to have their gown professionally dry-cleaned and preserved in a box. I, like Fondren, chose to clean mine but I have mine hanging as well. I like to see her every day! More creative brides may want to display their gown as a piece of art or even take some of the fabric from the train and make a cute, short cocktail dress to wear on their anniversaries. My gown had beaded cap sleeves that I am seriously considering adding to a black formal dress so I can enjoy their sparkle in the future.
For more beautiful Sarasota weddings and expert tips, click here. >>