Article
Designer Sigrid Olsen Sketches Out New Life in Sarasota
With a new clothing line debuting on HSN, Sarasota's Sigrid Olsen is reinventing her career.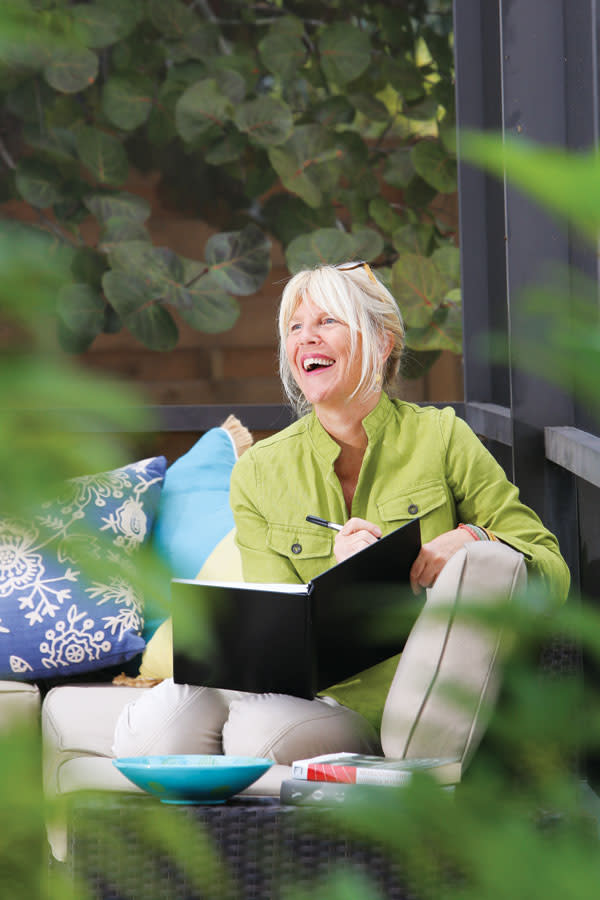 In her sunny home studio on Siesta Key, artist and fashion designer Sigrid Olsen is sketching out the next chapter in her colorful career.
Olsen, whose name is still synonymous with the cheery women's clothing and accessories made from her own textile designs that customers snapped up in the 1980s, 1990s and early 2000s at upscale department stores like Bloomingdale's and Macy's and in her own 54 Sigrid Olsen boutiques, is starting over after a six-year hiatus.
She is preparing for the evening of April 16, when the cameras start rolling on HSN's popular The List with Colleen Lopez for the TV debut of the chic linen jackets and cropped pants, embroidered cotton tunics, easy knit pants and crocheted dusters that comprise her brand-new Sigrid Olsen Studio collection exclusively for HSN. (The line debuts first at hsn.com on April 1, and will air on HSN again April 21.)
Olsen is betting that the retail juggernaut that is HSN—which boasts 5 million active customers among the 96 million households into which it broadcasts its live, 24-hour high-energy parade of fashions, shoes, jewelry and beauty products—will restart her fashion design career, which ground to a halt after she sold her multimillion-dollar namesake line to Liz Claiborne in 1999, only to see Claiborne fold it, along with several other iconic fashion brands, at the start of the Great Recession.
That blow, coupled with a diagnosis of breast cancer in 2005 and the sudden death of her husband two years ago, might have felled most people. Instead, she turned inward to find the strength to reinvent herself personally and professionally.
A self-described Type A personality, Olsen, who is a youthful-looking 62, says that, when Claiborne closed her company in 2008, "My husband and I packed up some suitcases and went AWOL. We ended up in Tulum, and I had some time to think about my life. I started doing yoga and meditation again, which I'd done in college, and I started painting again. I found they fed each other. The more yoga I did, the more creative I felt, and it was calming for me."
Tapping into that powerful connection between wellness and creativity, Olsen began organizing week-long yoga retreats for a dozen to two dozen participants in scenic, romantic places like Tulum and Provence. (Her next retreat is in Santorini in September.) "We live a very healthy lifestyle for a week; most of us don't even wear shoes," she says. "We're walking in the ocean, getting a massage, doing deep breathing—it's all good stuff." She also hosts invitation-only yoga brunches once a month on the verandah of her Siesta Key home.
Olsen says her emphasis on healthy living has been transformative. "My philosophy holds wellness at the top; that is the top priority," she says. "If I feel myself stressing out, I know I'm the only one with control over that."
Like so many new Sarasotans, a vacation brought Olsen and her late husband, Curtis Sanders, here in 2010. At the time, they had a home and art gallery in the Rocky Neck art colony in Gloucester, Mass., where Olsen sold her original artwork, note cards and hand-painted pottery. (It has since closed.) "We wanted to open a second gallery, and we looked all over Florida," she says. "No place resonated like Sarasota—the weather, the beautiful beach, the culture." They opened the Sigrid Olsen Art Gallery on South Pineapple Avenue in Burns Square. "We found that space even before we had a place to live," she says. Olsen rekindled a friendship with Kristin Joyce, a Sarasotan she'd known in the fashion industry in New York who is now her business partner, and "Kristin introduced me to many artsy, interesting people. I went to yoga every day in Burns Court, I went to Selby Gardens. I thought, 'OK, this feels peaceful and beautiful and I think I could live here.'"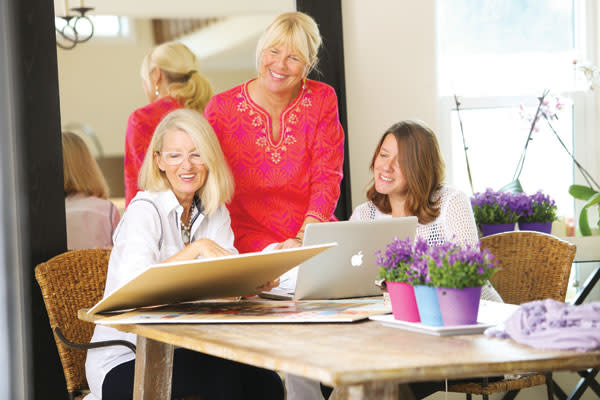 The new Sigrid Olsen Studio collection reflects that tranquil beauty, as does a current stint as guest designer of digitally printed T's featuring stylized tropical blossoms and feathery sea coral motifs for the brand Before & Again. "I've always been inspired by the ocean and the surrounding vegetation, but to be able to do that year-round has helped," she says. "I have time and a studio now, I'm very prolific again. I love doing my artwork and I'm painting like crazy."
Olsen says she's looking forward to sharing her philosophy on-camera with HSN viewers. "I've done lots of TV interviews and fashion shows, of course, but this will be a unique experience," she says. "It's completely unscripted and I'm looking forward to speaking from the heart."
Her message: "We all want the same things: serenity, strength, to be connected and to look pretty while looking like ourselves."
The theme of the inaugural spring collection is Beach to Bistro. (Her subsequent summer, fall and possibly holiday collections will air on HSN in June, July, August and October.) Olsen collaborated with a design director who has helped bring in the clothes at a surprisingly accessible price range—$29 to $109. "They're versatile, chic and sophisticated [pieces] with all the little artisan details like beading and embroidery," she says. Her dip-dyed scarf, for example, is produced with a real hands-on technique and comes in what she describes as "beautiful and mysterious colors"—one in white with taffy and gray, another in shades of aqua. "The colors are so beautiful, and it's simple," she says. "It's merging everything in my life—being in the fashion business with my entire lifetime of being an artist, painting, printmaking, textile design."
HSN is calling Olsen one of its "marquee designers." HSN chief merchandising officer Anne Martin-Vachon says they appreciate the longtime, loyal fan base Olsen brings. "Our customers, including myself, were shopping her line when she was in department stores," she says. And the designer's appeal wasn't limited to resort locales, she adds. "I was [buying Sigrid Olsen designs] in Canada in the middle of winter and she was as popular there as she was in Florida," says Martin-Vachon.
She praises the collection's "effortless but on-trend style," geared to women of all ages. "She's got beautiful prints, and she always adds that little handcrafted touch to everything she does," she says. "These are one-of-a-kind, very Sigrid and very timeless pieces."
"It's exciting and affirming at the same time," Olsen says. "All those years I put in being a designer really meant something, yet I'm able to live the life I created over the last decade. I wanted to design again [but] I didn't want to start my own company from scratch. I wanted to work with somebody in the field. And I wanted to live in Sarasota. I thank my lucky stars they all came together."