Article
Behind the Scenes of New York Fashion Week with Hairstylist Bethany Holmstrom
Go behind the scenes of New York Fashion Week with Bethany Holmstrom, owner of downtown Sarasota's Fresh Salon.
[caption id="attachment_1953" align="alignleft" width="488"]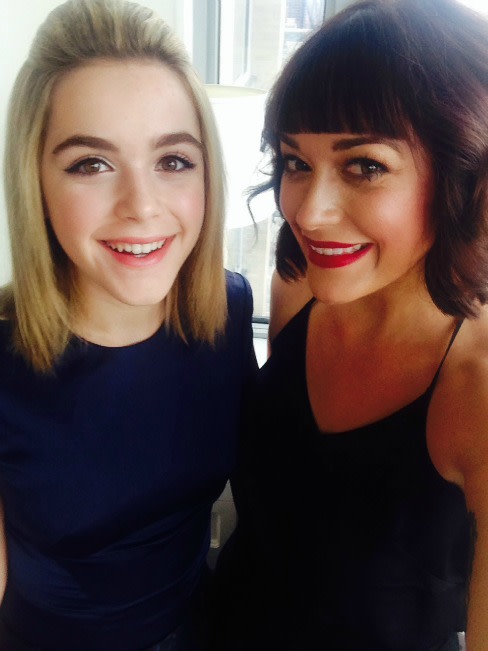 Mad Men's Kiernan Shipka and Bethany Holmstrom[/caption]
Just back from the Big Apple, where she started her career, Fresh Salon's co-owner/stylist Bethany Holmstrom spent the last week styling locks behind the scenes at New York Fashion Week for the second year in a row. Her cool résumé also includes styling the celebrities such as Ivanka Trump and actress Katie Aselton and working on the Biggest Loser and the Tyra Banks Show. And she is also one of just 15 Shu Uemera Haigo artists in the country. Pretty cool.
I caught up with Bethany for some insight on what happens behind the runway...
[caption id="attachment_1950" align="alignleft" width="488"]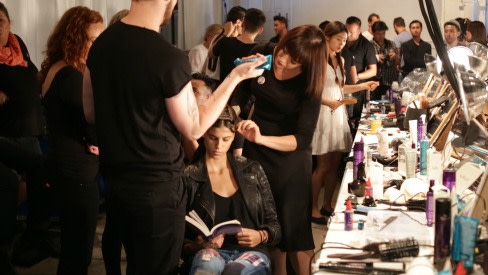 Bethany backstage at Thakoon[/caption]
It's pretty impressive to be invited to style hair for NYFW – what kind of credentials are required?
I am an artist on the Kerastase T.E.C.H team as well as a Shu Uemura Art of Hair artist. We teach across the country and from that can be selected to work on the shows at NYFW.
What runway shows did you work on?
Jason Wu, Rebecca Minkoff, Suno, Thakoon, Alexandra Lin, Altuzzara, The Row and Zac Posen. I was also sent to style Kiernan Shipka's hair [Sally from Mad Men] for her appearance at Zac Posen's show.
[caption id="attachment_1951" align="alignleft" width="488"]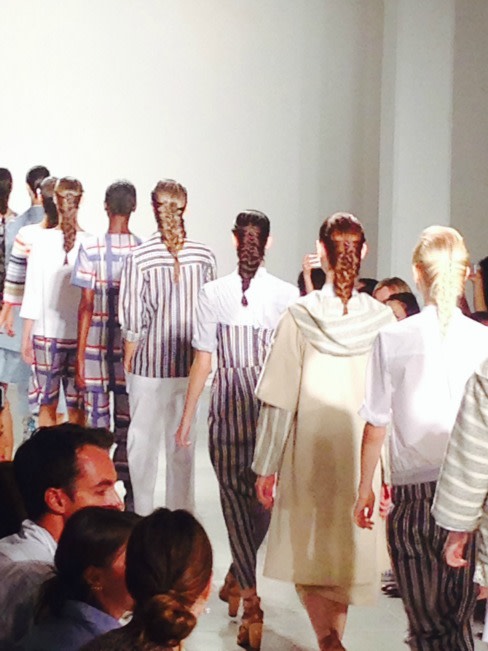 During the show at Suno[/caption]
What's it like backstage before a show?
Extremely hectic and fun! We have to get our head in the game and get to business. Generally there are about 30-40 models for a 10-15 person team, so we really have to move fast.
Have a fave show?
My favorite show for the hair was definitely Suno. The hair was both sleek and had a lot of texture with a caged fishtail braid. I loved the contrasting textures. And my favorite show overall was The Row. It was very exclusive and unique. The theme was Japanese and the clothing was impeccable. [Designers] Mary Kate and Ashley Olson always know how to put a great show together
[caption id="attachment_1952" align="alignleft" width="488"]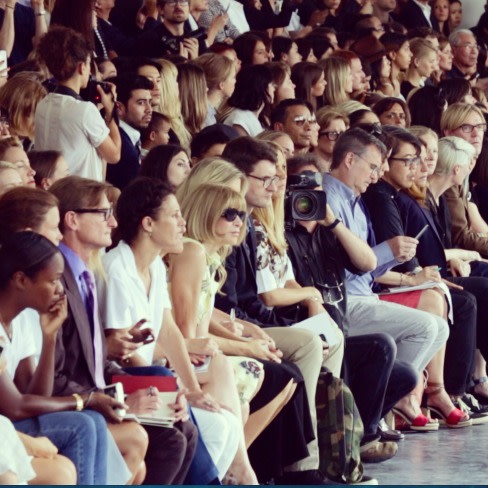 Anna Wintour and Hamish Bowles front row at Jason Wu (and Ken Downing far right).[/caption]
Discover any cool new products?
We are loving the new V.I.P spray from Kerastase. It gives a lot of texture and makes the hair very workable.
How about a Fashion Week styling tip for the downtown Sarasota cool girl?
Loose waves are still in, but they can even be brought down a little more, to look almost bedhead-like. And of course, braids aren't going to be a passing trend anytime soon.
[caption id="attachment_1949" align="alignnone" width="488"]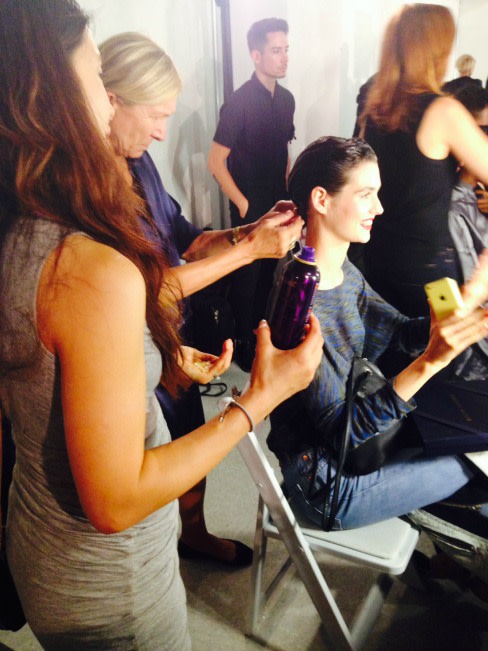 Odile Gilbert, creative director and legendary stylist, retouching a model before Zac Posen.[/caption]