Article
Their Sarasota Wedding: Four Couples Plan Destination Weddings
Four couples choose iconic Sarasota locations for their destination weddings.

The Oaks Country Club: Christine Cusack & Kevin Carlson
When Chicagoans Christine and Kevin were deciding on where to have their destination wedding, they quickly realized that the answer was close to home: Sarasota's Oaks Club. "Our parents [who all live in Sarasota] are members, so the club was already special to us," Christine recalls. "And aside from wanting warm weather, we loved the club's plantation feel, from the long driveway under the hanging moss to the view of the clubhouse from the 18th hole." The reception was held under a clear tent, filled with gleaming chandeliers, on the croquet lawn behind the clubhouse, and included a fireworks show—secretly planned by the bride's parents—that Christine says left her and Kevin speechless: "That moment will stick with us for the rest of our lives."
Photography by Binary Flips; wedding planning by Choreographed Events. See more photos from this wedding here.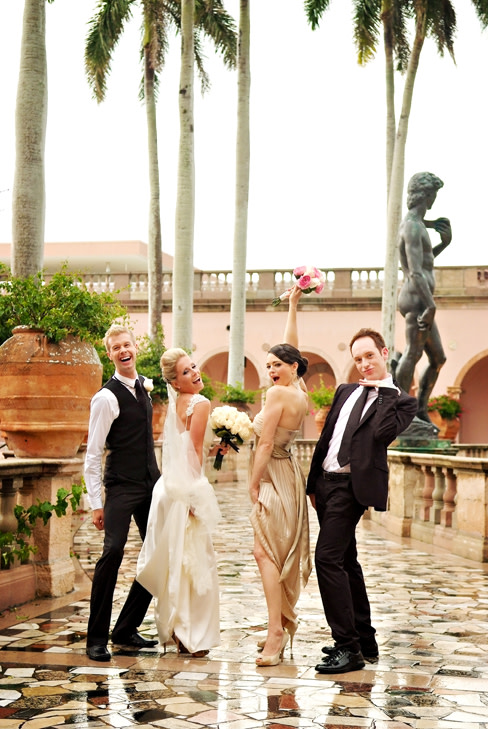 Siesta Key Beach Wedding: Kelsey Johnson and Ryan Agostinelli
"Siesta Key has always been my happy place," says Kelsey, whose family has lived or vacationed on the island for more than half a century. So when she and her fiancé, Ryan, decided to get married, Siesta "was really the only place we even considered," she says. Kelsey and Ryan, who live in Arlington, Va., were married at St. Boniface Church, and followed the ceremony with a festive reception at a home on a private beach on the north end of the key that ended with an after-party at the Beach Club.
Even though planning a wedding long-distance can be stressful, Kelsey says it was "so easy and fun." As for the moment she'll remember most? "Sitting on the beach after we were married, watching the sunset over the Gulf," she says. "I thought, 'Oh my gosh, this happened and it's perfect.'"
Photography by Eleven Weddings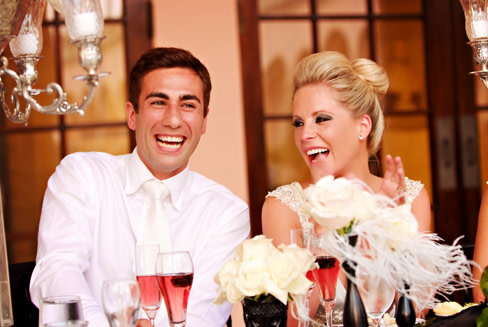 Private Gulf-Front Home: Carter Ramsey & Anthony Sonstein
"We talked about having a wedding in the Midwest, but then we thought, 'We could do a wedding on Siesta Key!'" says St. Louis-based Carter, who's been vacationing in Sarasota since she was a little girl and whose husband, Anthony, grew up here. So with the help of wedding planner Beth Kompothecras of Sarasota's So Staged—a family friend of Anthony's parents—Carter planned the wedding of her dreams: a Sunday-morning brunch held at Beth and husband Gary's (of Ask-Gary fame) mansion overlooking Point of Rocks on Siesta. "The house is unbelievable," Carter says. "I've always had the little girl's dream of having an enchanted fairytale wedding, and I got that."
Photography by Tara Tomlinson; wedding planning by So Staged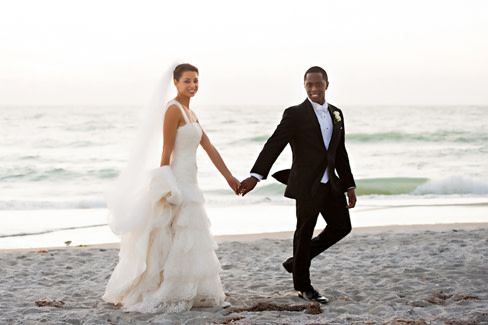 One Couple, Two Weddings: Sree Kastury & Patrick Lenhart
Sree and Patrick's wedding ceremonies (yes, there were two!) were both held at iconic Sarasota locations—the Hindu ceremony took place at the Ringling Museum's Cà d'Zan, and the Christian ceremony was held at the Powel Crosley Estate. After visiting more than 15 venues from New Hampshire to Florida, "We knew that the Cà d'Zan would be the perfect location for the Hindu ceremony and reception," Sree says. "The vibrant colors of the stained glass were the perfect complement for the bright colors and lush flowers typical of a Hindu wedding."
For the Christian ceremony, Patrick was drawn to the Crosley's history, "and I fell in love with the idea of having an open-air dance floor and saying our vows under a giant banyan overlooking the water," Sree says. "I'll never forget Patrick and his groomsmen pulling up to the Crosley by boat—I was overcome with excitement to marry him all over again."
Photography by Thirteen Thirteen Photography; wedding planning by Day Planners