Beer Me
Your Guide to Sarasota's Best Breweries
Craft beer lovers' cups are running over with several new and newish breweries in the 941. We tour their taprooms and sample the suds.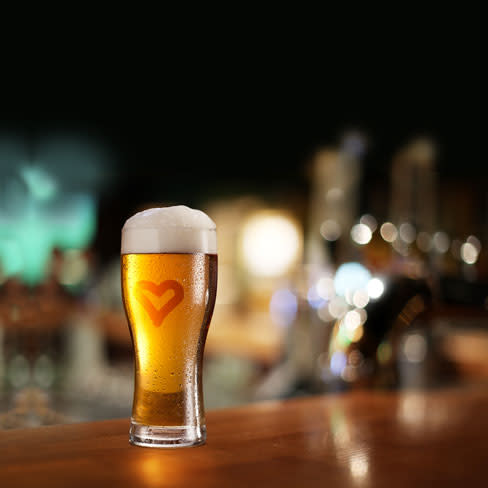 Until about five years ago, Sarasota-Manatee beer heads sang the same sad song: You have to drive north over the Skyway to find fresh craft beer. But now they've happily changed their tune. The 941 area code now sports six craft breweries, each with excellent products and a distinct, Southwest Florida style. Now some Pinellas/Hillsborough residents are traveling south for a taste of our beer scene.
For the true craft beer experience, visit their taprooms, where each unique environment sets the perfect scene for sampling some exceptional brews. And while these breweries produce only liquid sustenance, in true craft beer tradition, each site is frequented by food trucks that offer a variety of options to hungry customers.
Let's pull up a stool, order a tasting flight, and start sipping.
3 Keys Brewing & Eatery
2505 Manatee Ave. E., Bradenton
(941) 218-0396
3keysbrewing.com
Taproom hours: Sunday-Thursday, 11 a.m.-10 p.m.; Friday and Saturday, 11 a.m.-midnight
Origin story: Like many breweries, 3 Keys started with a home brew kit. A decade ago, Jeff Douglas whipped up his first batch, using a hot tub stocked with ice to keep it cool. He and his wife, Cathy, later bought an RV and spent two and a half years cruising the U.S., visiting 126 breweries in 49 states. The couple's son, Scott, also caught the craft beer bug and began making his own beer. The three eventually teamed up and set out to open 3 Keys, with Cathy in charge of food and Jeff managing things. "I clean a lot of toilets and bus a lot of tables," Jeff says. Scott is responsible for making the beer. "He's well surpassed me," Jeff says.
Setting: The main attraction here is the giant, red-awninged deck out front. On a cool afternoon, it's an ideal place to loll away the day, with long picnic tables, a foosball setup and the suddenly ubiquitous giant Jenga set. Bring a book, bring a friend. There are way worse ways to spend an hour. Or three.
Customers: Friendly camo hat-wearing neighbors, young women playing in The Bachelor's fantasy league.
Extracurricular activities: Foosball and oversized Jenga.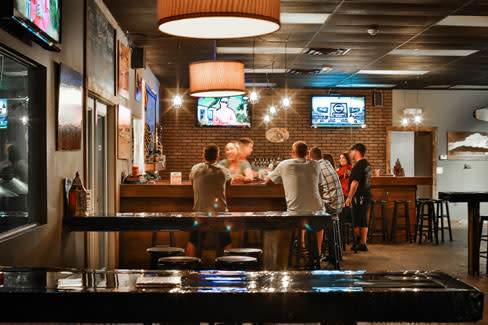 Big Top Brewing Company
6111 Porter Way Sarasota
(800) 590-BIGTOP
bigtopbrewing.com 
Taproom hours: Monday-Saturday, 2-10 p.m.; Sunday, noon-8 p.m.
Origin story: Sarasota native Mike Bisaha and a friend dreamed of adding a beer of their own to their expansive bottle collection. They recruited Josh Wilson, three decades a home brewer, to man their operation. Bisaha, a history buff, honors his hometown with a circus theme, and hired a Ringling College grad to design the nostalgic but edgy branding.
Setting: Artsy lighting over high tables made of 80-year-old pecky cypress railroad ties, custom circus-themed beer posters and a gift shop, plus an L-shaped bar and, of course, the requisite windows looking out to the sunlit brewery warehouse.
Customers: Lakewood Ranch regulars and all sorts of inquisitive beer lovers, from hipsters to bikers, drawn in by the sign facing I-75.
Extracurricular activities: Creating mind-blowing flavor combinations inspired by Facebook competitions and local partnerships (Walt's Fish Market once helped them make a blue crab and Old Bay stout).
Soundtrack: CCR, Allman Brothers, Eric Clapton—bluesy Southern rock.
Overheard: "Beer has food value, but food has no beer value."
Calusa Brewing
5701 Derek Ave., Sarasota
(941) 922-8150
calusabrewing.com
Taproom hours: Tuesday-Thursday, 2-10 p.m.; Friday, 2 p.m.-midnight; Saturday, noon-midnight; Sunday, noon-8 p.m.
Origin story: Calusa co-owners Geordie Rauch, 35, and Vic Falck, 34, started talking about opening a Sarasota brewery back in 2011. Sarasota natives, the brothers-in-law both fell hard for craft beer while stationed with the Navy in San Diego—or "beer mecca," as Rauch calls it. "The scene was exploding," Falck remembers. "I loved the variety craft beer offered."
Setting: Calusa is located inside a 9,500-square-foot warehouse on almost on acre of land just north of Clark Road. The warehouse includes a production facility stocked with a grain mill, a 15-barrel brew kettle and a series of towering fermenters that allow Calusa to crank out 465 gallons of beer in a single batch. The taproom has sky-high ceilings, lots of high-top tables and a rotating mix of mobile food vendors.
Customers: Beards galore, plus young parents who let their kids scamper about.
Extracurricular activities: Not much. The focus here is on high-quality beer and food truck cuisine.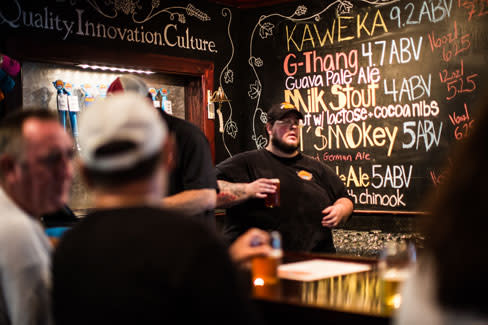 JDub's Brewing Company
1215 Mango Ave., Sarasota
(941) 955-BREW
jdubsbrewing.com 
Taproom hours: Wednesday-Saturday, noon-11 p.m.; Sunday, noon-8 p.m.
Origin story: California native and former government employee Jeremy Joerger always dreamed of a business in beer. After falling in love with Sarasota and moving here in 2013, Joerger recognized a demand for locally made beer, then tackled the legal roadblocks that were impeding opening breweries in Sarasota, paving the way for those who followed. Joerger used his own rugby nickname for the branding.
Setting: Industrial-size doors open up to a long, funky-friendly interior, with tables alongside brewhouse windows opposite a small bar and ordering station. There are several flat-screen TVs and a large, drop-down projection screen for sports, etc. Out back, a popular patio, deck and grassy, dog-friendly yard offers picnic tables and games.
Customers: Bearded, tattooed young guys and yoga-toned gals; relaxed retirees and everything in between.
Extracurricular activities: Yoga in the yard; a "street team" performing popular community service events like beach cleanups. JDubs also partnered with Sarasota's own Drum Circle Distilling to create an entirely local, rum barrel-aged Scotch Ale, Esperanza.
Soundtrack: The Pixies, Gorillaz, Springsteen, etc.—college radio, trip-hop and classic rock.
Overheard: "This Poolside [kolsch] would actually be perfect poolside. I could drink this all day."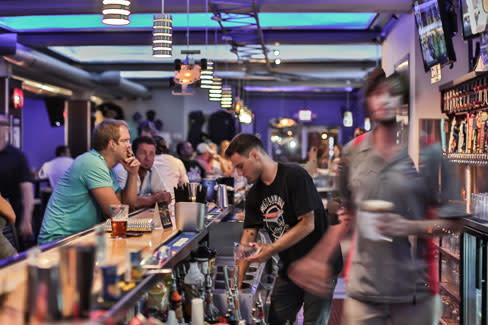 Motorworks Brewing
1014 Ninth St. W., Bradenton
(941) 567-6218
motorworksbrewing.com
Taproom hours: Sunday-Thursday, 11 a.m.-midnight; Friday-Saturday, 11 a.m.-2 a.m.
Origin story: Business owners and longtime Palmetto residents Denise and Frank Tschida saw major opportunity in Manatee County's lack of craft breweries. They set their enterprise in a sprawling former car dealership near downtown Bradenton, undertook extensive renovations (an actual grain silo lets them order ingredients by the truckload), and staffed the place with like-minded "gear heads and beer heads." Hence the name, which refers to the setting as well as employees' passions for cars and racing.
Setting: A spacious indoor area featuring clean and contemporary wood-topped tables, living-room-style seating areas and plenty of flat-screen TVs; a long bar sits opposite a wall of windows. Outside, Florida's largest beer garden (seriously), centered by an old, beautiful oak, includes a putting green, cornhole, bocce and a giant projection screen for movies and sports. (Worth noting: Motorworks serves wine, liquor and guest beers alongside its own brews.) 
Customers: Bradenton beer snobs and curious newbies; competitive cornholers and other bar-sporting types, plus just about anyone else who can fit (the place is huge).
Extracurricular activities: You name it—live music, movie screenings, beer-and-painting nights, beer pairing dinners, SoCo Sports leagues, and on and on. 
Soundtrack: Bon Jovi, Blue Oyster Cult, Dave Matthews Band—sports bar rock.
Overheard: "Let's play darts—but after the Bucs game."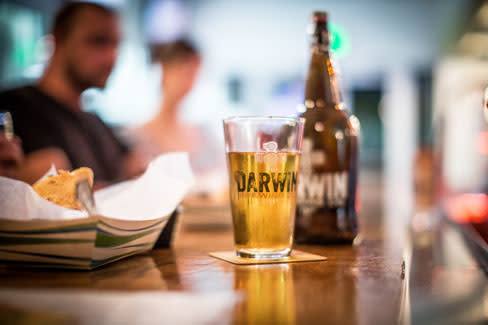 Darwin Brewing Co.
803 17th Ave. W., Bradenton
(941) 747-1970
darwinbrewingco.com
Taproom hours: Tuesday-Wednesday, 4-10 p.m.; Thursday-Friday, 4 p.m. -midnight; Saturday, noon-midnight; Sunday noon-8 p.m.
Origin story: Restaurateur and chef Darwin Santa Maria channeled his penchant for innovative Peruvian cuisine into this beer-making enterprise. Though Santa Maria is no longer involved in the operation, founding brewmaster Jorge Rosabal continues to combine local flavors with ingredients indigenous to the wildly varied environments of the Andes. 
Setting: Beyond the red brick façade, the contemporary/industrial-style taproom receives lots of sunlight from many windows. High tables of wood and lead pipe surround a U-shaped bar, all atop untreated concrete floors. (Flat-screen TVs and a window into the brew room, of course.) When the weather's right, two rolling garage doors allow the taproom to open up to a manicured outdoor seating area.
Customers: Laid-back young and beautiful Southwest Floridians, plus businesspeople and international types.
Extracurricular activities: Food truck-and-beer pairings, organized after-work runs, live music.
Soundtrack: Classic rock to New Age alternative—chill mood music.
Overheard: "That's really good. I wonder what that flavor is. Probably some herb I can't pronounce."
Beer Here
Where to find great craft beer and savvy staff.
Local legend known for its selection (40 draughts, nearly 1,000 bottles) and live music.
975 Cattlemen Road, Sarasota (941) 363-1262
Dim and eclectic tavern popular with the college crowd—from students to professors.
2831 N. Tamiami Trail, Sarasota (941) 487-7373
Expansive downtown Bradenton icon with an equally expansive selection of beers. 
406 12th St. W., Bradenton (941) 747-8114
Destination for "nerding out" with other beer heads.
2645 Mall Drive, Sarasota (941) 343-2854
The area's oldest microbrewery serves its own creations, like "Midnight Pass Porter."
6607 Gateway Ave., Sarasota (941) 925-BEER
Laid-back English pub with awesome burgers to go with your beverage.
3550 S. Osprey Ave., Sarasota (941) 364-5938
Tiny downtown neighborhood mainstay with superb beers and an all-inclusive attitude.
2257 Ringling Blvd., Sarasota (941) 952-1730
Intimate downtown standout with serious beer chops—50-plus rotating draughts.
1507 Main St., Sarasota (941) 953-6777