Spirits of Sarasota
Drink of the Week: Libby's Barista
A coffee-lover's cocktail.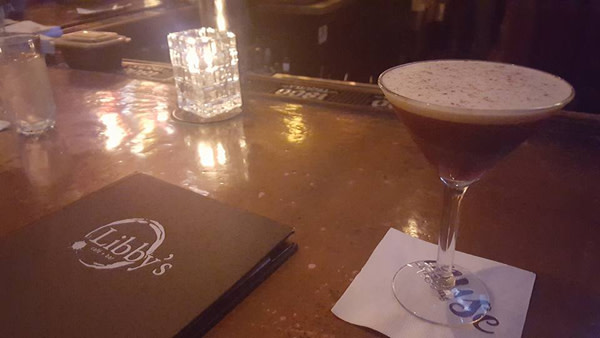 This week: The Barista at Libby's Café + Bar
The drink: Vodka and St. George's NOLA coffee liqueur, crème de cacao and espresso, topped with espresso sugar. A coffee-lover's cocktail, the fresh-brewed espresso keeps the sweetness of the liqueurs in check (Have we figured out by now that I'm not a huge fan of too-sweet concoctions?), and the crème de cacao makes for a nice little froth. Though it's not listed among the ingredients on the menu, our bartender topped it with cinnamon, which really made the drink, so you might make a point to request it.
The bar: A long L-shaped bar, plus booths, lit by cool light fixtures and subtly set off from the dining room, with lots of seating—which is good, because this is a Southside Village hot spot, especially popular with young professionals and their stylish older counterparts.
Food: Libby's truly unique take on American fare translates well to bar bites—things like "Pigs in a Pretzel Blanket" and "Seoul Kitchen" chicken lettuce cups. Look for the "4-2-7-4-6" happy hour menu (all plates $6 between 4 p.m. and 7 p.m.).
Other notable potables: The cocktail menu is as adventurous and creative as the food, with offerings like a celery gimlet (gin, celery, lime, green chartreuse, salt and celery bitters) or a matcha pisco sour (Kappa Pisco—a Chilean white spirit—peach nectar, lime and egg white). For fans of spice, the Jalapeno Paloma (featuring jalapeño-infused tequila) packs a real kick.