Breaking Food News
New Nancy's Bar-B-Q Opens Next Week
The second Nancy's Bar-B-Q opens in Lakewood Ranch next week, with a name that distinguishes it from the downtown original: Li'l Nancy's at the Ranch.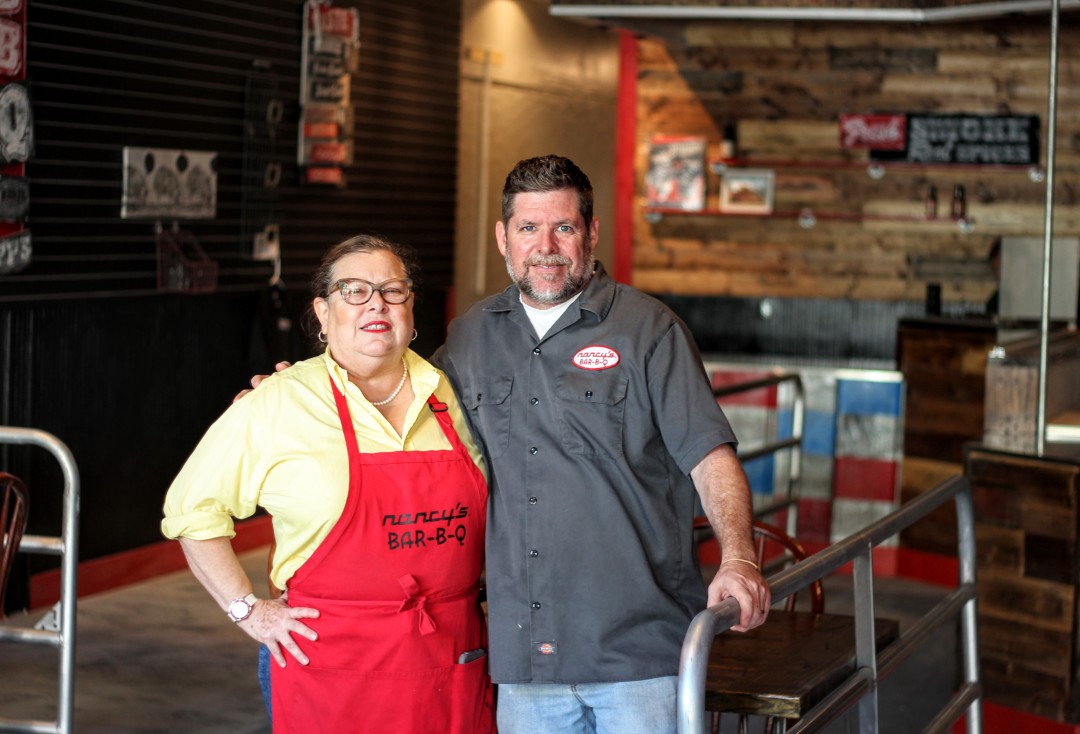 After months of rumor, chatter and speculation, the second Nancy's Bar-B-Q will finally open in Lakewood Ranch next week, with a name that distinguishes it from the downtown original: Li'l Nancy's at the Ranch.
Why "li'l"? For starters, the space is, well, littler, roughly 1,500 square feet compared to around 2,300 downtown, and there are fewer seats, 36 inside compared to more than 80 in total downtown.
The new menu also won't have every single item available in Sarasota—in particular, smoked ribs and bone-in chicken. The smaller kitchen in Lakewood Ranch can't accommodate a smoker, so Nancy's owner Nancy Krohngold, 64, and partner and general manager Jim Kelly, 44, will instead haul much of the meat from the downtown location out east. Pulled pork, brisket and pulled chicken (the three most popular Nancy's items) will hold up just fine, but the ribs will deteriorate too quickly to make the trip. So they won't serve them. Both Krohngold and Kelly are adamant that whatever they put out in the new location meets their exceedingly high standards.
"We don't want to serve any products that are not 100 percent as good as what we do downtown," Krohngold says. All side dishes will be made in-house at the new spot.
The new Nancy's has been in the works for years. Krohngold opened her first restaurant in 2011 after partnering with the Caragiulo brothers. After considering a University Parkway location, she eventually settled on opening in Lakewood Ranch and signed a lease last October. On April 2, she bought the Caragiulos' share of the business and began converting a Main Street retail shop into the new Nancy's.
The look remains consistent with the downtown vibe (intense reds, wood paneling, corrugated metal), but with a streamlined layout intended to get customers through the line quickly. The plan slots perfectly with the trend toward fast casual eateries (think Chipotle), whose sales have exploded in recent decades. The Washington Post estimated growth in the sector to be as high as 550 percent since 1999. And fast casual is a natural fit for barbecue. It's not as if brisket is being cooked to order.
Li'l Nancy's will kick things off with a soft opening one evening next week, then throw open the doors for real the following day. When Nancy's opened downtown four years ago, the restaurant drew huge crowds right off the bat. As she and Kelly show me around the new space, more than a few hungry locals pop in to ask for an opening date. Kelly says the restaurant is getting several calls a day, with people wanting to know when they can get their brisket on.
Krohngold says she and Kelly want to bring the same warmth you find downtown out to Lakewood Ranch. It's not just about the recipes. "It's about the food you have and how you felt while you were inside," Krohngold says. "Barbecue is really about the experience and the memories." Get ready to make some new ones out in Lakewood Ranch.
Li'l Nancy's at the Ranch will be located at 8141 Lakewood Main St., #104, Lakewood Ranch. For more info, check out nancysbarbq.com.
For more Sarasota dining and restaurant news, click here. >>