Review
Restaurant Review: Muse at The Ringling
Our food critic reviews the new Muse restaurant at The Ringling Museum and visits downtown Sarasota's new Beulah.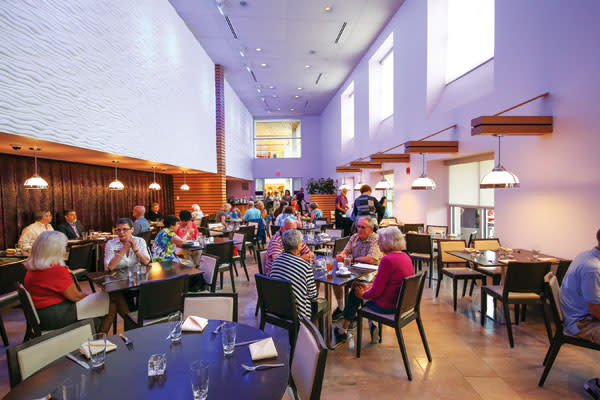 The new iteration of the Ringling Museum restaurant demonstrates that Sarasota is catching up to the rest of the museum world, where an exceptional restaurant can live in an art museum and become a destination dining spot for the whole city.
Muse (clever name) is part of the Tableseide Restaurant Group, which is Steve Seidensticker and his children. They also own Louies Modern in downtown Sarasota and the less formal Libby's in Southside Village. Seidensticker has a long history of success in the hospitality industry, and his experience and commitment are evident at Muse.
The sommelier is Eric Hale, who buys wine for the entire Tableseide group and thus can negotiate better deals than if he were just purchasing for Muse. He marks the wine up only a little, and at the higher end of the wine list at Muse there are some remarkably good buys. The full bar is also extensive and expertly run. Choose among 26 different bourbons.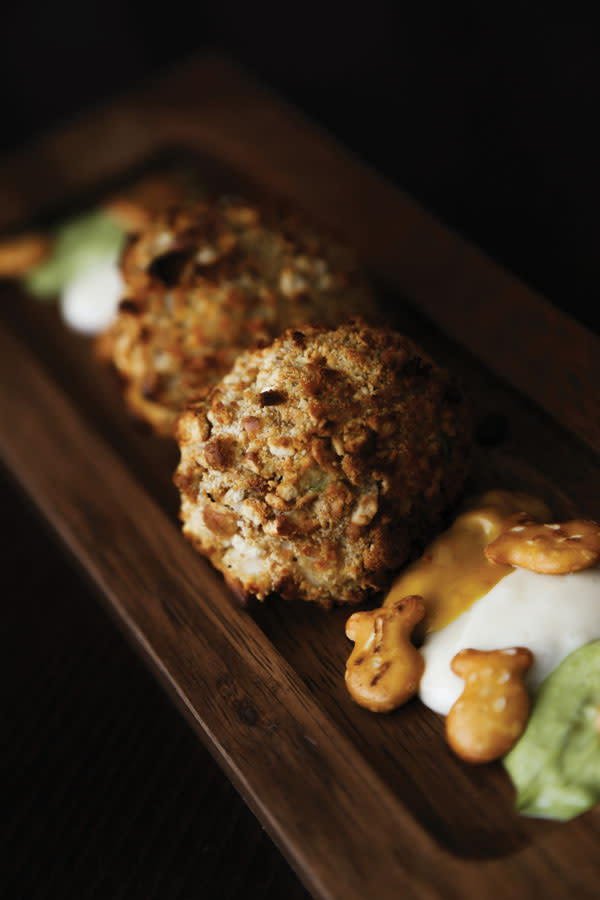 Muse prices are moderate, and the offerings for both lunch and dinner are contemporary riffs on classics (deviled eggs, Caesar salad, burger, salmon, tuna wrap), as well as inventive dishes that use trendy ingredients. That means you'll find roasted beet salad, kale salad, grilled cheese sandwich, pretzels, macaroni and cheese, quinoa and an obligatory paleo dish—bison chili made with baby kale and sweet potatoes.
Vegetarians can find something they probably wouldn't try making at home, including raw vegetable pad Thai ($16) and a carrot Wellington ($17). Vong's squash toast (mascarpone and maple onion confit on sea salt lavash, $7) is unusual and delicious, as is a roasted vegetable bisque with Gouda cheese ($4). Macaroni and cheese is prepared with broccoli, Parmesan cheese and white truffle butter ($9). You don't have to be a vegetarian to crave that one.
The Goldfish pretzel-crusted crab cake ($15) is sheer whimsy. The crab cake arrives at the table in the shape of a super-size Goldfish, that toddler snack. On the plate are dollops of honey mustard, remoulade and housemade tartar sauce. Sprinkled over that are a few actual pretzel Goldfish crackers. Take out your phone and snap a photo because it's cute enough to share.
Standout dinner entrées on three recent trips included Commander's Palace—a nod to an esteemed New Orleans restaurant—which features barbecued Florida shrimp, blue crab beignets, cheese grits and Southern greens dressed with Worcestershire lemon butter ($24). I can also vouch for the flatiron steak, which comes sliced and arranged with potato on a slate platter accompanied by a nicely weighted steak knife (always appreciate that) for $28. The pork-on-pork-on-pork for $22 is pig three ways with spaetzle gratin and apricot jus. Very rich and filling; you'll probably take some home. Short ribs au poivre is every succulent thing it should be and is elevated with a cognac demi-cream at $25.  Buddy Valastro's shortrib Sunday gravy ($19) is a hearty, full-bodied ragu prepared with lamb shank and house-made ricotta.
Be sure to try the smoked trout, which is on the appetizer menu at night. Crispy potato skins are topped with salmon roe and crème fraiche. In the middle of a ring of these salty-crispy skins is a mound of tender smoked trout pieces. Put a piece of fish on the potato skin—it's seafood gone to heaven.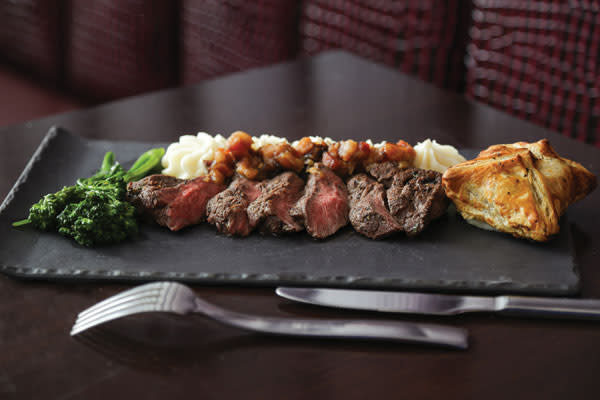 You can eat inside or out, upstairs or down or at the bar. Interior designer Jonathan Slentz collaborated with the Seidenstickers on a sophisticated but relaxed decor that maximizes all hues of the color purple. Servers wear plum shirts, and the computerized lighting system casts a soft purple glow on the room at night. Artist Margaret Barnes contributed a vivid large-format painting in various hues of purple that ties everything together and advances the contemporary vibe. By day, Muse is smart, urban and cheerful. At night, it's moody and sexy.
The Verdict At the chic new Muse, lunch and dinner menus elevate classic American favorites and current global trends into creative and delicious dishes.
MUSE  |  Visitors Pavilion, Ringling Museum, 5401 Bay Shore Road, Sarasota, (941) 360-7390
HOURS:  Lunch: Daily 11 a.m.-3 p.m. Dinner Tuesday-Saturday, 5 p.m.-8 p.m. full bar; credit cards: all major cards accepted; parking in museum lots; handicapped access; museum members, 15 percent discount
BRAVO FOR BEULAH
The announcement of a new Italian restaurant in Sarasota is more routine than extraordinary, but Beulah is an addition worth celebrating. Beulah (it's named after a relative, the owners say) is in the same Main Street location as the former Divino, which did remarkably good business in downtown Sarasota. Beulah's owners, Flavio and Harva Cristofoli, are also the owners of Flavio's Brick Oven and Bar on Siesta Key, known for scrumptious food and high-quality pizzas.
The Cristofolis say their menu is Italian with an American twist.
I don't see much "twist" other than offering steaks. Most of the items seem like straight-up dishes you'd expect from a restaurant specializing in mostly Northern Italian favorites. Ravioli, grilled octopus (octopus is the new fad food from coast to coast), veal scaloppini, lamb chops, chicken Milanese, or pasta tossed with shellfish are all there.
Additionally, there are some intriguing dishes such as the housemade chestnut pasta with porcini mushrooms and aged Gouda cheese ($21). There's a lot of flavor in this one.
The chef also conjures a modern quinoa tagliatelle—organic quinoa pasta, kale, carrots and toasted cashews in a sauce of white wine, lemon juice and garlic ($15). Sounds vaguely healthy and is one more meal that desperate vegetarians can enjoy with kale. Entrées range from $19 for breaded chicken breast to $32 for the almond-crusted lamb chops with spinach.
The appetizer or small plate side of the menu is even more interesting, and my favorite so far is called the Seaside. It's a seafood stew of clams, fish, mussels, scallops and shrimp in a light tomato broth and it comes with toasted garlic bread ($15). It's substantial enough for a light dinner. The crisp bread is needed for sopping up the beautifully seasoned broth, but you'll need a spoon, too. Other tempting small plates include a tuna tartare (with avocado and jicama), burrata with fig balsamic, and a very nice meat/cheese platter for $17 that comes with organic honey and fruit.
Of course, there's fried calamari with spicy marinara for dipping, and there's always a ceviche of the day. Chef also prepares about three or four off-the-menu entrées, and there are a half dozen salads. The poached pear with honey, cranberries, cheese and champagne vinaigrette ($12) is the one to try. The Caesar salad topped with panko-breaded fried oysters is the ideal companion to the steak (ribeye or filet, both market price). Desserts include a rich chocolate cake, coconut pie and about three other items house-made by Harva Cristofoli, a pastry chef. Her tiramisu is the best I've ever had.
Beulah seats 150 inside a dining room with a handsome granite-top bar area and another separate small bar area for the wood-burning pizza oven, and outside in a covered patio at the back. The decor is a fizzy collision of styles that aims for vintage elegance. Mismatched chairs are unified with a coat of silver paint and boldly patterned seat cushions. Gilded cherubs smile down from shelves and there are mirrors everywhere. It's operatic, overdone and lots of fun.
There are several ways to enjoy Beulah. Go for a full-out, three-course meal with cocktails and wine. Or select from the appetizers and salad categories of the menu and compose an original meal without an entrée. Or think of Beulah as your new favorite pizza place. The wood oven turns out about a dozen excellent choices (including white pizzas and gluten-free ones) ranging from $13-$17. Or stop in late and just have dessert and a sweet wine. The menu is user-friendly for whatever mood you're in, making it an ideal downtown restaurant whether you're eating solo or dining with a group.
BEULAH | 1766 Main St., Sarasota, (941) 960-2305
HOURS: Monday-Saturday, 4-11 p.m.; full bar including craft cocktails; credit cards: all major cards accepted