Article
Restaurant Review: World of Beer and Mandeville Beer Garden
Marsha Fottler reviews World of Beer and Mandeville Beer Garden in downtown Sarasota, and finds fresh sushi at Ahi Sushi on Clark Road.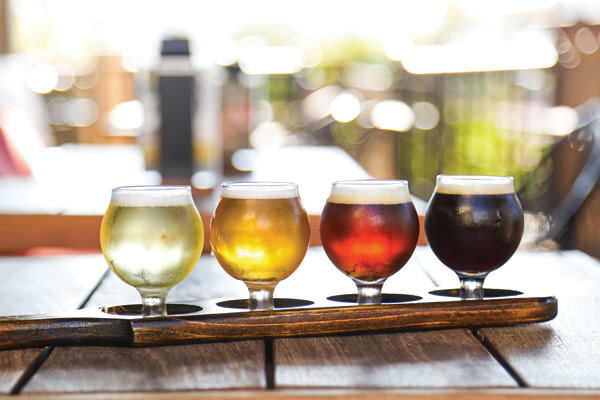 My son tells me that beer is the new wine, and I believe him. Beer tastings and beer/food pairings have replaced wine and cheese soirees, and millennials make pilgrimages to craft breweries the way their parents once visited Napa Valley.
Sarasota is right up to the minute when it comes to beer. Our area is rich in cute gastropubs, family-oriented beer gardens, serious craft breweries, beer-themed eateries and sports bars. A good place to start exploring the trend is World of Beer in downtown Sarasota. It's not a brewery but a place to taste lots (and I mean lots) of beers, many of which you never heard of or even thought of as beer—chocolate Oreo stout, for one, or raspberry ale or Vienna lager infused with apples, peaches and cinnamon or sour ale that tastes of fresh ripe figs.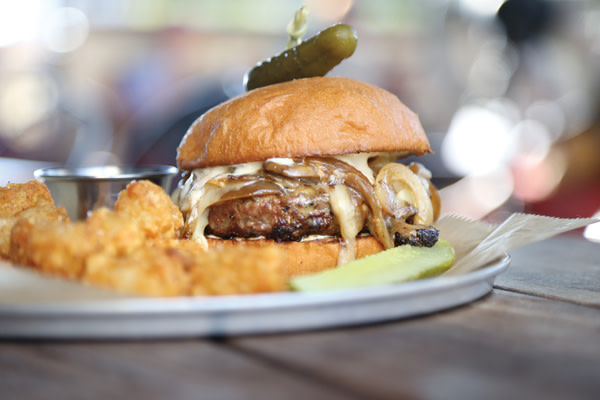 World of Beer is a chain and in some locations no food is offered, but in downtown Sarasota, there's a full menu of enjoyable tavern food such as hamburgers, sausage board ($15), fried onion rings, huge, soft, hot German pretzel served with house-made beer cheese ($8), Reuben sandwich ($10), veggie and hummus wrap, flatbreads, chicken wings, tater tots, shrimp tacos and the like.
A house specialty is the Chimay burger ($12.50), a half-pound all-beef burger capped with Chimay cheese, sautéed mushrooms, caramelized onions and served on a brioche bun with house-made Chimay aioli. WOB suggests you complement this burger with a Belgian Tripe beer, which I did. Delicious, both.
World of Beer also offers seasonal flights of beers. For either $10 or $14, you get four beers ranging from light to heavy or sweet to potent. The server names and explains each beer to you. Each is about a three-ounce pour. The taps at World of Beer rotate daily with selections done by the on-site beer experts. Changes also reflect what's available from small-batch craft breweries. The beer menu is divided into helpful categories such as Dark & Bold, Belgian & Belgian Influenced, Specialty, Light & Crisp, Hop Forward, Malt Forward, etc. Selections range in price from $4 to $11 a serving.
You can sit inside, on the covered deck or upstairs. The ambiance is tavern-like with wall-mounted televisions, lots of wood and lots of noise. It's comfortable, casual and fun.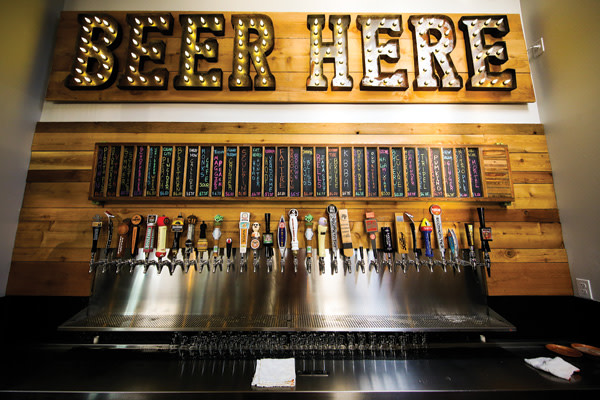 Mandeville Beer Garden, also in downtown Sarasota, is modeled on a European beer garden, where families come to meet friends and relatives to relax and catch up. There are games like ping-pong for kids who run around on the outdoor artificial turf while their parents have a brew and something to eat. No one says "use your indoor voice" because the place is both indoors and outdoors depending upon your tolerance for the weather.
Mandeville is named for owner Rebekah Mandeville Gelvin, who's from Colorado. It's not a brewery, but more like a pub or brasserie that celebrates the craft beer culture. A lot of the beers are from Colorado and other Western states and many are from craft breweries in Florida. You'll find 30 taps and over 150 brands of bottles, so there's plenty to taste. No flights, though.
The beer menu carries helpful descriptions of the brews, and both the owner and the servers love to "talk beer," so use them as a resource. The place is cavernous and intentionally rustic/industrial with chunky wooden picnic tables, booths, a long bar, wall-mounted televisions, metal roof and concrete floor.
The food menu features pub specialties from consulting chef Christian Hershman (most recently of State Street Eating House). Look for burgers, French fries, homemade sausages in a bun (including tasty venison), German potato salad, fish and chips ($9.50), grilled wild salmon club sandwich, fried pickles and even a kale and quinoa salad ($10). There's a children's menu (hot dog, grilled cheese, alphabet soup), and you can also order root beer floats, lemonade, iced tea, wine and coffee along with desserts. The building can be reserved for private parties. Trivia contests on Tuesday nights from 7-9 p.m.
World of Beer  |  1888 Main St., Sarasota, (941) 343-2856
HOURS: Monday-Sunday, 11 a.m.-2 a.m. (Sunday brunch 11 a.m.-2 p.m.); Live music: Wednesday, Friday and Saturday nights; credit cards: all major cards accepted; street parking; handicapped accessible
Mandeville Beer Garden  |  428 Lemon Ave., Sarasota, (941) 954-8688
HOURS: Wednesday, Thursday and Sunday, 11 a.m.-11 p.m.; Friday and Saturday, 11 a.m.-2 a.m. Facility can be reserved for private parties; credit cards: all major cards accepted; parking at the building; handicapped accessible
Ahi Sushi Opens on Clark Road
There's something so refreshing about nibbling a sliver of ultra-fresh fish paired with vinegar-spiked rice. And one of my favorite places to enjoy top-grade sushi is at Ahi Sushi on Clark Road. You'll see big groups of friends and families enjoying not only sushi but a wealth of other Asian specialties, including fried rice, egg rolls, miso soup, ginger scallops and broiled butterfish.
If I can ever talk myself out of the sushi rolls, I promise I'm going to try some of those other menu items—except maybe the red bean ice cream. No way am I trading off a birthday roll (crispy shrimp tempura with avocado, tempura flakes and spicy sauce) for a scoop of ice cream made with red beans. Now fried tempura ice cream? That's another story, and at $4.25, I'm going to give it a go sometime this fall.
Ahi Sushi is shoehorned into a storefront at the Publix end of a strip mall. The small restaurant includes a contemporary dining room and bar area where you can watch both TV and the sushi chef while enjoying beer, wine or soda.
The tables and banquettes are laid with tablecloths, cloth napkins and fresh flowers. A fountain and aquarium provide a serene ambiance and remind you that your meal was swimming in the sea a short time ago. Service is prompt and efficient, and the Asian waitstaff can explain in detail the dishes offered.
The presentations of sushi are not particularly elaborate or theatrical. But the sushi boats are artful, and the platters are thoughtfully arranged, with the round pieces of each sushi roll lined up in rows on the diagonal, with the must-have accompaniments of wasabi and delicate curled ribbons of pink pickled ginger.
You can order your sushi rolls by number (a convenience here is that the numbers in red indicate that the seafood is cooked, as is the shrimp in the Las Vegas roll). The dancing roll combines cooked crab and cooked eel with avocado and cucumber. The seafood is also cooked in the items dipped in tempura batter and quick-fried to a lovely crunch.
If you want to stay with raw fish, then you want spicy conch, uni, yellowtail, smelt eggs, salmon or white fish. The ahi roll is yellowtail, salmon, avocado and cucumber with spicy mayo. It's $13.95, and a sushi roll typically is six to eight pieces.
The average price of a sushi roll is $8. But the Great Catch is $13.95 and worth it, because it includes tuna, salmon, whitefish and a fish egg topping that has that caviar-like look and taste.
If you order your sushi rolls off the menu and not the call sheet, the roll will be bigger and more expensive. Tempura entrées, which come with soup, salad and rice, average $25; seafood dinners (calamari steak, sea bass, lobster, scallops) are about the same and include sides. There's a children's menu, too.
Ahi Sushi  |  3440 Clark Road, Sarasota, (941) 921-1888
HOURS: Lunch: Monday-Friday, 11 a.m.-2 p.m. Dinner: Monday-Thursday 4:30 p.m.-9:30 p.m., Friday and Saturday, 4:30 p.m.-10 p.m., Sunday, 4:30 p.m.-9:30 p.m.; beer and wine bar; credit cards: all major; call ahead take-out available; handicapped accessible; parking: in the mall lot