Article
Where to Find Sarasota's Best Cheesecake
Our panel of judges put their blood sugar to the test to find Sarasota's best cheesecake.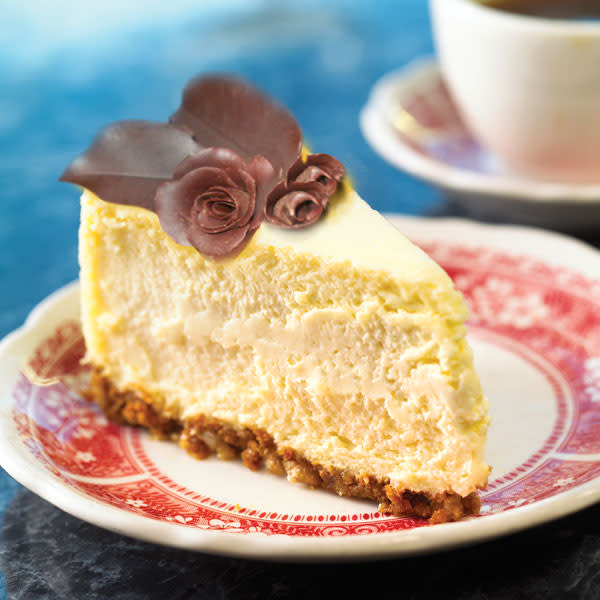 Creamy, cold, endlessly customizable—who doesn't love cheesecake? We asked our 15,000-plus Facebook fans to nominate their favorite local versions, then Pure Barre Sarasota's Chaz Glunk, contributing food and wine editor Judi Gallagher, mom and volunteer Kyla Weiner and our web editor Megan McDonald, cheesecake lovers all, chose the winners.
Best Overall: Canopy Road Market
Not only was this cheesecake—which we tasted in the classic plain flavor—beautifully decorated, it was delicious, with vanilla and lemon in the cream cheese batter and a tangy sour cream topping. Want to try some? Order from the Sarasota headquarters at canopyroadmarket.com or call (941) 809-3079.
Best Specialty Flavor
Our judges loved the indulgent cheesecake from Jim's Small Batch, which features brownie chunks, pecans and caramel on an Oreo cookie crust—an extravaganza of favorite flavors, and definitely not for the faint of heart.
Best Crust
Cheesecake Me is a regular at the Phillippi and Central Sarasota farmer's markets and has a devoted following—and for good reason. Our judges loved the rustic, buttery-yet-crunchy graham cracker crust so much they were mixing-and-matching Cheesecake Me's crust with some of the fillings from the other cheesecakes.
Best Presentation
Canopy Road's plain cheesecake was a treat for the eyes, topped with an edible flower and dark chocolate leaves; the espresso martini—covered in chocolate ganache and chocolate roses—was just as beautifully decorated. If you're looking for a showstopping dessert, we've found it for you.
Best Variety
Cheesecake Factory, located in the recently opened Mall at University Town Center, offers diners more than 50 kinds of its legendary cheesecake, from classic plain to tuxedo to dulce de leche, available to eat in the restaurant or to take home.
To see past Sarasota's Bests--including cupcakes, burgers and margaritas--click here. >>