Article
Restaurant Review: Blu Kouzina
Marsha Fottler has a Greek getaway at Blu Kouzina on St. Armands Circle.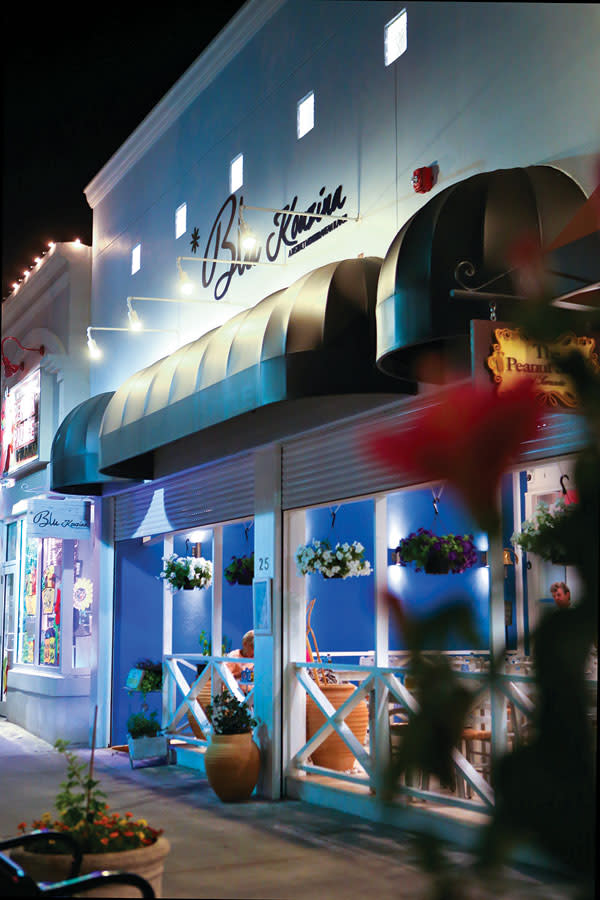 Can't make it to Greece this summer? Just drive over the causeway to St. Armands and take a seat at the new Blu Kouzina. Owned by a Greek couple, Effie and Dennis Lorandou, it's dressed out in characteristic blue and white like a casual harborside taverna you might find on a picturesque Greek island.
The menu is wealthy in appetizers and small plates and ample for entrées, keying on traditional dishes such as moussaka ($15), pastitsio, spanakorizo or gemista, a preparation in which vegetables are stuffed with rice. It might take a minute to figure out that kotopoulo is chicken; there are two dishes in that category. One is roasted young chicken with potatoes and lemon (such comfort food!) and another is grilled chicken shredded and rolled in a pita. Lamb chops are plentiful and so are eggplant dishes. Lemons brighten the flavor of just about everything that comes out of the kitchen.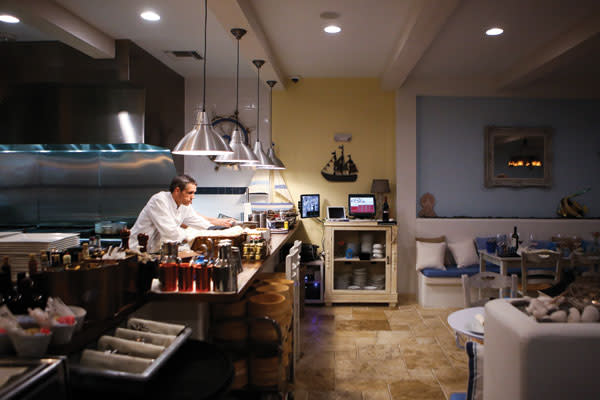 Some of the traditional small plates include smoked eggplant; tzatziki (a yogurt cucumber sauce/dip); keftedes ($9), which are beef meatballs; dolmades (flavored rice rolled in vine leaves); or feta cheese that's sliced and grilled with oregano and olive oil. Taramosalata (cod roe dip) is there, too, at $8, and it's worth having.
The menu offers half a dozen salads that are meal-sized, and the Blu Salata ($12) is a standout. Rocket leaves (another name for arugula) are tossed with giant capers, anchovies, pine nuts and then topped with fried kefalotiri cheese and a house-made dressing. A traditional Greek salad, called horiatiki ($11), is a crowd pleaser. The glass jug of olive oil on each guest's table and the olive oil used in cooking at Blu Kouzina is from the owners' grove estate in Messina. There's warm bread on the table, so dip some in the oil and enjoy with the salad.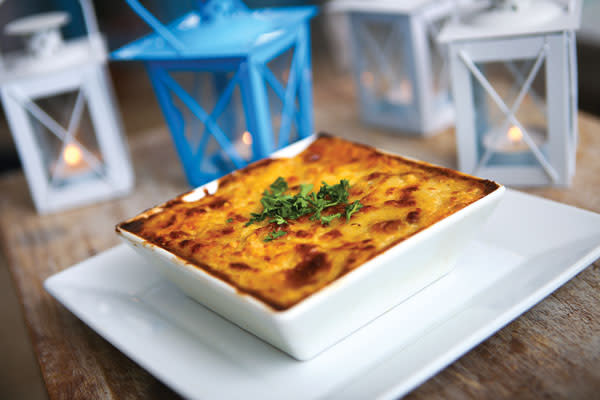 For $176, six people can enjoy a dozen keftedes, four kalamaki, two bifteki and eight lamb chops. There's a focus on fish, grilled with lemon juice and olive oil. Sea bream and sea bass are $31, and they come to St. Armands from Greece. I opted for tiger prawn special ($31) as an entrée.
Six grilled prawns (with heads on), all rosy and glistening, were lined up on a white platter and arranged on a bed of confetti greens with some lemon. And that was it. As an appetizer to pass around, this might do. For an entrée, it was incomplete. A bed of vegetable-studded rice would have been better as a platform for the prawns. I'd already had enough appetizers, so I didn't leave hungry. On future visits, I think I'll make a meal on small plates and maybe a soup. Choosing just one larger dish makes me feel like I'm missing out on some intriguing experiences.
Desserts are what you'd expect from a Greek restaurant. The Blu Kouzina version of baklava is wrapped like a sausage twisted at one end and open at the other. It's good baklava, but nowhere near the ethereal examples I recently discovered in the Arab street markets in Israel. Yet I ate two pieces with obvious satisfaction.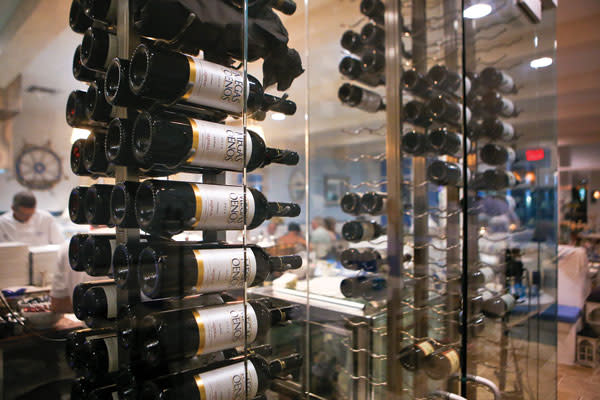 It's not easy for new restaurants to make it through the summer but I'm betting this one has the ambiance, food and service to survive.
The Verdict: Blu Kouzina serves robust Greek specialties prepared in traditional ways. You'll find small plates, appetizers and seafood as well as hearty classic casseroles. A great place to go with a crowd and order lots of different things to pass around.
25 N. Boulevard of Presidents,
St. Armands Circle, Sarasota
(941) 388-2619
Open daily for lunch, 11:30 a.m.-3:30 p.m., and for dinner, 5 p.m.-9:30 p.m.
Reservations accepted.
Major credit cards accepted
Handicapped accessible
Beer and wine
Street parking