Article
Restaurant Review: Pino's at Paradise Plaza
A beloved chef is back in a new restaurant space.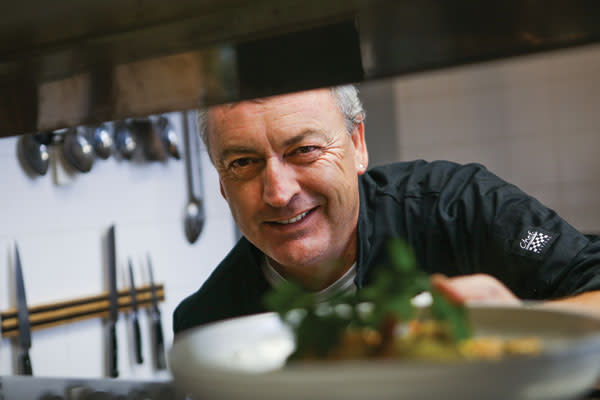 Pino Luongo, the chef from the island of Ischia who founded the late, beloved Gastronomia some years ago on South Tamiami Trail, is back with his own restaurant again, and his fans are feeling the love.
Pino has had other successful restaurants off and on, with closings due to loss of lease, partner issues, wanting more time for a family life—the usual hospitality industry drama. Lately he's been cooking in the Siesta Key kitchen of Flavio's, where the chef/owner is a longtime friend.
The new iteration of Pino's at Paradise Plaza is as a simple, no-frills bistro in a storefront that seats about 90 both inside and out. There's a small bar (where you can eat as well as drink beer and wine) and a little private alcove near the bar that some regulars have already staked out as a choice spot. Pino cooks, and Kim Luongo, his wife, works the front of the house. It's amusing to watch her when people come in asking, "Is this the real Pino?" She assures everyone that indeed they are in the right place. When Kim has the time, she makes a rich and delectable flourless chocolate cake that's sometimes on the dessert menu.
In fact, all the desserts are house-made, including classic Italian sweets such as a beautiful, big-enough-to-share cannoli. The shell is super-crisp and the ricotta filling is not one bit too sweet. It's drizzled with silken chocolate and definitely looks good enough to eat. The tiramisu is distinguished by its lightness, but the flavors of the chocolate and espresso come through for a rich and cloud-like bite. And for a little signature twist on classic crème brûlée, Chef Pino infuses the custard with a hint of ginger and leaves a swirl of dark chocolate at the bottom of the ramekin for a surprise flourish.
Chef Pino's cooking is informed by his homeland, Italy, and especially by the volcanic island of Ischia, which lies at the northern end of the Gulf of Naples. The soil is rich, the sea surrounds everything, and the cuisine tends to fish and shellfish, beef and veal, home-grown tomatoes and other vegetables, honey and both red and white wines produced from local vineyards. Rabbit stewed in tomatoes is an island specialty. I don't see rabbit on Pino's Sarasota menu, but it could appear. He undoubtedly knows how to cook it.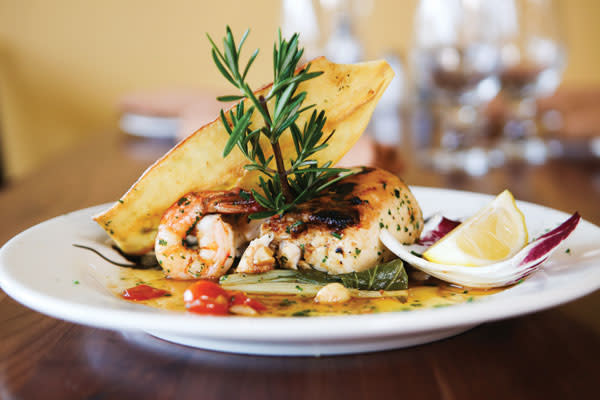 Chef likes to cook fish and has daily off-the-menu specials. His seafood stew is big, hearty and flavorful. The octopus appetizer I had was the most tender that I've tasted in town. I cut it with a fork, and the creamy lemony-caper sauce on the top had me reach for the bread on the table (good bread, by the way) to mop up every last drop.
The calamari appetizer is accompanied by a marinara sauce made with big chunks of plum tomatoes. But for his pasta sauce Pino uses Ischia cherry tomatoes that he imports from home. Other pasta dishes on his menu include linguine with clams, pasta carbonara, spicy pasta arrabbiata (pancetta and red-hot pepper) and a half dozen more, most of them familiar to those who eat Italian. Pasta dishes average $21 at night and about $12 at lunch. A grouper sandwich at lunch is $12.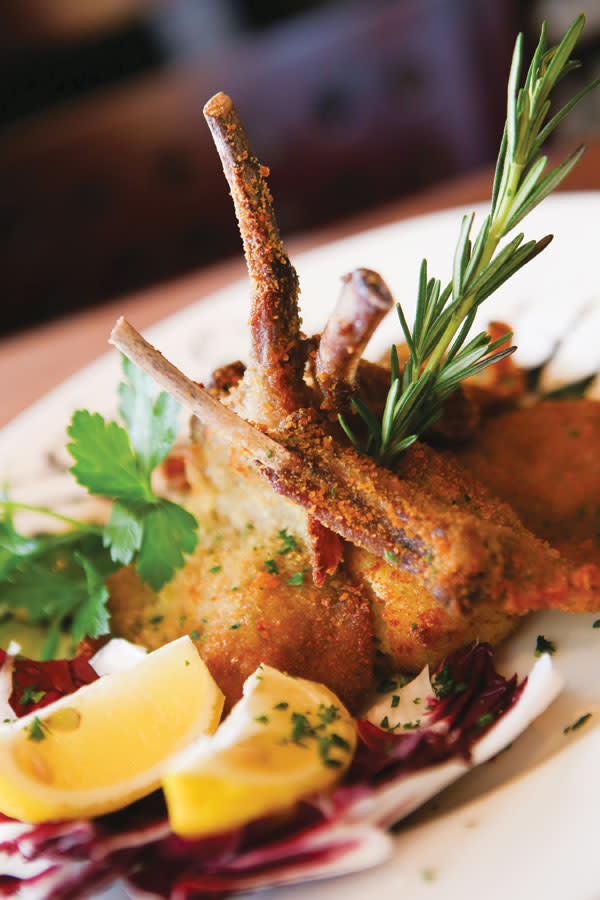 Pino does a lovely veal liver dish with sautéed onions and white wine that my dinner companion wasn't about to pass up. He pronounced the tender, intense-tasting liver up to his high expectations. If you crave fish, try the fresh grouper, sautéed with onions, capers, black olives, tomato and white wine ($21.99). The fresh sea scallops lightly baked with fresh spinach and cheese are an appetizer at $14. The appetizer menu has so many nice seafood preparations that one night I'm going to do a dinner of four appetizers as a meal. I'll include the grilled calamari steak with arugula and tomato ($12).
Sides come with the entrées, but if you want to order extra separately you'll find spinach, plain oil/garlic spaghetti or rapini nicely dressed in oil and garlic. The range is $4 to $7. The pappardelle with a variety of organic mushrooms in a light cream sauce is a natural for vegetarians, and so is the cheese ravioli with sage butter sauce.
From roast duck to veal scallopini to grilled salmon with marinated cabbage or herb-infused braised lamb shank, there's everything about Pino's menu to tempt you. Or you might say to your server, "Ask Pino to surprise me." And he will, in inimitable Ischia style.
The Verdict: Classic Italian food prepared with innovative flair by a master European chef. Outstanding appetizers; delicious desserts. Even if you think you know everything Italian, let Pino surprise you.
Pino's at Paradise Plaza
3800 S. Tamiami Trail (Paradise Plaza)
(941) 366-1440
Hours: 11:30 a.m.-9:30 p.m., Monday-Thursday with early dining until 5:15 p.m.; Friday, 11:30 a.m.-10 p.m.; Saturday, 4-10 p.m., dinner only. Closed Sunday
Beer and wine bar
Credit cards: all major
Handicapped accessible