Article
Holiday Gift Guide 2014: Three Recipes for Party Punch
Three great punch recipes to see you through the season.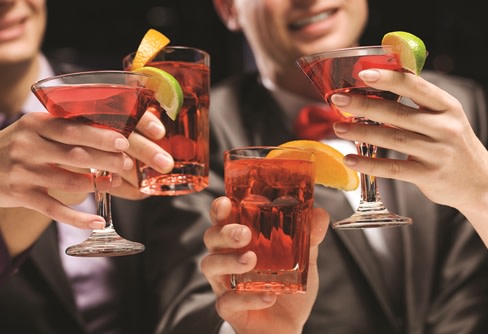 The tradition of serving punch for the holidays—hot, iced, alcoholic or plain—is an old and cherished one. Welcome your guests and family when they arrive at your door with a glass of punch, and the evening is off to a convivial start. Eggnog made into a punch with the addition of whiskey, some spices and garnish works every time, although the season for store-bought eggnog is short. The aroma alone conjures up happy holiday memories.
But you can expand your repertoire with other punch recipes guaranteed to energize your dinner party. Tidbits to serve with punch should be on the salty and savory side, such as an assortment of nuts or popcorn. All of these recipes can be made ahead of time and assembled minutes before the doorbell rings. If you have two punch bowls, make one alcoholic punch and one that's virgin. Guests appreciate a choice.
Just about everyone has a punch bowl that's inherited, was a wedding gift or purchased for pennies at a garage sale when, in a moment of madness, you thought you could entertain like Martha Stewart.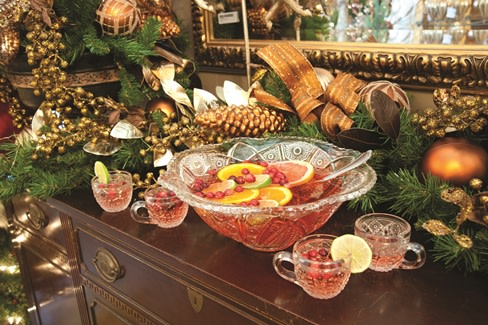 Despair not, a punch bowl (except for the room it takes up in the pantry) is a great and versatile thing to own. Of course, use it for punch during the holidays. Other times, it makes a gorgeous potpourri centerpiece. Use it for a big lush flower arrangement or fill it with fresh fruit and put it in the center of the breakfast table. It also makes a great salad bowl for a potluck dinner. During the holidays, fill it with large glass balls. Use only one-color glass ornaments for the most elegant and eye-catching effect.
But as for those punch cups—sorry, they just won't do for modern-day entertaining. Traditional punch cups are just too Victorian and too hard to hold at a cocktail party. Men especially loathe them. Serve your punch in wineglasses or highball glasses. But don't throw away the punch cups; you can use them for table decor. Line a dozen cups down the center of your table and put a single big cut rose in each one. Key the rose color to your table decor and plateware. Wind a fresh garland in and around the rose cups and you've just set an elegant holiday table. Another use? Serve a dessert like chocolate bodino or flan in punch cups. Be sure to garnish. •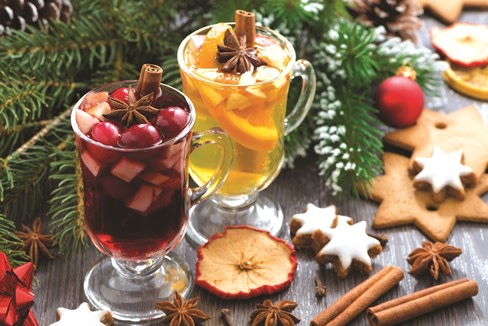 SUGARPLUM PUNCH
(Serves 20)
2 cups pomegranate juice (about five pomegranates)
3 cups freshly squeezed orange juice
5 cups cranberry juice cocktail
2 bottles (750 milliliter each) sparkling wine such as Prosecco
In a large punch bowl, stir together fruit juices. Fill glasses with ice, and ladle about 1/2 cup punch into each glass; top with sparkling wine. garnish with a sprig of mint.
Cool Yule Beer and Wine Punch
(Serves 12)
1 (750-milliliter) bottle dry white wine
2 (12-ounce) bottles raspberry lambic beer
1 (1-liter) bottle club soda, chilled
3/4 cup simple syrup (see method)
1 pint raspberry sorbet
1 cup frozen raspberries
Stir together wine, beer, chilled club soda and simple syrup in a large punch bowl. Scoop raspberry sorbet into wine mixture. add frozen raspberries.
To make simple syrup, bring 1 cup sugar and 1 cup water to a boil in a medium saucepan. Simmer until the sugar is dissolved, about 3 minutes. Remove from the heat and let cool completely. Makes about 1 ½ cups. This syrup can be refrigerated in a glass jar for up to 1 month.
Carolers' Wassail
(Serves 16)
1 1/2 cups white sugar
8 whole cloves
3 cups water
3 cinnamon sticks
1 1/2 cups orange juice
1 cup lemon juice
1 gallon apple juice
Mix all together and warm on the stove in a big pot. Remove cloves and cinnamon sticks just before serving from a punch bowl. For garnish, float orange slices in the bowl.
Photography by Scott Phillips.