Article
Restaurant Review: Fins at Sharky's on the Pier
Food critic Marsha Fottler says the new Fins at Sharky's on the Pier is a great place for visitors and locals alike.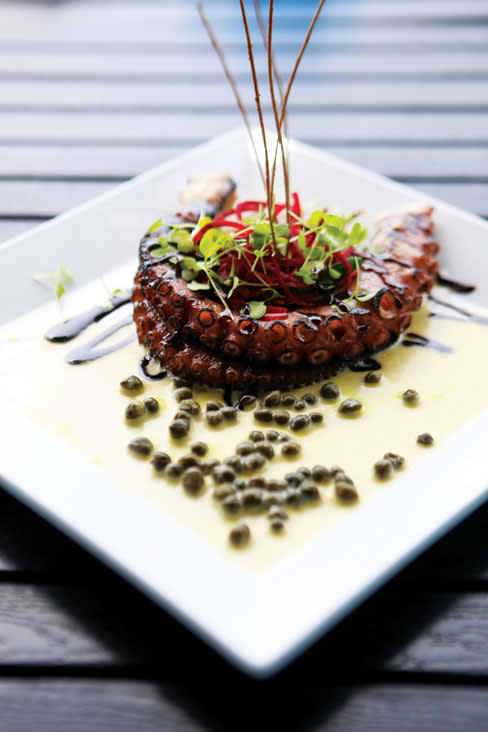 Fins is precisely the kind of restaurant you take Northern visitors when they ask why you moved here. Lead them up to the chic covered deck and relax in a club chair, feel the breeze and order a drink. Watch as your guests take in the beach, aquamarine water, swaying palm trees, colorful umbrellas staked in the sand and the thatched roofs of various tiki beach bars below at Sharky's, which is the older part (nearly three decades) of this complex at the locally famous Venice pier.
Then move inside to Fins' dining rooms, where the quality of the dishes lives up to the ambiance. The menu is expansive, weighted to seafood with Asian influences. It's a fine place to compose a custom meal of sushi, small plates, platters for sharing, sandwiches and salads or  enjoy traditional entrées with a couple sides. Yes, you can get a burger ($14), four varieties, and one of them is bison. There's a jolly beverage list too, including sake, craft and traditional cocktails, mocktails, wines, designer beers (Green's Triple Blonde is gluten free) and more familiar brew brands such as Fat Tire Amber.
There are about two dozen sushi selections (average $10) and I can vouch for yume ($11.50), which is yellowtail tuna and salmon tartare; the Wagyu beef roll, where the beef is Asian marinated and lightly seared; and Castaway, which is eel. The Gulf grouper is a winner, and so is the special spicy tekka, which features spicy tuna wrapped in fresh tuna. Coming in at $16 is the spicy Fin combo, a roll big enough to share that features spicy tuna and salmon, tempura soft shell crab, spring mix, scallions and tobiko. Deliciously crunchy with big flavors.
Of the small plates, the lobster potato nachos ($15) are the attention grabber, designed for someone who scoffs at calories and cholesterol. Maine lobster chunks, melted smoked Gouda, crispy prosciutto and waffle-cut Yukon Gold chips are layered into an appealingly messy mound. Just as a joke, the chef adds arugula. Who is he kidding?  This dish is gooey but likable. The pork belly crostini is a bit dry, but the grilled watermelon salad ($9) is colorful and refreshing, and the tuna tataki ($16) is a winner.
My favorite dish on a recent evening was octopus salad with pear slices and greens. The stars were two plump, slightly smoky-tasting tentacles (prepared over Portuguese cork) that were textural and rich. And the presentation was so pretty, with a purple orchid for garnish, making it the perfect exotic seafood tropical choice.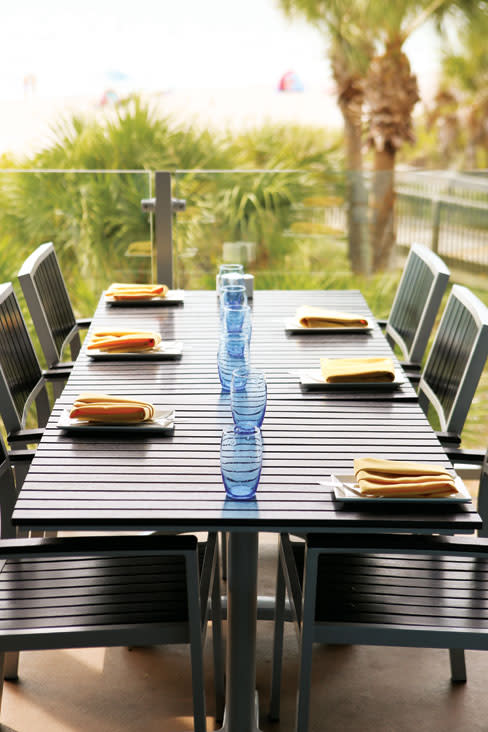 Filet mignon, jerk chicken or Chilean sea bass ($35) are special entrées and come with such welcome sides as cheddar grits, pecan wild rice, forbidden black rice or broccolini. Entrées average $28. But for me, the small plates, salads and sushi are more adventuresome and fun. There are seven crowd-pleasing desserts for $8 and $9, none particularly innovative (bread pudding, Key lime crème brulée, hot fudge sundae, chocolate mousse), but after I kept deciding to have just one more sushi roll, I did not make it to the sweet finish line. Maybe next time.
Fins' decor is contemporary nautical chic with portholes cut into the chairs, an aquarium at the host station, and stylish decor elements such as sea glass that moves like waves. There's a long, attractive, polished wood bar with beam ceiling, upholstered booths and tables both inside and on the deck. Venice is getting more sophisticated by the day, and Fins has swum into port at just the right moment.
The Verdict:A delightful place to take visiting Northerners. The ambiance, the views, and the menu all say, "Welcome to another day in paradise." No guests? Go yourself; you'll be happy at Fins.
Click here for a recipe for Fins' seafood stew. 
1600 S. Harbor Drive, Venice, at the Venice Pier
Phone: (941) 786-3068
Hours: Lunch noon-2:30 p.m., dinner 4-10 p.m. daily. Reservations encouraged.
Bar: full bar
Cards: all major
Handicapped accessible: with elevator
Dreaming Big at Yume
Nine years ago,  a young Thai couple—Macky Munkheamthong (she) and Baw Mongkho (he)—looked up words in a Japanese dictionary that might describe their intention to open a Japanese fusion eatery in downtown Sarasota. They came upon "yume," which means "dream." They closed the book and opened Yume Sushi, which over the years has garnered a big reputation for delicious sushi, sashimi and entrées, often in modern riffs on traditional preparations. The chef is Thai; the extensive menu is decidedly fusion.
Recently, Macky and Baw realized they could fill a larger dining space, and over the summer they moved from one side of Main Street to the other, taking over the space that formerly housed Jalea and Sangria. In a lightning-quick (and superb) renovation, the two more than doubled their space and added a full bar, so now you can sip sake, Asian beers, wine or cocktails with dishes such as shrimp and vegetable tempura, grilled eel, tuna tartare, Thai curry or Japanese bento box.
On the sushi menu, the lobster roll is the house specialty. But there are plenty of other favorites, since this is sushi that aims to appeal to wide-ranging palates. On the menu you'll see names such as Sex on the Beach, Fireman Roll, Kentucky or Playboy Roll (about $10.95), each with flavors not typically found in Japan. The attitude is playful, but the quality and artistry of every roll are excellent.
The restaurant, which seats 170, is designed with two large separate rooms with booth, table and banquette seating. A big aquarium at the entrance sets the mood, and the lighting is seductively low at night. One room has the liquor bar, the other the sushi bar where you can sit and watch as four sushi masters slice, roll and garnish.
The Verdict: Not the kind of traditional sushi you'd find in Japan, but these rolls are highly creative and full of surprises that will appeal to eclectic tastes.
1532 Main St., Sarasota
(941) 363-0604
Monday-Saturday: Lunch, 11 a.m.-2:30 p.m.; dinner, 5 p.m.-late.
Sunday: Dinner from 5 p.m.-late.
Reservations: None by email; must call
Bar: full bar
Credit cards: all major
Parking: on street
Handicapped accessible: yes
Culinary Classic: Tommy Bahama's Pina Colada Cake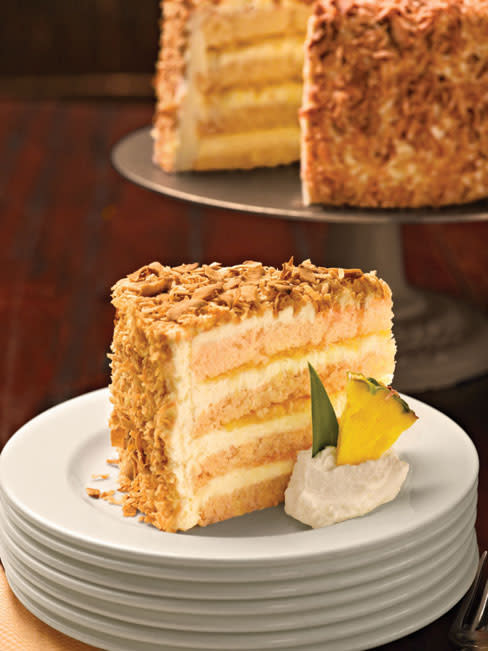 The piña colada cake made its debut at the first Tommy Bahama restaurant in Naples, Fla., in 1996, and it's been the specialty house dessert ever since. High, rich, amazingly light and sweet, the moist, vanilla-based layer cake is a heady mélange of tropical flavors including white chocolate mousse, crushed pineapple, toasted coconut and a splash of Golden Sun Rum, the Tommy Bahama house brand.
During season at the two-story restaurant on St. Armands Circle, the kitchen cuts about 1,800 pieces of this gorgeous cake, which can be sliced small ($6) or large ($10). The big piece is usually shared, and the restaurant sells more big slices than small. Often guests will order a whole cake for a party in the restaurant, and the Piña Colada Cake would make a blissful wedding cake for a beachside ceremony and casual reception.
For more Sarasota restaurant reviews, click here. >>
This article appears in the October 2014 issue of Sarasota Magazine. Click here to subscribe. >>