Article
Good Deal: Caragiulo's Pizza
Downtown Sarasota's long-standing Caragiulo's offers a great deal on pizza.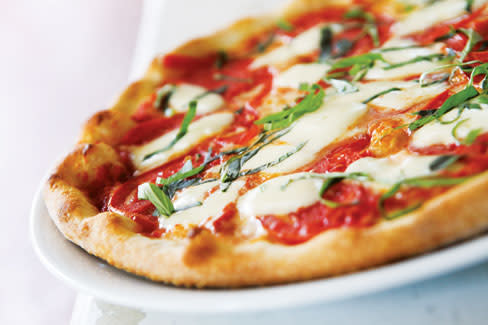 For me, a good deal offers value and consistent quality, and those are the hallmarks of the 11-inch custom pizza Caragiulo's has been turning out for more than two decades. Night after night, it comes out with no lapses, no sad surprises, no running out of toppings.
And what an exquisite thing it is.
The crust is midway between thin and medium, with a nice golden brown crisp around the edges and just enough structure. As for the toppings, that's personal.  My usual table mate loads up with anchovies, while I go straight for a trio of sausage, roasted red pepper and either mushrooms or artichoke. Other options include bacon, meatballs, olives, ham, spinach, feta, even truffle oil. You can even have gluten-free crust or vegan cheese for an upcharge. The price for all this? Just $9.25 to $10.75. Pair yours with a beer or glass of red wine and sit inside or out at this casual and comfortable downtown restaurant. Bringing kids? They can assemble their very own pizza with ingredients and dough brought to the table on a board. Then it's whisked away to be baked and presented with a flourish. This interactive culinary exercise delights every child I've seen participating. It's a good deal indeed.
Caragiulo's Italian-American, 69 S. Palm Ave., Sarasota. (941) 951-0866
For more Sarasota dining and restaurant news, click here. >>
This article appears in the November 2014 issue of Sarasota Magazine. Click here to subscribe. >>