Article
Restaurant Review: Tide Tables Restaurant and Marina
Where and what to eat and drink right now.

Seafood Stars at Tide Tables
This is one of the reasons we live in Florida: a table with a saltwater view, a cold beverage and a piece of fish so fresh it's barely stopped swimming.
As befits a place that has been designated a National Historic District as the last working commercial fishing village on Florida's Gulf coast, Cortez has long had several casual restaurants that offer just that combination. Now there's a new one, Tide Tables Restaurant and Marina, tucked into a spot on the southeast end of the Cortez Bridge.
Tide Tables opened just a few months ago but it's had an Old Florida air from Day One, from the crushed-shell parking lot to the open-air tiki bar and tables with a view of the Intracoastal Waterway, fishing boat docks and a fleet of watchful pelicans. There's plenty of seating and another bar inside the low-slung building as well.
Tide Tables comes by that local flavor logically. One of its co-owners is Karen Bell, who is also the owner of A.P. Bell Fish House and Star Fish Company Market and Restaurant, both in Cortez. The others are Bobby and Gwen Woodson, both long involved in the Seafood Shack restaurant just across Cortez Road.
The menu at Tide Tables is brief and dominated, as you might expect, by seafood, which is sometimes cleaned right on the adjoining docks, in view of diners. There are daily specials, and you also can choose such options as St. Louis-style pork ribs or mojo chicken if you're not in a fish frame of mind.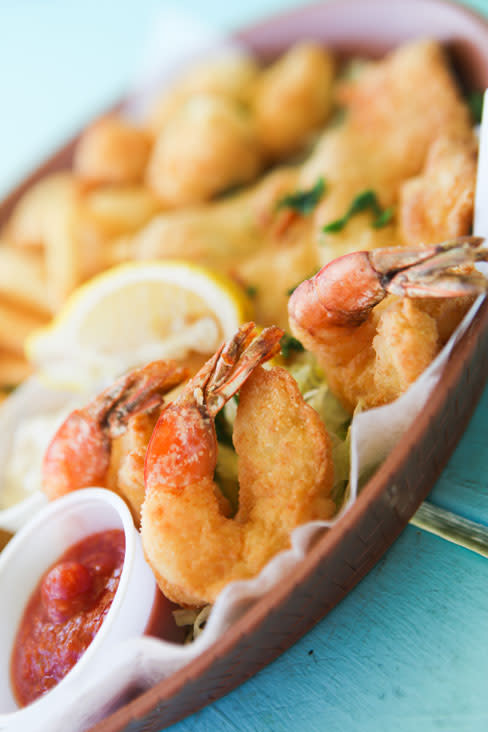 We were, though. Seated at one of those outdoor tables on a fine afternoon, we chose from the menu's "mainsail baskets," which include crisp cole slaw and a choice of fries or baked beans. Many of the baskets come in low tide or high tide versions, the former with a smaller entrée portion.
I went with the combo basket ($20.95), which includes jumbo shrimp, large scallops and mahi mahi. They can be had fried, grilled or blackened; the kitchen graciously indulged me by frying the shrimp and grilling the other two items. The scallops were the least of the lot, tasty but smaller than I would have expected. The shrimp and mahi mahi were first rate, though, as were the crispy fries.
Colette picked the grouper, low tide version ($13.95; high tide portion is $19.95). It was still a generous portion, perfectly fresh and moist and accented by a light dusting of blackening spices.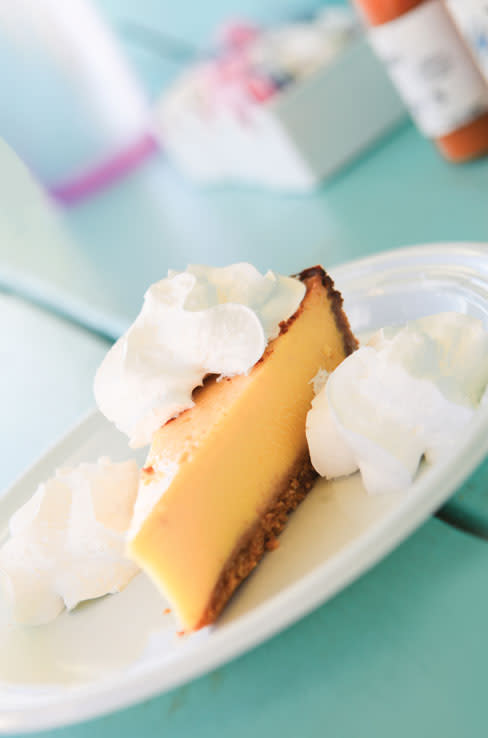 We ordered drinks from the short but well-chosen beer list; some tasty wines are offered at good prices as well. Despite those generous baskets, we let our friendly and efficient server talk us into sharing a wedge of creamy mango pie ($4.50), and we were glad we did. It was delicious, and it gave us a little longer to savor that seaside view.
Tide Tables Restaurant and Marina, 12507 Cortez Road W., Cortez; by water, at Marker 48.
Phone: (941) 567-6206
Hours: 11:30 a.m.-8 p.m. Sunday-Thursday, 11:30 a.m.-9 p.m. Friday-Saturday
Bar: beer and wine
Cards: major
Parking: free
Handicapped accessible: yes
Blue Rooster: Worth Crowing About
If you, like every right-minded epicure, are a fiend for authentic, kicky Southern fried chicken, pick up the phone now and book a table at Blue Rooster, the restaurant, bar and blues venue one door east of Darwin's on 4th in Sarasota.
Since opening last year, Blue Rooster has become a popular spot to hear live music, mainly blues and rock, almost every night. But the kitchen is rocking, too. Like such Sarasota gems as Nancy's and Owen's Fish Camp, Blue Rooster has created an updated version of old-time Southern juke joints. Chef Michael Yoder, who has cooked at such local favorites as Fred's, Morton's and Roy's, brings off the perfect combination of downhome food and a touch of sophistication.
Blue Rooster's high-ceilinged, brick-walled space has a big bar with communal tables to the left as you enter. On the right, facing the stage in the front window, is a spacious dining room, its decor highlighted by Warhol-style portraits of musical icons like Aretha Franklin, Patsy Cline and Jerry Garcia. (There's outdoor seating as well.)
The first thing to arrive at table was a plate of lighter-than-air biscuits, served warm with red pepper jelly and sorghum butter. There is, as is de rigueur these days, a craft cocktail menu, and I enjoyed a skillfully concocted Sazerac ($9), a New Orleans tipple, while Colette opted for one of her favorite craft beers, Cigar City Maduro ($5).
Crazy Cajun Shrimp (two Happy Hour orders at $5 each) made a succulent start. Four fat shrimp are battered and flash fried, ready to dunk into a "moppin sauce" of Steen's cane syrup and orange blossom honey, a combo that's about as Old South as it gets. A cushion of minted slaw is a fresh counterpoint to the rich shrimp and sauce.
My main course defined comfort food: meat loaf ($19.50). But not just any meat loaf. At Blue Rooster they blend Angus beef with lightly spiced sausage, onions, carrots and celery for a savory stack of flavor, then wrap the whole shebang in applewood smoked bacon and top it with a silky, deep-brown Portobello mushroom gravy. Smashed Yukon Gold potatoes on the side, and you'll feel like you're back at Grandma's kitchen table—if your grandma was a really good cook.
Colette, as is her wont, went with the fried chicken, and was glad she did. Blue Rooster serves it either by the piece or as a chicken and waffle combo ($18.50), which was her choice. The light, golden Belgian waffle was topped with a generous serving of fried chicken—breast, wing and leg—with a beautifully browned, peppery crust, crisp and almost grease-free. The menu points out that Blue Rooster's "yard birds" are fresh, never frozen, and you can truly taste the difference in their juicy meat. On the side was a ramekin of tasty whiskey maple syrup, fine for dipping bites of waffle into, although this chicken needed no embellishment.
We shared a side of smothered collards ($4), cooked low and slow in traditional Southern style until they were velvety and bittersweet. We also shared dessert, another classic. Blue Rooster's pecan pie ($7) is stellar, with a buttery crust and a not overly sweet filling that lets the earthy flavor of the nuts shine through.
Service at Blue Rooster was smart and attentive, with our waiter pointing out the Happy Hour deal on starters and drinks that we had arrived just in time for, and explaining that the charming murals on the long wall leading back to the restrooms had been painted by a staff member who is a student at Ringling College.
Now that we've tried the fare at Blue Rooster, we're ready to go back and try the music. Well, and more of the food. Another plate of that chicken for dinner would do, or perhaps the Sunday gospel brunch, with an all-you-can-eat buffet (chicken included). And hallelujah, Blue Rooster takes reservations.
The Verdict: At Sarasota's Blue Rooster, you'll find plenty of live blues music on stage, but what comes out of the kitchen will have you singing hallelujah. The peppery, crisp fried chicken is a must try.
Blue Rooster, 1525 Fourth St., Sarasota
Reservations: (941) 388-7539
Hours: 5 p.m.-10:30 p.m. Tuesday, 5 p.m.-11 p.m. Wednesday, 5 p.m.-midnight Thursday, 5 p.m.-1 a.m. Friday-Saturday, brunch 11 a.m.-3 p.m. Sunday, dinner 5 p.m.-10 p.m. Sunday
Bar: full bar and wine list
Cards: major
Parking: Valet parking, or on street
Handicapped accessible: yes
What I'm Drinking
With 30 craft beers and micro brews on tap, plus a bottle list running to about 90 others (including a root beer), Motorworks Brewing just south of downtown Bradenton (1014 Ninth St. W., 941-567-6218) has something to tempt any taste.
There is a long bar inside and tables (that would be the tap room), but outside in the shade of a mighty oak (the beer garden) is the place to be. There occasionally is live music, and food is available by delivery from a good pizzeria down the street or from somewhat unpredictably scheduled food trucks that roll up at the back of the beer garden.
The regularly changing draft menu currently leads off with three or four of Motorwork's own brews, although the plan is to even up the offerings with 15 of the house brews when production has ramped up that far, and 15 from other small independent brewers.
And the beer is good. On a recent visit we sampled a simply amazing Rauchbier called Whiskey Smoke, a near black brew that tastes just as its name implies. It is faily strong at 8.5 percent alcohol and so is served in an 8-ounce snifter ($7) instead of a pint glass. Fantastic! Motorworks also knows its way around an IPA (India Pale Ale), and they make several styles. The one we sampled ($6) has less alcohol than the Whiskey Smoke at 6.5 percent but is hoppy enough for the most dedicated hops fan. It's a dusky orange in the glass with herbs, grapefruit and orange on the palate. It is full-bodied and refreshing.
For more Sarasota dining and restaurant news, click here. >>
This article appears in the July 2014 issue of Sarasota Magazine. Like what you read? Click here to subscribe. >>