Article
Restaurant Review: Mediterraneo in Downtown Sarasota
Our food critic says Mediterraneo is just as good as the day it opened; plus, what's new at Siesta Key's Flavio's Brick Oven and Bar.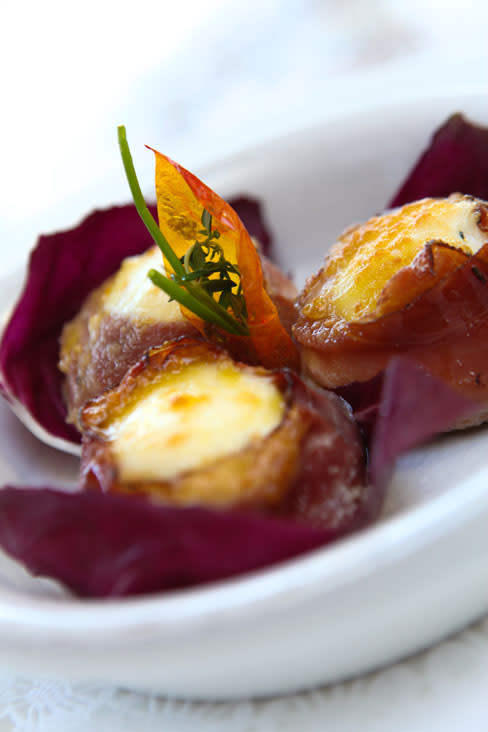 As Colette and I settled into our chairs in the handsomely redone dining room at Mediterraneo, a Main Street mainstay since its founding in 1996, a fundamental question occurred to me: What makes a restaurant like this one so immediately appealing while others make you cross your fingers and hope everything turns out OK?
The foundation of any good restaurant has to be the food, of course, but the best places set our expectations high before we've tasted a thing.
Seen from outside, the interior calls to us with inviting colors and flattering lighting. As we walk in, there's a pleasant buzz in the air. The host offers a cordial welcome and we are seated at a well-set table. The waiter appears. Water glasses are filled. Cocktail or aperitif orders are taken. As in a theatrical production, the stage is set, and the evening is off to a fine start.
From the beginning, Mediterraneo has been chic and sophisticated, stylish without getting silly about it. You can tell they've put a lot of thought and effort into the enterprise, but they're not going to bludgeon you with their cool.
For appetizers, Colette went for hot and I chose cold. Hers was a first-class tummy warmer composed of fresh mozzarella wrapped in speck (a smoked prosciutto) over radicchio, the whole thing baked to perfection in a wood-burning oven ($12.95). The richness of the cheese, the lightly gamey savor of the speck and the slight bitterness of the radicchio hit all the right notes. That same oven, by the way, turns out some pretty delicious pizza pies.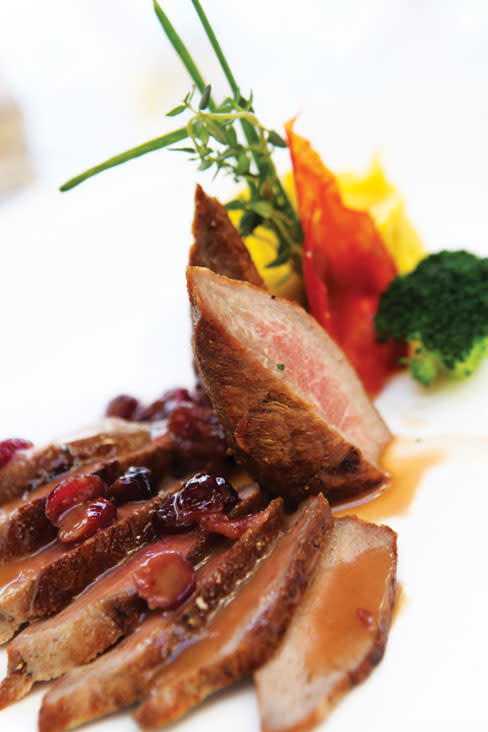 I ordered the bresaola ($14.95), which plated thin slices of a gorgeous cured beef prosciutto in a ring around a mound of arugula accented with artichoke hearts and slivered Parmesan. This was another happy marriage of disparate flavors and kept the taste buds hopping.
I followed that with a roasted and carved duck breast ($24.50) in a swoony clear sauce rich with raisins. It was very good, but the star of the dish was the saffron mashed potatoes. As soon as I spotted actual red-orange threads of the expensive spice in the mix, I knew I had hit upon something special. I would go back just for those potatoes, some good bread and a glass of cool white wine.
Colette, as it turns out, ordered the evening's stunner: a lasagna alla Bolognese ($15.50) worthy of the gods of pasta, creamy sauces and meats. Mediterraneo's version of ragù bolognese, the rich meat sauce (veal, ground beef, Parma ham and pork are all used in various combinations) at the heart of the dish uses no tomatoes, and they are not missed. Layered with lasagna noodles and the nutmeg-spiced ragù is a creamy white bechamel sauce silky with butter and milk. Simply splendid.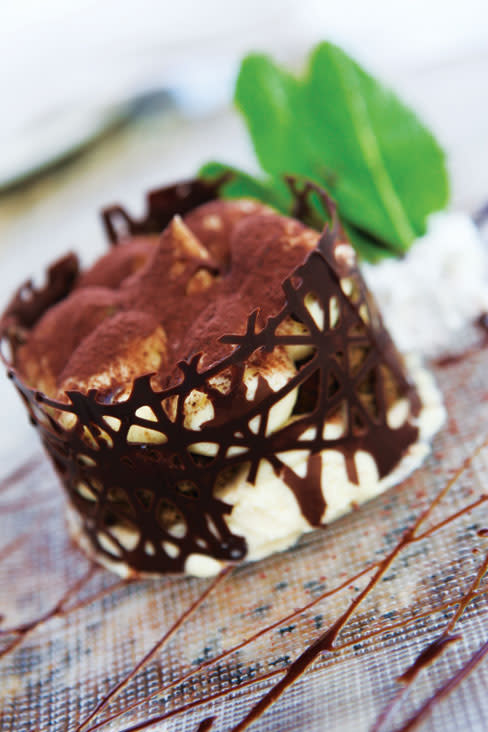 Desserts provided a fabulous fireworks burst of a finale. A lovely classic tiramisu, caged in a latticework of dark chocolate, and a panna cotta accented with crushed wild berries and a sprig of mint (both $7) looked fantastic and tasted better.
The Verdict: Mediterraneo hasn't lost a step since its founding in 1996. If anything, its signature blend of Italian style and substance has gotten better.
Mediterraneo Ristorante Italiano
1970 Main St., Sarasota
Reservations: (941) 365-4122
Hours: lunch 11:30 a.m.-2 p.m. Monday-Friday; dinner 5:30-10:30 p.m. Sunday-Thursday, until 11 p.m. Friday-Saturday
Bar: full bar and excellent wine list
Cards: major
Parking: free in nearby garage or on street
Handicapped accessible: yes
Fun at Flavio's
Maybe it was the bubble machine outside, but I expected we were in for a good time at Flavio's Brick Oven and Bar on Siesta Key. We were, and we ate well, too.
We joined the lively fray in the bar, where we were made to feel like regulars. Flavio's has the pleasantly funky feel of a favorite neighborhood hangout—a neighborhood that knows from Italian.
The place makes good use of chalkboards, one for food specials and the other for seasonal bar concoctions. A standout among the latter for our visit was a Hennie Hound Cocktail ($10) that combined cucumbery Hendrick's Gin with St. Germain elderflower liqueur and fresh squeezed grapefruit juice. Starters are tried and true, from eggplant Parm to delicious roasted red peppers ($10.50) to a fry-up of calamari, shrimp and zucchini. Particularly toothsome is a quartet of Gulf shrimp wrapped in prosciutto and fried ($13.95), the sweetness of the shellfish nicely countered by the meat's saltiness.
Veal figures prominently—served di Vitello, alla pizzaiola, al Marsala, alla Parmigina, alla Veneziano, as a grilled chop or as saltimbocca alla Romana. The saltimbocca ($24.95) was Colette's choice. While the veal was layered with prosciutto and sage instead of being rolled around them before sautéeing and saucing in a white wine reduction, it had all the ingredients and the flavor was just what it should be.
The little potato dumplings called gnocchi are a favorite of mine and always a good test of a kitchen's prowess. Flavio's acquitted itself in style, serving the little darlings in a pink alla vodka sauce ($17.95) that adds to simple tomato sauce the glories of vodka, heavy cream and Parmesan.
5239 Ocean Blvd., Siesta Key
Reservations: (941) 349-0995
Hours: dinner 4-10 p.m. Monday-Thursday and Sunday; until 11 p.m. Friday-Saturday
Bar: full bar and wine list
Cards: major
Parking: in small lot or on street