Article
Sarasota's Best Key Lime Pie
Our editors and judges go on a sweet search for Sarasota's best Key lime pie.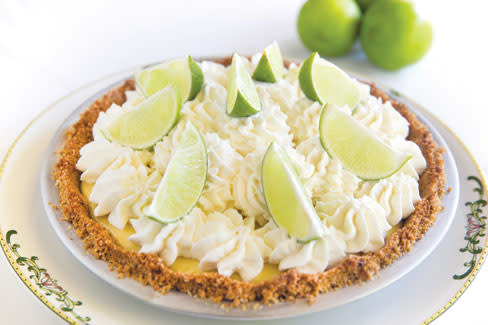 Key lime pie is Florida's most iconic dessert, and luckily for us, Sarasota restaurants and bakeries are turning out variations that are sure to satisfy every palate. Our Facebook fans nominated their favorites, and Erin Zolner, of The Lollicake Queen and Perq Coffee Bar, and wedding photographer and Key lime pie aficionada Cat Pennenga helped us taste the finalists and choose our winners.
Best Overall
It's unanimous: The best Key lime pie in Sarasota can be found at Longboat Key's Euphemia Haye restaurant. Our judges agreed it's a triumph of taste, creamy texture and just enough tang—and lots of dollops of sweetened whipped cream.
Best Crust
We went crazy over Sign of the Mermaid's graham cracker crust—just sweet enough to complement its Key lime filling, buttery and crumbly, but substantial enough that it doesn't fall apart when pierced with a fork.
Best Topping
The creamy topping on Floribbean Flo's Key lime pie was a nice contrast to the tartness of its filling. Made from commercial whipped topping and flavored with real Key lime juice and sweetener, it was the most creative and flavorful topping of the bunch.
Best Presentation
That would be Publix, whose version of this classic is served with a ring of sweetened whipped cream piped around its edge and a generous sprinkling of sliced toasted almonds. Almost—but not quite—too pretty to eat.
Click here to read more Sarasota's Bests. >>
This article appears in the April 2014 issue of Sarasota Magazine. Like what you read? Click here to subscribe. >>