Article
Rustic Redefined at the New Derek's
Plus, a review of Soma Creekside and a preview of this year's Florida Winefest.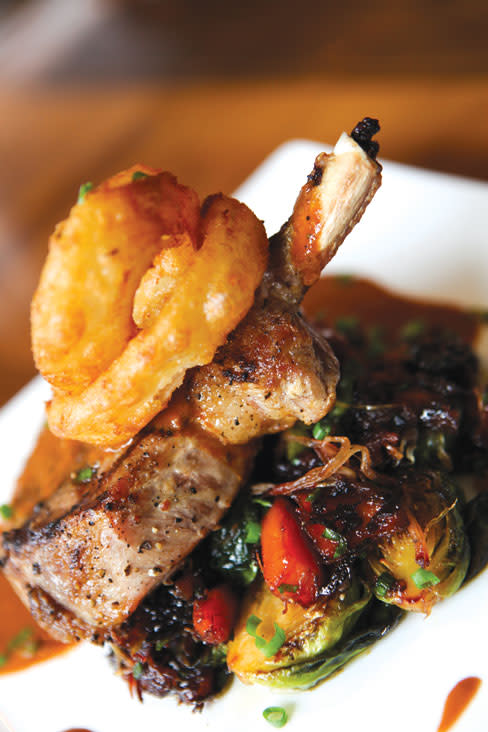 I was wondering what rustic might really mean in the context of ultra-talented chef Derek Barnes' new Derek's Rustic Coastal Cuisine on Manatee Avenue West in Bradenton when the gougères arrived on my bread plate. I might have expected a twist on corn bread, but those little lighter-than-air choux pastry cheese puffs beloved of French chefs? I could see rustic was in for reinterpretation at the innovative chef's hands.
Both the menu and the decor at the new restaurant are far different from those at its predecessor, the deservedly popular Derek's Culinary Casual in Sarasota's Rosemary District. While the first restaurant was housed in a pair of repurposed storefronts that clearly showed their origins, the new restaurant took a nondescript fast food outlet and turned it into something utterly unlike the building's previous incarnation. About all that says rustic in the interior design are distressed flooring and glossy sliding barn-style doors that can close off a private dining room. The rest is a study in earth tones and upbeat lighting, all very modern and restful—which is good, because the noise level on a packed evening can be convivially high. Big, rounded, comfy booths under the windows at the front of the room make a fine spot when you're dining with several friends.
The extensive menu at the Sarasota restaurant pushed contemporary American cuisine to its limits and in the process earned chef Barnes two James Beard nominations as Best Chef South. The new menu is just as savory but more compact and regionally focused. Culinary creativity is still very much in evidence, as is the chef's very French attention to detail and technique, but twists on the classics are more subtle, at least usually. An exception would be the yellowfin tuna tartare ($11), slyly styled Kentuckyaki. The starter, which dresses gorgeous raw fish in toasted benne (sesame) seeds, crispy bits of parsnip and a snappy peanut vinaigrette, is quite yummy.
My favorite appetizer/small plate is the New Orleans-style BBQ shrimp ($10), which provides just one hint of that gastronomically rich city's influence on the menu. Three largish, hand-picked Gulf shrimp are bathed in a sauce at once piquant and sweet, a world of flavor unto themselves, but the kicker is the little gem of a rosemary biscuit that shares the plate.
Pan-roasted naked calamari served on little triangles of muffaletta toast ($10) rise to great heights in a sauce redolent of preserved lemon and sweet garlic. The fried green tomatoes ($8) truly are green and firm, fried to a toothsome crisp and served with the chef's Crescent City remoulade.
Sushi-grade yellowfin also figures in one of several main dish standouts, this time lightly seared and arrayed on a delightful salad of watercress and pickled mirliton (aka chayote squash) with radish and red pepper accents, the whole served on a swoony Bordelaise ($25). The kicker on this one is a green onion and sweet corn fritter, sort of an angelic version of a hush puppy. Also outstanding is a grilled double-cut pork chop ($24) served with pulled pork and maple hash, caramelized Brussels sprouts and crispy onions and—wait for it—brushed with that lovely chocolate and chile sauce from Mexico called molé. Right up there in the pantheon with those two dishes is a cornmeal-crusted red snapper ($24) that treats a noble Gulf fish with the dignity it deserves in the pan, sauces it in a retrained swoosh of Crescent City remoulade and plates it with another New Orleans staple, dirty rice.
As at the original Derek's, there is no bar, but the wine and craft beer list is first-rate and very well priced. Service is informed and cordial.
The Verdict: Chef Derek Barnes' splendid new Derek's Rustic Coastal Cuisine in Bradenton took off like a rocket and was packed practically from Day One. No wonder: The chef reinvents tried and true Gulf Coast favorites and serves them with style.
5516 Manatee Ave. W., Bradenton
Reservations (recommended): (941) 794-1100
Hours: dinner 5-10 p.m. Monday-Saturday (lunch is planned; call)
Bar: wine and craft beer list, many by-the-glass choices
Cards: all major
Parking: in lot
Handicapped accessible: yes
Creative Cookery at Soma Creekside in Bradenton
Here's one way to derive maximum enjoyment from the heavenly white truffle Parmesan tater tots ($6) turned out by chef Dave Shiplett at his Soma Creekside in downtown Bradenton: Order them as a side with dinner or lunch, savor several while they're hot, then have the rest boxed to enjoy anew the next morning as hash browns with your breakfast eggs. Or just wolf them all down immediately, dipping judiciously into a lively Russian dressing. You can't go wrong either way. The chef's menu changes frequently, sometimes as often as every other day, but thankfully those tasty tots have survived each new edition.
We've been Shiplett fans ever since he broke in the kitchen and designed the first menus at Cafe Ezra a little farther west along Manatee Avenue. He left Ezra years ago, ran a dinerish restaurant east of downtown for a while and then hit his stride with Soma Creekside. Housed on the ground floor of a mid-rise office building, the space is divided into a lofty reception area/wine bar and a cozier dining room, all enlivened by local original art. A covered, fan-cooled terrace offers al fresco dining. The overall effect is colorful, charming and a bit whimsical. The same is true of the chameleonlike menu.
We're squid fiends, and Soma's calamari salad ($10) is among our favorite preps. Tubes and tentacles are sautéed and served on mixed greens with bits of bacon and tossed in a wasabi vinaigrette that builds a subtle residual heat on the tongue. Another day might see the squid wok-fired and sauced in soy, cilantro and Sriracha, an even fierier incarnation. Or maybe the chef will forgo calamari altogether in favor of tender and firm escargots done scampi style with roasted garlic, squash noodles and chardonnay butter with a citrus edge. Or perhaps he'll offer all three, as well as a nice sampling of other starter goodies ranging broadly from pan-seared foie gras with apples and pinot noir drizzle to a baked goat cheese and roast beet salad.
Main dishes are similarly lively and dependent for availability on the market and the chef's mood. On a recent visit we savored a lovely take on Southern staple shrimp and grits ($18), the plump Gulf shrimp sautéed in sweet chili butter and plated with sizzling spinach, bacon and tomato as well as cheese grits. Catch-of-the-day flounder made for superior fish and chips ($17), the fish accented with a citrus and malt vinegar and the chips in the form of just right shoestring fries. Other evenings might spotlight truly crabby fresh blue crab cakes with the best sweet potato fries I've ever tasted, grilled steak (cuts vary) with lively housemade Worcestershire, or a fat grilled bone-in pork chop with buttered lentils and greens that the chef, just for fun, calls pork and beans.
Desserts are served in small portions called shooters that usually range in price from $3 to $5 and might be pineapple upside-down guava cake with coconut dolce de leche or raspberry and candied ginger cheesecake or maybe a pretzel brownie with salted caramel and vanilla ice cream. We haven't yet hit one we didn't like. A lot.
1401 Manatee Ave. W., Bradenton
Reservations: (941) 567-4001
Hours: 11 a.m.-2 p.m. Monday; 11 a.m.-10 p.m. Tuesday-Friday; 5-10 Saturday
Bar: wine and beer list, good by-the-glass options
Cards: all major
Parking: free in attached garage
Handicapped accessible: yes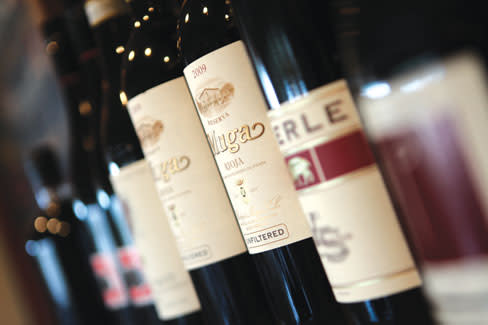 What I'm Drinking: Florida Winefest Edition
Since 1991, April has been Florida Winefest month in Sarasota. This celebration has always been about both a lively holiday for lovers of good wine and good food and the money it raises for local charities. This year's fest runs April 10-13 and will be anchored under a bayfront tent at Van Wezel Performing Arts Hall.
The festival kicks off April 10 with winemaker dinners at a number of venues, notably restaurants Bijou Cafe and Andrea's and under the Van Wezel tent. The next day, again under the tent, $55 buys you a lunch sampling the cuisine of many Sarasota chefs paired with tastings of wines by festival winemakers and wineries. In the evening, it's time for a viniferous block party on Lemon Avenue.
The marquee event of Winefest, where the big bucks are generated for those good causes, is the Grand Tasting, Brunch and Charity Auction of wines from around the globe. It begins at 11 a.m. April 12 under the tent with food from some of our town's best restaurants and wines from more than 40 wineries. The auction begins at 1 p.m.
The party wraps on April 13 with Wine On The Water, a casual tasting under the festival tent. Six sips for $25, and nibbles will be available for purchase.
For more Sarasota dining and restaurant news, click here. >>
This article appears in April 2014 issue of Sarasota Magazine. Like what you read? Click here to subscribe. >>