Article
Sarasota's Best Pizza
Our team of judges sets out to find the best pizza in town. And the winner is...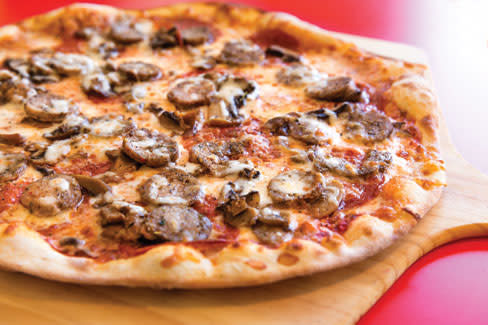 When we asked you on Facebook to nominate Sarasota's Best Pizza, some 200 of you responded in record time. Kudos to our five finalists—Broadway Bar, Goodfellas, Il Panificio, Rico's and Solorzano Bros.—for rising to the top, and thanks to LaughingLunches.com's Joey Panek, Christine Alexander and Catey Brannan for helping us choose the final winners.
Best Overall: Goodfellas
Almost everything at Goodfellas on Clark Road is made on the premises, from scratch, and you can tell. The pizza had just the right top of bubbling, melty cheese, and the hit of oregano in the house-made sauce brought a welcome note. But it was the crust (see above) that brought it home for us.
Best Sauce
A too-sweet or too-tangy sauce can throw off the balance of an entire pizza. Luckily, Solorzano Bros.' sauce is a perfect marriage of flavors: flavorful enough to stand on its own, but not so bold that it overpowers the flavor of the pizza's excellent cheese or dough.
Best Cheese
If for you, pizza is all about the cheese, then you'll be happy to know that the Broadway Bar—which celebrates its 88th birthday this year—smothers its slices in melted mozzarella, from top to bottom. It's a cheese-lover's dream.
Best Crust
How you like your pizza crust is personal: deep-dish, thin, crispy, soft—the options are many and oft-debated. But Goodfellas' crust was a clear winner for each of us. It's super crispy and almost cracker thin; light but still hearty enough to handle the sauce and cheese that topped it.
Click here to see more Sarasota's Bests, including best fried chicken and best grouper sandwich. >>
This article appears in the March 2014 issue of Sarasota Magazine. Like what you read? Click here to subscribe. >>