Article
Inside Salute Restaurant Owner Alberto Guardagnini's Italian Estate
Patrons of downtown Sarasota Italian restaurant Salute are following the proprietor on his summer migration to his luxurious Italian winery and estate.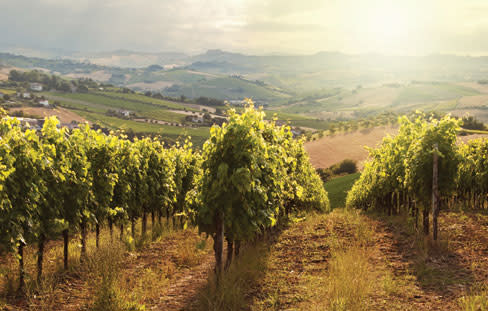 For generations, snowbirds have been a big part of the Sarasota story, with some lucky retirees enjoying the best of both worlds—sunny winters in Sarasota and cool summers in regions north. But in the last few decades, we've seen a new kind of snowbird—the bicontinental species, which divides its time between Sarasota and beautiful regions around the world. And in some cases, that's a very good thing for all of us.
Consider Alberto Guardagnini of Tuscany and Sarasota, the owner of Saluté Ristorante on Lemon Avenue. The corner location, in the heart of the city, is conveniently central, and the food, authentic Tuscan. Owner Alberto greets each patron personally during season: "Ciao," "Buona Sera." When things quiet down, around the end of April, he returns to his homeland and to his recently restored country estate, Casali di Bibbiano, situated on more than 90 acres of land, including vineyards, olive groves and luxury villas.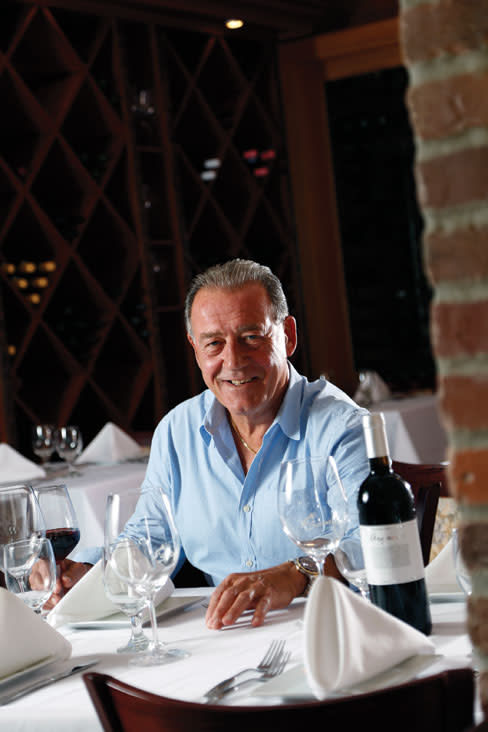 The estate is open to visitors, who bask in the beauty and the local wines and food, and quite a few of them are Saluté patrons from Southwest Florida.
Casali di Bibbiano is Alberto's dream. It operates as a full-production winery of award-winning super Tuscan wines, including cabernet sauvignon, merlot and Sangiovese. Additionally, high-quality olive oil is pressed from the olive trees growing on the country estate, which Alberto imports to use at Saluté. He tells us he has just shipped 30 cases of the "liquid gold" to Saluté.
My husband, Bill, and I first visited this 18th-century country estate a year ago while driving around the rolling hills of Tuscany on a sunny autumn day and stopping over at local vineyards.
We were so impressed with the beauty and peaceful atmosphere of Bibbiano, we knew that we had to return for a longer stay. Besides, Alberto had now invited us.
The restored villas are first-class and can accommodate 26 people—an extraordinary venue for a reunion of family or friends. There is a gym, tennis and basketball courts, and a gorgeous swimming pool with Jacuzzi. And the staff is fluent in English as well as Italian.
This year, we take the two-hour train ride from our home in Florence, where we currently reside for three months a year. Alberto picks us up at Buonconvento station. Riding in his black Audi, we wind our way down the long, stately drive, lined on either side with soaring cypress trees. We are greeted at the gate by the charming guest-relations coordinator, Claudia Zeni. Then we check into our large airy room: "Il Girasole," the sunflower.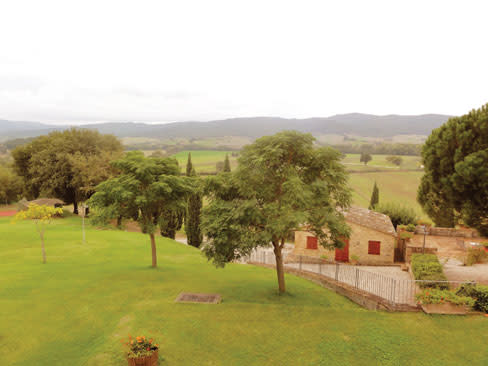 Lunch is served on the terrace overlooking the vine-clad hills and silvery gray olive groves. The panoramic view is mesmerizing; there is no sound. We are served a dry crisp white wine, Primo Bacio, with our meal of homemade pasta with fresh tomatoes and basil from the garden, and gnocchi in a pesto sauce. A platter of cured salami, prosciutto, olives and cheese follows. We have become Tuscanized. It reminds me of my first time visiting Sarasota in 1989. I felt so relaxed, my soon-to-be husband said I was Floridized.
Alberto joins us for a discussion of wines produced in Italy and why they are so good. The grapes must be picked at the exact time they are ready and sent to production. Weather dictates when this will take place. If there are too many rainy days or flooding, the harvest must wait. The regulation for low sulfites is very strict, he explains, and every plant is inspected. Alberto says that his guests are always commenting on how much wine they consume in Italy and how they never experience a headache. The lower sulfites are the reason.
We are introduced to chef Massimiliano "Max" Izzo, who is preparing handmade pasta for this evening's dinner. He is toasting walnuts for the sauce and yes, they are from the walnut trees on the property.
Who stays at the impeccably restored farmhouses? Alberto tells us that more than 30 percent of this year's occupancy came from the Sarasota and Longboat Key area, along with Canadians who live part of the year in Sarasota. The rest come from all over, including a business group from Porsche that has stayed at Bibbiano for three consecutive years and takes over the entire property.
After lunch, Alberto is excited to find out that both he and Bill share a love of the game of golf. The new, quite spectacular golf club, Castiglion Del Bosco, built by the Ferragamo family, borders his property, and he entices my husband to go and "hit a few balls." It does not take a lot of persuasion. I admonish them not to be gone too long as I leave for a walk around the property.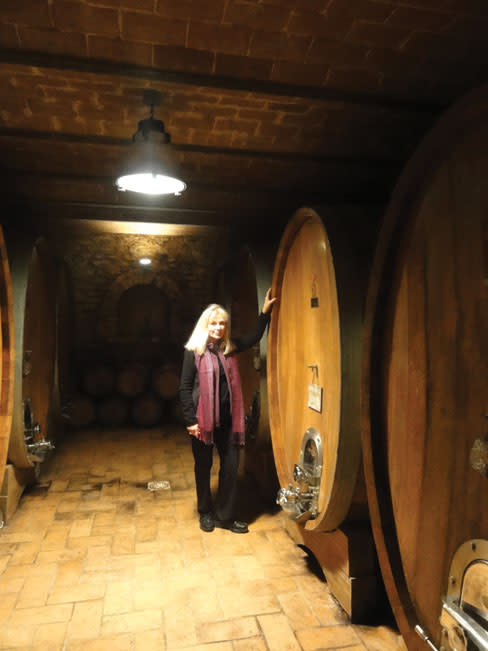 Claudia takes me through the wine-making procedure and into the wine cellars, where I notice buckets of freshly picked large green olives; these are for eating, she explains, not for the oil. The olives for the oil are not ready for picking until mid or late November, depending, like the grapes, on the vagaries of rain and sun.
Afterwards, I return to the kitchen to talk to the chef about his methods. He also gives group cooking classes and graciously agrees to share some of his "secret" recipes. You will not gain weight on the typical Tuscan diet.
Nor will you find massive plates of meatballs and spaghetti. Instead, your taste buds will come alive with the flavors of Tuscany: the freshest ingredients, grown in their own garden; superb cheeses, meats fresh from the local butcher.
Food is one of the great Italian passions, and tonight we are in for a gastronomic delight. The fresh tagliolini is drying on the racks; sauce is simmering. The massive Chianina beef steaks now marinating will become the famous Bistecca alla Fiorentina. Alberto gives us his tip for a marinade: olive oil, a pinch of salt and pepper, and some fresh rosemary. Once the steak has been seared over hot coals and is sliced rare, the juice of the meat mixes with the marinade to form an exquisite sapore (flavor). The chef gathers the five fingers of his right hand to his lips and air kisses them, then tosses the kiss to the universe. No words needed.
Chef Izzo's gourmet four-course dinner with unlimited wines from the Casali di Bibbiano's winery is served nightly on the terrace or in the restaurant, and vegetarians will be accommodated. The dishes are small, and seconds are always available.
October ends the season, so the number of guests is dwindling and we are invited to sit at the family table for dinner. Two of Alberto's four children, Andrea and Gabriella, have stayed to work at the property and will join us, in addition to Alberto and Massimiliano. Another of his sons, Marco, works at Saluté in Sarasota, where you may also find Andrea.
I ask Alberto where he would rather be, here or Sarasota. "Both places give you a lot of energy. I like to be both places," he says. That's true for Bill and me as well.
We order some cases of the wine to be shipped to Florence, where we can have a wine tasting with friends, and we are sad to leave our new "family." We know we will return and stay even longer the next time.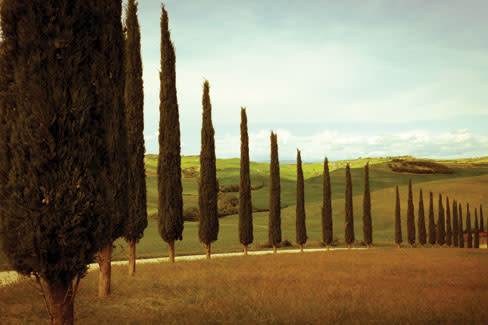 I sign the guest book and peek at some of the other comments: "Exceeded our expectations," "Forever in my heart," "Amazing hospitality," "Spectacular time," "Trip of a lifetime," "Fantastic food," "Felt like a part of the family." We agree.
Tuscany, famous for its beauty and tranquility as well as food and wine, draws visitors from all over the world.
Patrons of a popular downtown Italian restaurant are following the proprietor on his summer migration to his luxurious winery and estate in the hills of central Italy.
Casali di Bibbiano
Phone (USA): + 1 (610) 566-7406
Email (USA): [email protected]
RECIPE: Tuscan Tagliolini
1 pound fresh tagliolini pasta
Toast some walnuts in oven or fry pan.
In pan, sauté 1 stick unsalted butter, splash of olive oil, chopped onion,and chopped pancetta
Add splash of white wine, stir, and simmer 10 minutes.
Tear a couple of basil leaves and toss in (he tossed them, seriously).
Cook pasta in boiling water for 2 minutes.
Add pasta to sauce and sprinkle with Parmesan. Sometimes, the chef grates lemon rind on top.
For more Sarasota restaurant and dining news, click here. >>
This article appears in the February 2014 issue of Sarasota Magazine. Like what you read? Click here to subscribe. >>