Article
Good Deal: PDQ Opens in Sarasota
John Bancroft finds a good deal at Sarasota's PDQ.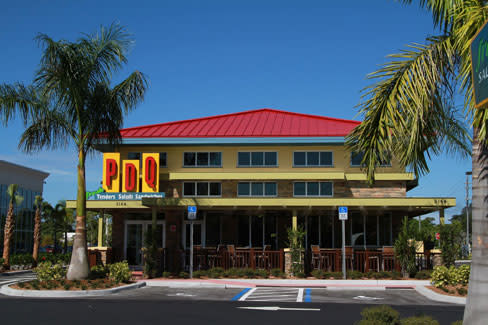 The place: PDQ, 5164 S. Tamiami Trail, Sarasota, (941) 866-1311
The goods: Think Chick-fil-A but better, and open Sundays, too.
The drill: Yes, PDQ is about fast food, complete with drive-through window; but it's superior fast food in a comfortable setting inside or on a mist-cooled patio. The shakes are handmade, iced tea comes sweet, unsweetened or green, the mix-and-match soft drink machines will bring out the kid in you, and there's even Cheerwine in the bottle for two bucks. Chicken tenders, chicken sandwiches and chicken-topped salads are the main attractions, with a couple of turkey sammies in supporting roles. For $6.99 you get either a three-piece tenders or sandwich meal. Make mine the fresh and hot crispy fried chicken breast on an egg bun dressed up with lettuce, tomato, pickles and mayo. You can have fries with that or—better—yummy blueberry cole slaw. Add a regular fountain drink and you've got a tasty meal served up PDQ.
For more Sarasota dining and restaurant news, click here to read our Foodie's Notebook blog. >>
This article appears in the January 2014 issue of Sarasota Magazine. Like what you read? Click here to subscribe. >>