Article
Pinecraft's Sherry Gore Gains National Attention for Her Amish Cookbook Series
Pinecraft's Sherry Gore is gaining national attention for a new cookbook series featuring comforting Amish favorites.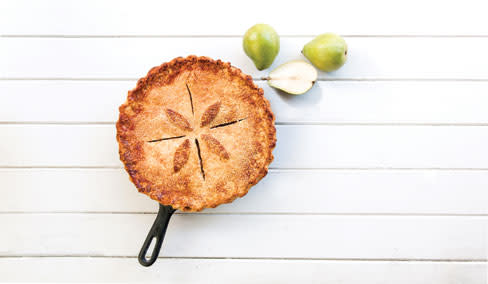 Sherry Gore didn't plan to watch herself on the Today show after it came to Pinecraft last March to tape her cooking Amish pot-pie stew with correspondent Sara Haines.
After all, even with a population of 2,000 that swells by another 6,000-plus at the height of season, there are just two televisions in the Amish-Mennonite community off Bahia Vista Street in Sarasota. And that's fine with Gore, who is a devout follower of the beliefs and customs of the "Plain People."
Yet the motherly-looking woman in a modest bonnet and apron finds herself where no one else in Pinecraft has ever been—at the center of a whirlwind campaign to promote a series of cookbooks published by a major company, with appearances on network TV, and in major newspapers and magazines around the world. Indeed, Gore, who tools around Pinecraft on an Electra bicycle with flower decals that she purchased with her first check from her publisher, now has an agent, a publicist, a branding consultant and a virtual assistant who schedules her business and media interviews, answers her emails and oversees her test kitchens of volunteer cooks across the country.
Gore didn't grow up Amish but turned to the "Plain community" of the Amish Mennonite Church after she found God at 31. Now she is making her fortune, literally, in pies—and other Amish favorites like ham loaf, stuffed cheese buns and hot chicken salad casserole.
Her new cookbook, Simply Delicious Amish Cooking: Recipes and Stories from the Amish of Sarasota, Florida, a compilation of hundreds of recipes gathered from her Pinecraft friends and neighbors, was published in May by Zondervan/Harper Collins. It's the first of a three-book deal Zondervan is packaging as the Pinecraft Collection that also will yield the deliciously titled Me, Myself and Pie in 2014 ("I went to Lancaster, Pa., to research it," Gore says. "Seven pounds came back on the plane with me, and they were not in my luggage!"). A third book, this one a memoir, will debut in 2015.
She also edits a glossy quarterly magazine, Cooking & Such: Adventures in Plain Living, which she started two years ago; writes the "Letters from Home" column for the 120-year-old Mennonite weekly newspaper, The Budget; and appeared last year in the National Geographic Channel documentary, Amish Out of Order. Oh, yes, and she's now the host of a podcast radio show, "Amish Wisdom with Sherry Gore," that airs every Thursday on Togi.Net Radio.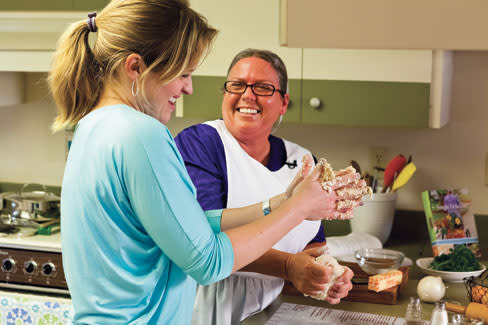 This past spring, a reporter and photographer from Sweden's largest daily newspaper, Dagens Nyheter, spent the day with Gore in Pinecraft for an article. Guidepost magazine—circulation 2 million—featured her in its August issue. And late March found her—much to her delight—in her homey Pinecraft kitchen teaching Today show correspondent Sara Haines to make Amish pot-pie stew and an orange pie. "Best pie EVER," Haines tweeted afterwards. (Haines also took a neighborhood tour to Yoder's, Alma Sue's Quilt Shop and the shuffleboard courts at Pinecraft Park in a solar-powered buggy that Gore's landlord, Larry Yoder, built. The episode aired on Today's website in April.)
Despite the simple dresses and bonnets that Gore wears, it's a mistake to judge this book by her cover. She has a Facebook page with 5,200 followers, YouTube videos and a website, sherrygore.com, where she posts blogs on subjects ranging from National Buttermilk Biscuit Day to musings on Amish faith and wisdom.
She humbly describes herself on her Twitter feed as "Editor-in Chief of Cooking & Such magazine, author for Zondervan, devoted lover of pie," and on her Facebook page, Gore writes that she "eats well with others."
Not bad for a 47-year-old grandmother who only learned to cook—and write for a readership—when she moved to Sarasota in 1989. Gore grew up in Orange County, Calif., and at age 22 was a disc jockey at the Fred Segal store in Santa Monica. "I had wild, out-of-control blond hair and wore Levis 501 jeans," she says. "I wore whatever was in fashion until it wasn't, and then I moved on." Marriage and a stay-at-home life with three children followed. And then, at age 31, she became a Christian and started attending church for the first time.
Gore says her life "turned right side up" when she joined the Plain community in 1999. Gore raised her children, two daughters, now 23 and 22 years old, and a son, 17, in the Sunnyside Amish Mennonite Church, and they went to Sunnyside Mennonite School. She cleaned houses for a living.
It was only when she and her children moved away for three years and she mailed chatty monthly letters to friends here that she discovered her love for writing. "It was my bishop who recognized I had any talent for it," she says. "He asked, 'Is life that interesting in Kentucky, or is it the way you write about it?'"
Simply Amish Cooking is actually an amped-up version of a cookbook, Taste of Pinecraft, which Gore self-published in 2010. A Russian Mennonite woman from Chihuahua, Mexico, came to help Gore care for her chronically ill older daughter for a few months, and when she left she presented Gore with a cookbook from her home. "I wanted to be able to give her one from Pinecraft in return, but there wasn't one," she says. "So I started it one week later."
Through her "Letters from Home" column in The Budget, Gore reached out for recipes from home cooks who either live in Pinecraft or vacation here. They poured in through the mail—Lisa's Homemade White Bread, Mrs. Byler's Glazed Doughnuts, Rebecca Fisher's Sauerkraut, Grandma's Oatmeal Raisin Cookies. "I was a cleaning lady for a living, and I wrote that cookbook in the evening," she says. "I thought it would take six months, but it took me three years." For human interest, Gore inserted excerpts of her newspaper column throughout the book. "That's what sold it," she says.
She knew Taste of Pinecraft was a hit when she sold 600 copies in just two weeks on Facebook. "I didn't know I was marketing," she says. "I just happened to say, 'I'm going to be working on my cookbook,' and people would say, 'Oh, can I buy one?'"
Suzanne Woods Fisher, a bestselling author who writes about Amish life, contacted Gore through Facebook and asked her to be on her national radio show. "I said thank you very much but I'm not an author, I'm a cleaning lady," Gore remembers. "I went to my bishop and asked him whether I should do it. He told me, 'Sherry, it's a misconception that all Amish and Mennonite women just stay at home and make babies. There are a lot of smart businesswomen within the church and you're the person to show them.'" Since then, Gore has been on the show seven times and has guest hosted twice.
In 2011, Gore got a life-changing email from a researcher working on the documentary Amish Out of Order for the National Geographic Channel. "They saw my website and liked my book and asked if they could interview me," she says. They did four interviews, and then asked if they could film her cooking Thanksgiving dinner in her home. "Don't think I wasn't nervous," she says. "I no sooner said, 'Don't ever walk away from the broiler,' than I walked away and the marshmallows on the sweet potatoes went up in flames. I was horrified, but I told them, 'When the smoke alarm goes off, dinner's ready.' I could see the camera crew's shoulders shaking with laughter."
Gore took Taste of Pinecraft as far as she could. "I had it in every Amish store in America, but I couldn't get it in mainstream stores without a distributor and I knew I had to have an agent," she says. "It took me eight months and four days to get the gumption to approach the agent."
In January 2012, she sent a letter to The Steve Laube Agency. "The very next day I got an email reply that said, 'We are reviewing your proposal. We'll get back with you ASAP,'" she says. Two days later, she got a phone call from literary agent Tamela Hancock Murray. "She told me she considered it a top-tier book and would only pitch it to top-tier publishers." Murray subsequently made the three-book deal with Christian publisher Zondervan/Harper Collins.
"It was the best phone call of my entire life," Gore remembers. "I felt God put that book in a cannon and shot it to places where it could never go before."
Gore's philosophy on food comes to life in her book. "I like to cook food that will cause people to reminisce: hand-breaded pork chops, chicken and dumplings," she says. "I offered a Hollywood producer who was here making a sizzle tape for Lifetime TV a glass of chocolate milk, and I could tell it had been a long time since anyone had offered him that. He was happy."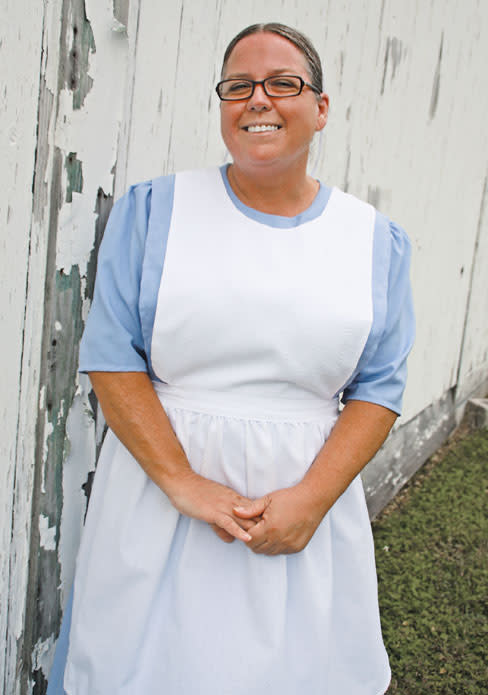 Gore says she didn't grow up in the kitchen. "My parents worked hard to provide for us, and a lot of the foods we ate were frozen, boxed and processed," she explains. "When I came to Pinecraft my friends at church taught me to cook. It was the process of making it that impressed me; I could tell their hearts were in it. For me, the love and passion came overnight, but the cooking did not." And, if you're wondering, she is permitted to use modern appliances. "But I keep it simple," she says. "I own a lot of wooden spoons and a lot of rubber spatulas."
The opportunities are flying fast right now for this former DJ who sought the plain life. The week after the Today shoot, Zondervan flew her up to its headquarters in Grand Rapids, Mich., to tape a cooking video that CBS This Morning requested because it's considering booking her for its "The Dish" segment. "It was a dream," she says. "Someone met me with a sign that read, 'Sherry Gore,' and I felt like the queen of England." She made her homemade mac and cheese.
These days, Gore rides her Electra bicycle to the corner of Kaufman Avenue and Bahia Vista Street, between Yoder's Fresh Market and Big Olaf's. "I just go there and sit sometimes," she says. "It's my favorite place in Pinecraft. It's absolutely beautiful to see the girls from Lancaster get off the bus, wheeling their suitcases down the street. The look of adventure on their faces is wonderful; this is where everybody comes for fun.
"I consider Sarasota my hometown; I have never been happier in any other community," she says, repeating what she wrote in her book dedication: "Home is where they love you."
Will success spoil Sherry Gore? "That's a fear a lot of people have for me," she admits. "They tell me that what I have is an authenticity and genuineness. Don't lose that." She vows that fame and fortune won't change her lifestyle. But she does worry—like any modern, multitasking business success—about not having enough time for everything she wants and needs to do. "My biggest fear is being too busy to properly devote enough of my time to friends and family," she says. "I can't keep up with the phone messages, the texts and emails."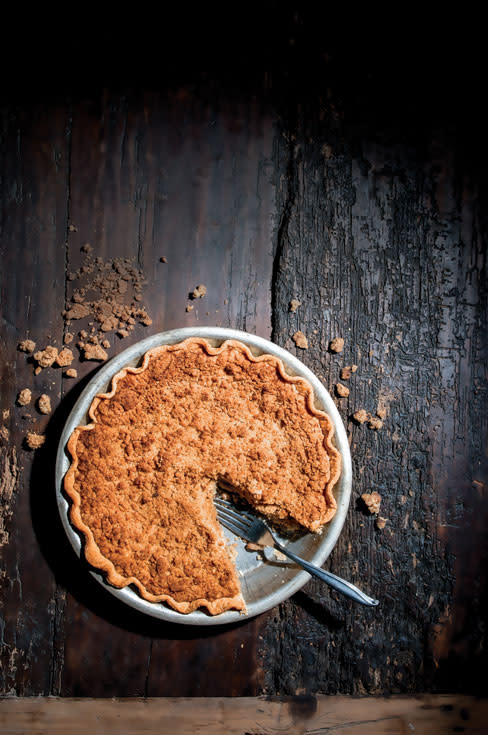 Simply Delicious Amish Cooking
Sherry Gore compiled hundreds of recipes from her Pinecraft friends and neighbors for her new, nationally published cookbook, Simply Delicious Amish Cooking. Try these recipes from Gore's cookbook.
Amish Vanilla Crumb Pie
½ cup brown sugar
1 tablespoon flour
¼ cup dark corn syrup
1 ½ teaspoons vanilla
1 egg, beaten
1 cup water
1 unbaked pie shell
Crumbs
1 cup flour
½ teaspoon soda
½ cup brown sugar
⅛ teaspoon salt
½ teaspoon cream of tartar
¼ cup butter
Preheat oven to 350 degrees. Combine brown sugar, flour, corn syrup, vanilla and egg in a 2-quart saucepan. Slowly stir in water and cook over medium heat, stirring until mixture starts to boil. Let cool. Mix crumb ingredients until crumbly. Pour cooled pie mixture into pie shell and top with crumbs. Bake 40 minutes or until golden brown. – Laura Yoder, Sarasota, Florida
Chicken Potpie (Stew)
1 (4 lb.) chicken cut into serving-size pieces
Water to cover
1 tsp salt
4 medium-size potatoes, sliced
2 Tbsp. minced parsley
Potpie Dough
2 cups four
2 eggs
1/2 tsp salt
2-3 Tbsp water
Cook chicken and debone. Season with salt. Return meat to broth, add potatoes and potpie dough squares, simmering 20 minutes. Add parsley and serve.
To make potpie dough, make a well in the flour and add eggs and salt. Work together to make a stiff dough. If too dry, add a bit of water. Roll out dough as thin as possible and cut into one-inch squares with a knife or pastry wheel. --Vera Kipfer, Pinecraft, Florida
Ham Loaf
2 1/2 lbs. ground ham
1 cup crushed saltines
2 1/2 lbs. ground beef
1 cup graham cracker crumbs
3 eggs, beaten
2 tsp. Lawry's seasoned salt
1/2 cup milk
1 1/2 tsp. salt
Glaze
3/4 cup brown sugar
1/4 cup water
1/2 Tbsp mustard
1/4 cup vinegar
Pineapple Sauce
1 1/2 cups pineapple juice
1/2 cup brown sugar
2 Tbsp unflavored gelatin
1 tsp dry mustard
1/3 cup dark corn syrup
2 Tbsp vinegar
Preheat oven to 350. In a small bowl, mix glaze ingredients. In a larger bowl combine ham and next seven ingredients (through salt) and half of glaze. Mix well and put in loaf pan. Shape into loaf like meatloaf. (It can also be baked in a roaster pan.) Bake 1 hour, basting with glaze every 15 minutes. Serve with pineapple sauce over the top. For variety, shape into balls and bake on cookie sheet about 15 minutes. Serves 15-20. --Ann Mast, Sarasota, Florida
Chocolate Whoopie Pies
1 1/2 cups shortening
3 cups sugar
3 egg yolks, beaten
3 tsp. vanilla
1 1/2 cups buttermilk (or sour milk)
3 tsp. baking soda
2 tsp. salt
1 1/2 cups hot water
1 1/2 cups cocoa
6 cups flour
Filling
1 1/2 cups white shortening (not butter flavored)
5 Tbsp. milk
3 cups powdered sugar
3 tsp. vanilla
3 egg whites, beaten stiff
Preheat oven to 350. Cream together shortening and sugar. Add egg yolks and vanilla. Stir in buttermilk. Add baking soda, salt, hot water, cocoa and flour. Beat well. Drop by tablespoon onto greased cookie sheet and bake 12 minutes.
For filling: Cream shortening and milk. Add powdered sugar and vanilla; mix well. Beat in egg whites until filling is fluffy.
To assemble pies, spread a heaping spoonful of filling on flat side of half the cookies. Top with remaining cookies.
Makes approximately 40 whoopie pies. -- Sherry Gore, Sarasota, Florida
Taken from Simply Delicious Amish Cooking by Sherry Gore. Copyright 2013. Used by permission of Zondervan, www.zondervan.com.