Article
Chef Judi Visits Chianti Restaurant on Clark Road
Chef Judi visits Sarasota's Chianti restaurant for authentic Italian food prepared by former Michael's on East chef Al Massa.
[caption id="attachment_26673" align="alignnone" width="488"]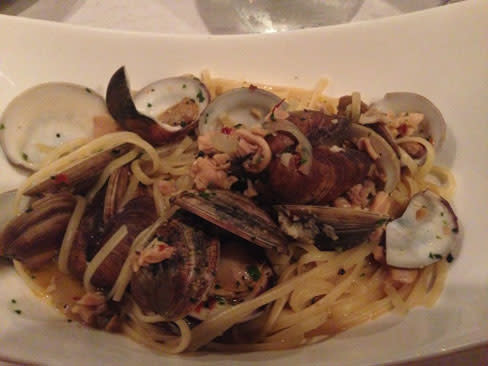 Chianti's linguine with clam sauce.[/caption]
How appropriate to name a restaurant after its mission: Respect for the flavors of Italian food and the ingredients with which its made. The talented team of chef and owners at Chianti on Clark Road in Sarasota have done just that.
And as with his menu, Chef Al Massa himself has evolved. While I found Chef Massa aloof during his tenure at Michael's on East, he's certainly found his home in the Chianti kitchen as well as a delightful approach to both his food and the way he interacts with his guests in his new space.
[caption id="attachment_26674" align="alignnone" width="488"]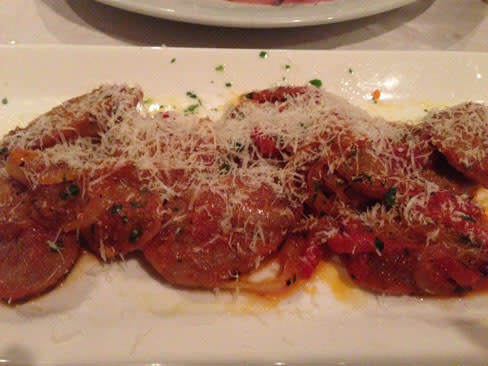 Housemade sausage.[/caption]
I have criteria I use at Italian restaurants that feature familiar red sauce and pasta dishes: The sausage should be homemade with a little bite, the linguine and clam sauce better hold up to Chef Pino's and the meatballs, well, Johnny Carrabba gave me his Nona's recipe 20 years ago, and they are hard to beat--until I tried Chianti's.
Chianti hits some pretty high notes with its calamari steak, which is char-grilled with olive oil, sea salt and parsley (I would even go so far as to say it is the best dish on the menu, and as tender as we have ever tasted). The sausage and peppers appetizer is real-deal homemade and worth a second order if you have to share.
[caption id="attachment_26675" align="alignnone" width="488"]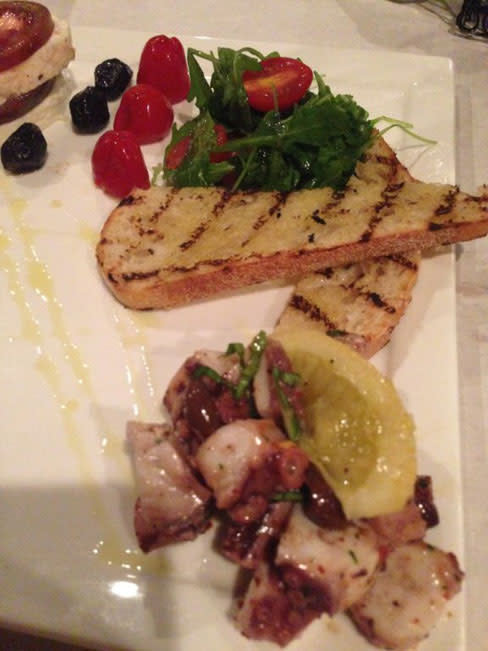 Calamari.[/caption]
While the beef carpaccio was a bit nondescript (it's hard to beat Fleming's on that one), every other meal we found to be inspiring and downright flavorful. Take the veal saltimbocca. A great piece of veal need not be pounded to the ground, and Chianti's veal is tender, elegant and simple. While I would prefer to see roasted potatoes with sliced Jerusalem artichokes instead of mashed potatoes as a side, the veal itself was superb. And the linguine and clam sauce--one of my judging criteria, you'll recall--hit the mark with plenty of fresh garlic and enough crushed red pepper to take notice.
[caption id="attachment_26677" align="alignnone" width="488"]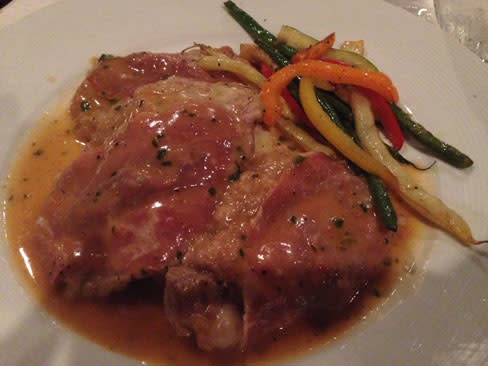 Veal saltimbocca.[/caption]
The specialty touches, like house-cured duck prosciutto and homemade preserved lemons with a fresh organic salad, elevate the menu, while the meatballs and spaghetti remind us how comforting simple Italian food can be.
A hat tip to the service, which is attentive, and a nod of thanks to Chianti for having large wine glasses and rounded water glasses (by the way, the busperson offered us water with or without ice--a nice little touch).
[caption id="attachment_26676" align="alignnone" width="488"]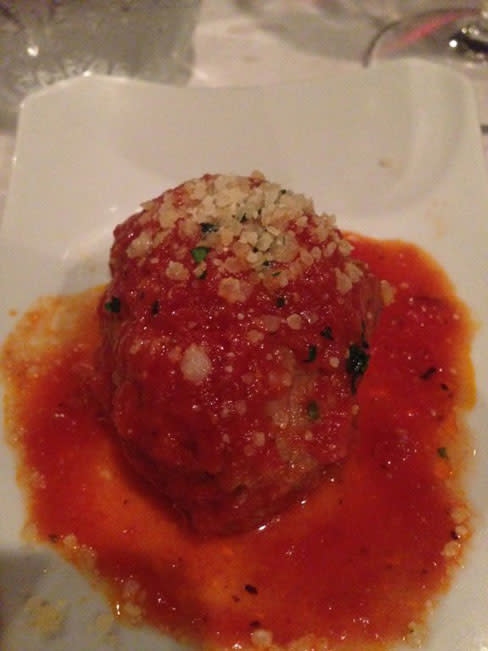 Flavorful meatballs.[/caption]
The rooms are noisy on the weekends, which are just fine with me and add to the ambiance. The main dining room is a bit too hot, but hopefully Chianti will work on adding additional a/c units in the near future.
My next step? Trying a Sunday supper--owner Edwardo dishes up his Sunday sauce loaded with meatball, sausage and baby back ribs simmered in San Marzano tomato sauce over penne or spaghetti for $17.95.
Click here to see our list of the 57 must-eat Sarasota restaurant dishes. >>