Article
Sarasota's Best Cuban Sandwich
We scour the area to find Sarasota's best Cuban sandwich.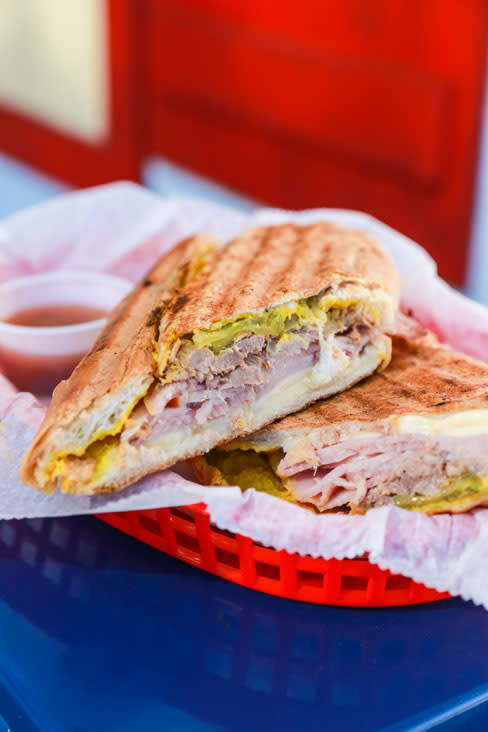 Though the exact origin of the Cuban sandwich is up for debate, it's now inextricably associated with Florida—particularly Ybor City, just up the road. We asked our 8,000-plus Facebook fans to nominate their favorite local versions, then Johannes Werner, who publishes Cuba Trade & Investment News; writer Tony D'Souza, who's in the process of trying to get travel access to Cuba; and CPA George Augustin, whose West Indian roots make him a fan of Latin cuisine, helped put them to the test.
Best Overall
The Cuban sandwich from Jose's Real Cuban Food in Bradenton (featured on the Food Network's Diners, Drive-Ins and Dives a few years back). A variation on the classic—it's served with Jose's famous pulled pork, instead of sliced, and a homemade, Caribbean-inspired hot sauce—this sandwich had everyone picking crumbs of crusty Cuban bread off their plates.
Best Classic
The Columbia Restaurant has been an institution in Florida since 1905, and its Cuban sandwich proves why. It's exactly what you expect when you think of a Cuban sandwich, with top-quality ham, pork, salami, Swiss cheese, mustard and pickles served on fresh-baked Cuban bread—all in a sunny, white-tablecloth setting.
Best Pairing with a Baseball Game
Right across from McKechnie Field in Bradenton you'll find Ballpark Deli & Subs, an unassuming sandwich shop that makes a fine Cuban sandwich that's a welcome accompaniment to a Pirates or Marauders game. Notable here: crispy bread and a flavorful butter and garlic sauce in addition to the usual suspects.
Best Location
J.R.'s Old Packinghouse Café is not the first place you might think of for a Cuban—but it serves up a good one, without salami and with lots of cheese. And if you tear your eyes away from your sandwich and look at the décor—which features vintage posters, hanging instruments and other ephemera—you'll get a feast for your eyes as well.