Article
Grilling Pizzas With Authentic Florida
Authentic Florida whips up some Florida grilled pizzas using fresh local ingredients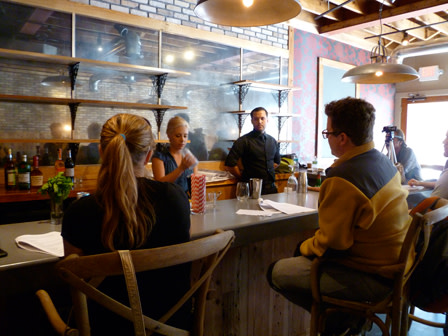 Authentic Florida is grilling homemade pizza using fresh ingredients from the local farmer's market.  Pick up fresh cheeses, tomatoes, herbs and whatever toppings are available that day.  And remember, keep it fresh from Florida!
Grilled Pizzas
Recipe adapted from the Barefoot Contessa.
Serving size: Six pizzas
Ingredients
For the dough:
1 ¼ cups warm (100 to 110 degrees F) water

2 packages dry yeast

1 tablespoon honey

3 tablespoons good olive oil

4 cups all-purpose flour, plus extra for kneading

2 teaspoons kosher salt
For the toppings:
1 lb. of mozzarella, grated

½ lb. Italian Fontina, grated

½ lb. mild goat cheese

2  Florida tomatoes

1 bunch of Florida basil

red or yellow Florida pepper

1 bunch of Florida arugula

4 garlic cloves

Crushed red pepper flakes
Toppings (optional):
Red onion

¼ lb. prosciutto, thinly sliced and julienned

4 turkey or pork sausages
For prep:
1/2 cup good olive oil

cornmeal (1/4 cup)
Directions
For the dough, combine the water, yeast, honey and olive oil in the bowl of an electric mixer fitted with a dough hook.  Add three cups of flour, then the salt, and mix.  While mixing, add one more cup of flour, or enough to make soft dough.  Knead the dough on low to medium speed for about 10 minutes until smooth, sprinkling it with flour, if necessary, to keep it from sticking to the bowl.
While the dough is ready, turn it out onto a floured board and knead by hand a dozen times.  It should be smooth and elastic.  Place the dough in a well-oiled bowl and turn it several times to cover it lightly with oil.  Cover the bowl with a kitchen towel.  Allow the dough to rest at room temperature for 30 minutes.
Divide the dough into six equal parts and roll each one into a smooth ball.  Place the balls on a baking sheet and cover them with a damp towel.  Allow the dough to rest for 10 minutes.  Use immediately, or refrigerate for up to four hours.
If you've chilled the dough, take it out of the refrigerator approximately 30 minutes ahead of time to let it come to room temperature.  Roll and stretch each ball into a rough 8-inch circle and place the dough on baking sheets sprinkled with cornmeal. (You will be able to fit two pizzas on each 18-by-13-inch baking sheet.)
Light your grill and wait until it's hot.
Place the pizzas directly on the grill and cook on one side for one minute.  Turn the pizzas over and brush with olive oil or garlic oil.
Top the pizzas with any toppings you wish, piling them high.  Drizzle each pizza with one tablespoon of olive oil.  Put the lid on your grill and cook for five minutes more, until the crust is crisp and the toppings are cooked.
Enjoy!
Sign up for Authentic Florida's free E-News, a bi-monthly newsletter featuring latest travel, food and living ideas by visiting Authentic Florida.