Article
Foodologist: Leigh Growney of The Short Giraffe
Baker Leigh Growney of The Short Giraffe keeps her treats little but yummy.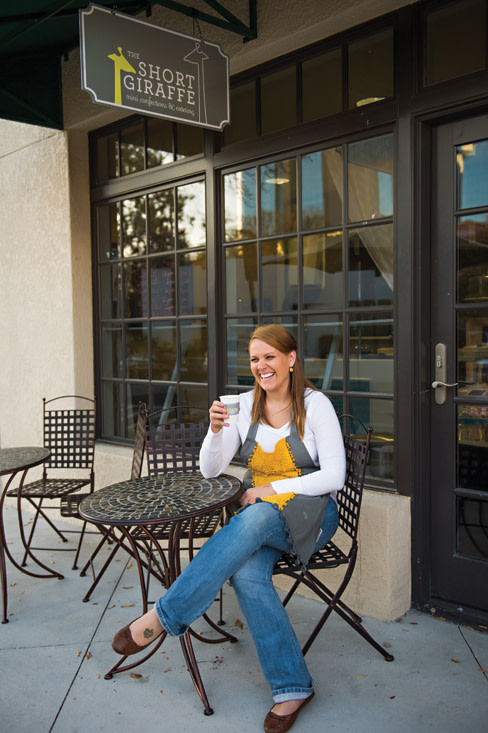 Even though your average mini cupcake disappears in two or three bites, mini desserts are huge. As Leigh Growney, owner of The Short Giraffe Mini Confections and Catering in the Florida Studio Theatre complex in downtown Sarasota, points out, the smaller the treat the more you can eat. That's our kind of mission statement!
SMALL IS BEAUTIFUL: Growney's shop is mini, too, occupying just 143 square feet of what way back when was a movie theater. She creates her confections in a larger catering kitchen down on the South Trail, which is where we caught up with her as she hand-rolled that day's truffles: creme de menthe white chocolate, balsamic strawberry dark chocolate and, her signature truffle, a toasted s'mores ganache featuring her from-scratch marshmallows. That one sells out every day. And while the treats are mini, the options are expansive, ranging from two-, four-, six- and eight-inch mini cakes (tiered, if you like), through mini pies, tarts and dessert cups, to mini cheesecake bites and those homemade marshmallows dipped in chocolate. And petits fours, of course.
JUST FOR BABIES: Over the last couple of years, which is how long the 25-year-old with a B.A. in psychology and experience in marketing has owned her own business, professionally photographed "smash cake" sessions in celebration of baby's first birthday have become popular. "The photographer sends me the color scheme—what matching outfits mom and baby will be wearing—and I do the cake to match," she explains. The baby smushes up the cake—usually one of Growney's six-inch "giant" cupcakes—and messy hilarity ensues.
BOFFO BOX OFFICE: Truffles and cookies are Growney's favorite mini treats and her customers', too. She is particularly fond of truffles that incorporate cookies, especially shortbread cookies. "You can do anything with shortbread," she confides. The shop has been open only since early January but already is a runaway hit with theatergoers and with staff and artists from both FST and the nearby Sarasota Opera. She also is beginning to get a fair number of moms with kids popping in for a mid-afternoon treat. —John Bancroft
Click here to read about Sarasota's best chocolate truffles.