Article
What I'm Drinking: March 2013
This month: Pattigeorge's updated, Sarasota-style cosmo.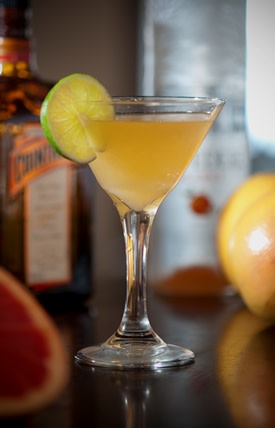 We were chatting with Bob Dizon behind the bar at Pattigeorge's on Longboat Key as twilight silvered Sarasota Bay. Outside the adjacent dining room's big picture windows the tide was running high and fast. Welcome to another early evening in paradise.
As beguiling as the watery show outside was, we were there on business. Specifically, to taste PG's latest signature cocktail, a very Florida twist on the classic cosmo.
Bob credits the drink to Murf Klauber, father of PG owner Tommy Klauber. Murf happened to be having a cocktail at the other end of the bar, so we saluted him. Meanwhile, Bob was ready to assemble the cocktail and talk us through it as we munched on tuna tartar wonton tacos.
Ice in a shaker, first, of course, then a generous pour of orange vodka, a splash of Cointreau and a drop of cranberry for blush. Finally, the secret ingredient. Bob sliced a Florida ruby red grapefruit in half and squeezed it before our eyes, topping the shaker with the fresh citrus. A vigorous shake, then strain into a martini stem, where we admired its rich ruby color before taking a first sip followed closely by a second. Oh, my!
With one fresh ingredient, a pleasant but rather wan standard had been turned into a robust celebration of Florida and its delicious sunsets. Bravo!
An editor, writer and online publisher, John Bancroft has reviewed restaurants, books, movies and music for many magazines, websites and newspapers, most recently for the Tampa Bay Times.