Article
Restaurant Review: Harry's Continental Kitchens
This month, food critic John Bancroft finds lots to love at Longboat Key's Harry's Continental Kitchens.
By John Bancroft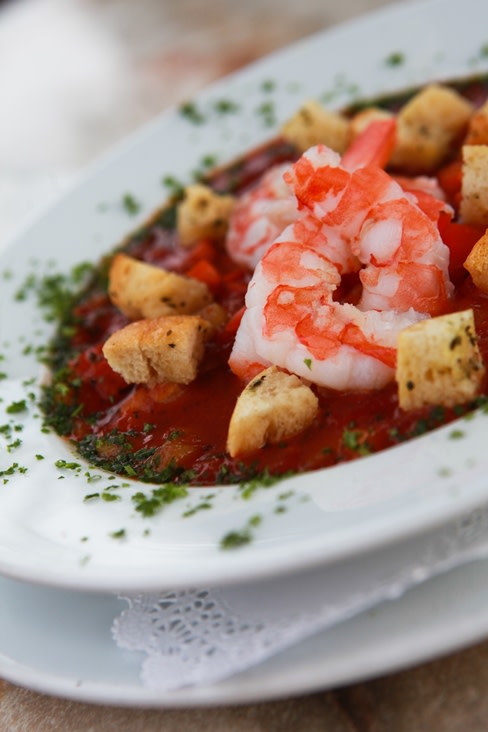 Harry's Continental Kitchens, long a stalwart on Longboat Key, is at the heart of what has become a mini gourmet empire at the corner of Gulf of Mexico Drive and St. Judes Drive. Catering services, a corner store (not your average convenience store), deli and wine shop now complement a restaurant that has done nothing but improve with age.
Harry's, the baby of Harry and Lynn Christensen, offers wonderfully fresh and beautifully prepared food—what they call "coastal cuisine"—in a white-on-white dining room or outdoors on a pleasant patio. The bar knows its way around a dry martini, and there are a handful of good wines by the glass, as well as a more extensive list by the bottle.
From time to time but on no particular schedule, Harry's offers a prix fixe menu that is a real bargain. The one on offer the evening of our recent visit tempted us with four exciting courses for $28 per person or $42 with wine pairings. Daily specials enliven the standing menu every day at dinner, and Harry's lavish breakfasts command a near fanatical following. The restaurant also hosts periodic winemaker dinners.
I've long been a fiend for vichysoisse, the creamy potato and leek soup served chilled, and for years have counted Harry's sensuously silky version ($7) among the best. I also like the gazpacho kicked up with bits of fresh Gulf shrimp; and there is always a chef's special soup of the day, which when we visited was a Manhattan-style grouper chowder.
Colette chose to begin her dinner with an appetizer called shrimp-cargot ($9), which bathes small shrimp in the same savory, garlicky butter bath more commonly lavished on snails, then seats the shrimps on a dab of spinach and tops it all with melted Parmesan. Delicious. Other good bets among starters are Harry's very crabby crab cake and a tapas plate featuring two versions of crostini and a bruschetta. A half-dozen fresh and lively salads also are on offer.
Diver scallops, those large deep-water darlings, are another of my favorite dishes, and Harry's knows how to treat them: He sears and plates them with something that both emphasizes and plays counterpoint to their richness, resisting the temptation to tart them up with a heavy sauce. The version I devoured ($33) was topped with a tangy tangle of micro greens and bedded on a creamy, citrusy mandarin orange risotto. Perfection.
Colette opted for two double chops of the finest lamb we have been served in recent memory ($37), grilled precisely to the medium rare she specified and boasting the epitome of a perfect char crust, accented with a divine demi-glace. The garlic mashed potatoes and garden-fresh steamed broccoli that came along for the ride were worthy companions.
And here is a nice grace note: Many of the main courses on the menu can be had in a scaled-back portion for $4 off the price of a full serving, just right for smaller appetites.
Since it was way too late for us to choose the lighter version of anything, we threw caution to the winds and plumped for mango melba, a delightful Florida twist on the classic peach dessert invented by iconic French chef Escoffier in honor of the opera diva Nellie Melba ($8). Harry's version pairs a warm, mile-high wedge of housemade rum cake (yum!) with vanilla ice cream and douses them in swoony mango-raspberry sauce. A better way to end a thoroughly satisfying evening at table is hard to imagine.
The Verdict
The coastal cuisine at Harry's Continental Kitchens on Longboat Key has delighted diners for years, and it's only improved with age.
5600 Gulf of Mexico Drive, Longboat Key
Reservations: (941) 383-0777
Hours: 9 a.m. to 9 p.m. seven days
Bar: full bar and wine list
Cards: major
Parking: in lot
Handicapped accessible: yes