Article
Restaurant Review: Yummy House
Yummy House opens in Sarasota; food critic John Bancroft gets the dish.
By John Bancroft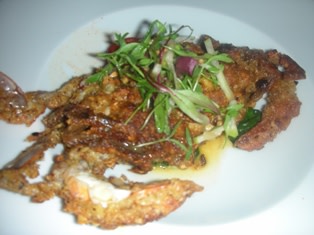 The marvelously well-named Yummy House on the North Trail is first and foremost an excellent restaurant serving delicious dishes, both familiar and exotic, in a pleasant, upbeat dining room done in understated earth colors and with tables dressed in white cloths. That its primary fare is Hong Kong/Cantonese is a deliriously happy bonus for famished fans of authentic, top-of-the-line Chinese cooking in Sarasota.
We first heard of Yummy House when the original location in Tampa (there are now two) opened and our foodie friends in that city began raving about it as if it were the most amazing culinary event since sliced bread. We were consumed with envy. When the sign went up early this winter proclaiming the restaurant had come to Sarasota, our envy evaporated into clouds of joy.
Why? Let's take, for starters, tofu. You hate it, right? That will change the instant you bite into a perfectly browned moist cube done up salt-and-pepper style with bits of scallion, cilantro, thin slices of jalapeño for zing and crushed peanuts ($7.99). This dish, like the identically prepared and just as delightful salt-and-pepper crispy shrimp ($9.99), is listed as an appetizer (the restaurant's most popular), but the plates are bountiful. One will serve two as a first course and two will serve four. Getting the same wonderful prep are starters featuring mixed seafood, calamari, chicken wings or eggplant.
The kitchen has a way with fish, and there are many options, from a shrimp-and-scallops combo in your choice of three sauces (wine, honey pepper or spicy XO) to a spicy seafood mix served in a steaming clay pot to grouper with Chinese greens. And that's not to mention frog legs Typhoon Bay style, in wine, with salted egg yolk or with bitter melon (an acquired taste).
The menu is so extensive and varied we couldn't hope to do it justice in a single visit. The offerings comprehend not only savory seafood and tofu dishes but many a tempting soup (from the familiar hot and sour to something called crabmeat fish maw); beef, pork and chicken in a range of styles to suit any taste; and robust vegetarian selections.
We tried the sautéed grouper with asparagus and shiitake mushrooms in a fine and subtle garlic sauce ($9.99) and were so happy we toasted our good luck with a couple of cold Heinekens ($4.50 each). The fish was fresh, moist and toothsome, its flavor shining through beautifully, and the veggies matched it for freshness and savor.
From the section of the list headed BBQ we chose to share half a Hong Kong roasted duck ($12, $22 for the whole bird), which came to table simply cleavered into manageable sections (bones and all). It was a thing of beauty, its skin crisped perfectly and scented with a mellow barbecue sauce and the dusky meat within as tender as baby's breath. A side of steamed white rice set us back a whole dollar.
There is a short bar serving beer and wine by the glass where you can enjoy a beverage while your take-out order is cooked fresh to order. Warning: The aromas wafting out of the kitchen as you sip may force you to tear into your bag of treats on the spot, the hungry folks waiting at home or office be damned!
The Verdict
Sarasota has been waiting for a Chinese restaurant this good and will not be disappointed with authentic top-of-the-line Hong Kong fare at excellent prices. Dim sum at lunch is a real plus!
Yummy House
3232 N. Tamiami Trail, Sarasota
Phone: (941) 351-1688
Hours: lunch (including dim sum choices) 11a.m.-3 p.m., dinner 4:30-10 p.m., seven days
Bar: beer and wine
Cards: major
Parking: in lot
Handicapped accessible: yes