Article
Foodologists: Pop Craft Pops
This month's foodologists: The mother-and-son team behind Sarasota's Pop Craft Pops.
By John Bancroft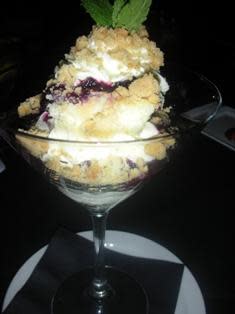 Donna Tortorice, co-owner of Pop Craft Pops at 2245-A Bee Ridge Road, calls her partner and son, Martin Scott, "the popologist." She handles sales and marketing while he dreams up and crafts their unique and seductive line of artisanal frozen treats on a stick. They make a good team.
To Market: Tortorice gestures toward a picture hanging behind the sleek black-and-white counter at the company's first actual shop, which is only six months old. Before it opened, Pop Craft Pops were served only out of cute little freezer carts shaded by umbrellas. The luscious pops have always been made right here in Sarasota, but the first cart debuted at St. Petersburg's Downtown Farmers Market in October 2009. It was an instant success, and the carts can now be found all over the place, including Sarasota's own Downtown Farmers Market.
Getting Hooked: My first bite of a blueberry lemon basil ice pop transformed me into a customer. The pops, modeled on Mexican paletas, are of two kinds: ices, like mine, and creams, like the caramel sea-salt pop Colette savored. Both styles use only fresh natural ingredients, but the ices are vegan-friendly. We paid $3.50 each for ours (some flavors are more but not much) and considered it money very well spent.
Popologist: "Martin actually dreams flavor combinations," Tortorice confides. He's obsessed with creating one-of-a-kind flavor profiles, much as a perfumer combines sometimes unlikely raw ingredients to produce a magical scent. And Martin insists that every new pop yield a complete experience, first delighting the eye and then, like wine, offering a succession of subtle flavor shifts from the opening burst through an expanded mid-palate to a lingering finish.
Before she and Martin created Pop Craft, Tortorice worked in sales and marketing for local businesses like Morton's Catering, The Colony and the Hyatt Regency Sarasota.
On recreating herself as a purveyor of gourmet pops, Tortorice quotes George Eliot: "It is never too late to be what you might have been."
Good Deal: Pop in on Wednesdays and get half off a pop with purchase of a full-price pop.
It's not the temperature that matters but the sky. "If the sun is shining, people buy pops," Tortorice says.