Article
Your Thanksgiving Eating Schedule
Need a break from the turkey? Here are some great Sarasota dining options for before and after Thanksgiving.
By Judi Gallagher
By now you've probably decided whether you're stuffing, roasting, frying or smoking your own bird or dining out on Thursday. Chances are, either way turkey overload and mass consumption gravy will hit its peak.
My family had a tradition of going to Shady Glen in Manchester, Ct. (where I grew up) for cheeseburgers, coleslaw and fries the night before Thanksgiving. Then Turkey Day was comprised of traditional turkey, mashed potatoes, gravy, etc.
So this year I've decided to list some delish Sarasota dining options for before and after the traditional feast, especially since so many of us have company this time of year (or, quite frankly, just need a quick and delicious getaway from those leftovers.)
[caption id="attachment_26042" align="alignnone" width="488"]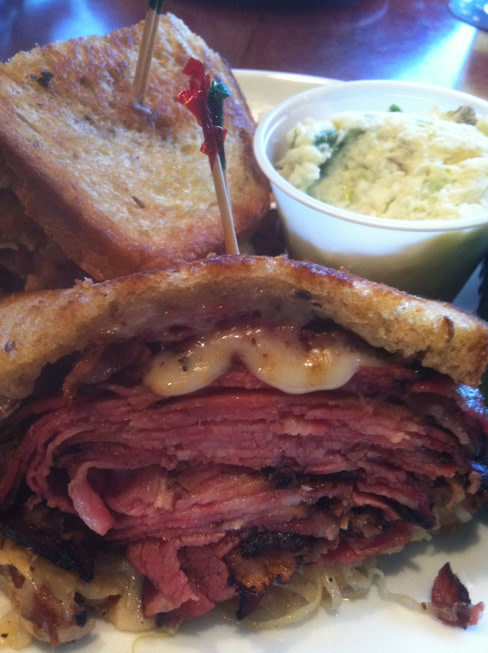 A hot pastrami might be nice...[/caption]
Here are my suggestions:
Tuesday: Pho Cali. Load up on No. 79 with grilled pork and fresh shrimp spring rolls. The lightness of the fresh mint and lemongrass are a joy to the palate and put you in training for the eating frenzy to come.
[caption id="attachment_26043" align="alignnone" width="488"]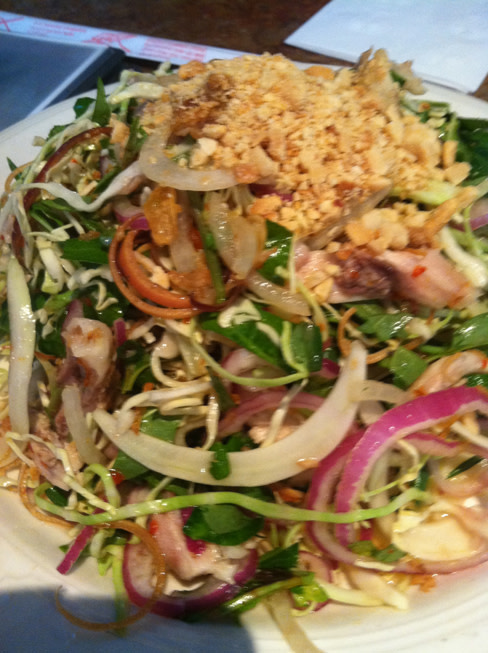 You can't go wrong with Pho Cali.[/caption]
Wednesday lunch: Greek salad at El Greco. Sit outside and relax before you get on line with 987 others at Yoder's to pick up your pies.
Friday lunch: If you ate at home, have turkey, stuffing and mayo sandwiches on the beach. If you dined out and don't have leftovers, grab a burger and fries at New Pass Grill and sit with your feet in the water.
[caption id="attachment_26044" align="alignnone" width="488"]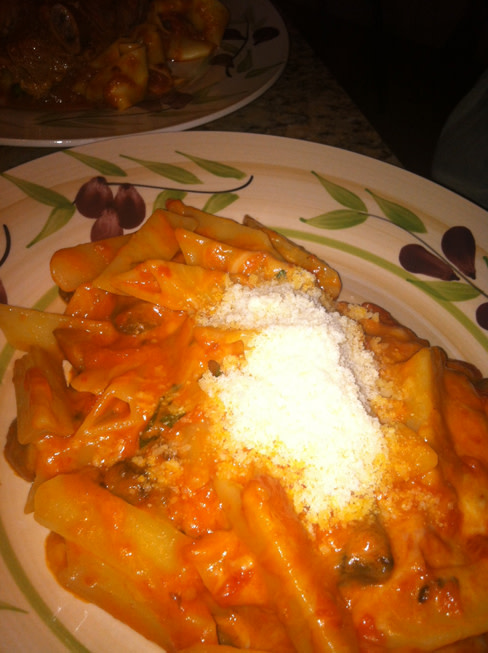 A nice bowl of pasta at Dolce Italia.[/caption]
Friday dinner: Have Italian in Gulf Gate--either Dolce Italia or Solórzano's is a good pick for comfort food with red sauce.
Friday dinner: For those who shopped black Friday, here's my prescription: a bottle of Advil and a pumpkin ale.
Saturday morning/afternoon: Have lunch or brunch at Carmel Café on Cooper Creek Blvd. There's plenty of shopping right there, and Carmel has good eggs Benedict, stuffed French toast and French press sangria for 2.
Saturday dinner: Owen's Fish Camp. Take in a movie at Burns Court at four and get your name on the Owen's wait list for when you get out. You may still wait another half hour, but you can discuss the movie while you do. Plus, Owen's is worth the wait for New England clam chowder and soft-shell crab BLT.
Sunday: Stay in bed and don't face the scale or the turkey carcass until Monday.
Happy holidays, everyone. May your turkey be moist, the cranberries be tart, the apple pie be flaky and the gravy have no lumps!
Follow Chef Judi on Twitter @ChefJudi, or become a fan on Facebook.