Article
A Tour of Food and Wine at Epcot
Chef Judi has a weekend of culinary delights at Disney and the Epcot Food and Wine festival.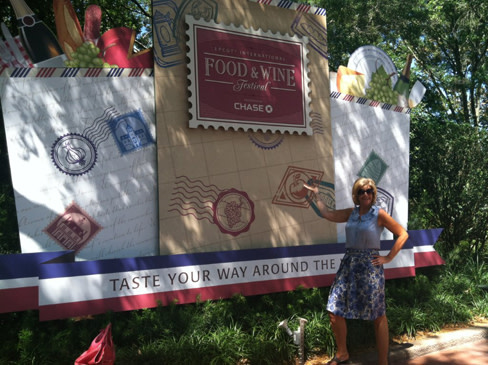 I am not a true fan of theme parks with rides (or at least I wasn't until I played Nana Judi to our dear granddaughter Sophie at the Magic Kingdom—more on that experience later). I have, however, always enjoyed the educational side of Epcot. Visiting the countries and exploring the future of agriculture has always sparked my interest, and certainly international foods are my passion as a professional chef and food writer. But what I did not expect to find was the exceptional experience of grazing and dining at Epcot and other dinners at Disney. Now that's what I call an adult ride.
[caption id="attachment_26021" align="alignnone" width="488"]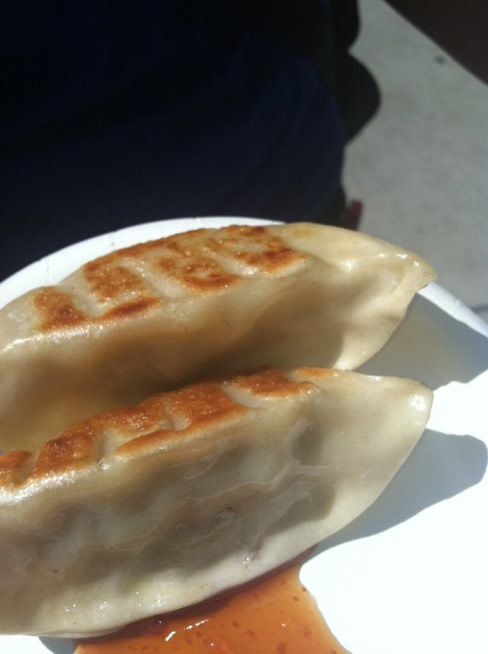 Typical--I chose China as one of my favorite bites.[/caption]
The Epcot Food and Wine Festival now draws visitors and "inquisitors" from all over the world, so many so that the park has extended the dates this year through mid- November. For a two-hour ride to Orlando, you can expect a day of leisurely grazing in Paris with escargot in mini brioche with rose champagne, a dragon roll on a stick with a Tsing Tao and lots and lots of Belgian mussels. Bring plenty of $5 and $10 bills, as the prices for a beverage and bite are very reasonable but you can quickly overdo it.
[caption id="attachment_26022" align="alignnone" width="488"]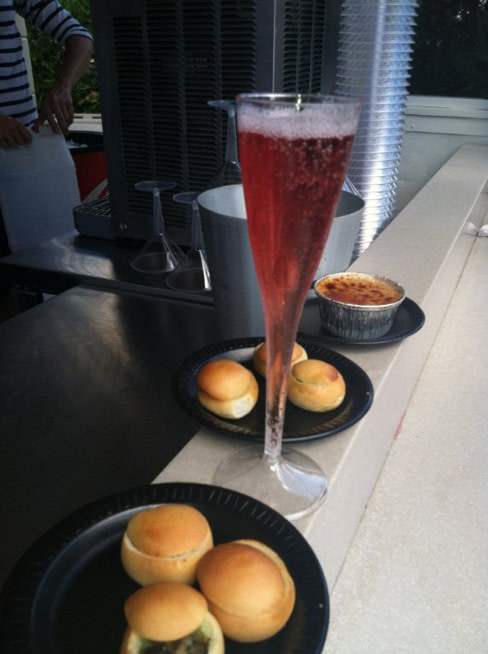 Escargot and Kir Royale in Paris, anyone?[/caption]
My suggestion is to walk through various areas (no doubt burning off calories while investigating the menus, right?), scope out the tasting carts and make a plan to enjoy four to five offerings. Visit the cranberry bogs and don't miss the Coca-Cola tasting room (it's air-conditioned--a break from the hot Florida's sunshine), which offers versions of the iconic beverage from Israel, Italy and Japan.
[caption id="attachment_26023" align="alignnone" width="488"]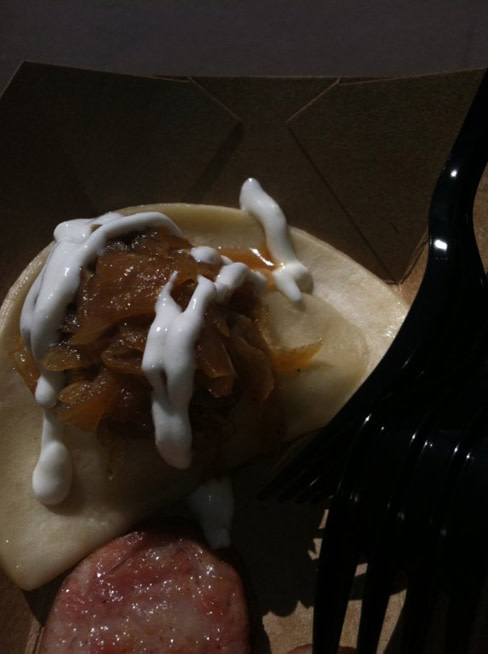 A darn good pierogi and Kielbasa in Poland.[/caption]
[caption id="attachment_26024" align="alignnone" width="488"]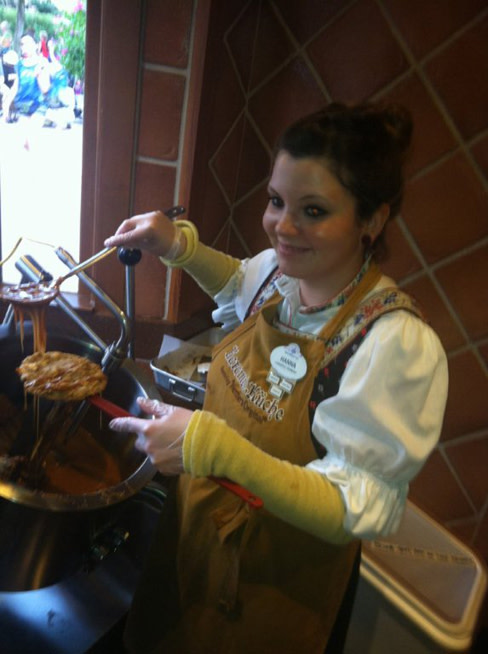 Did I mention a stop for caramel apples?[/caption]
For big foodies, I recommend the following:
Book a room in one of the villas at The Boardwalk Inn. Secure dinner reservations at Flying Fish Café on the Boardwalk--trust me. We had a delicious experience, and for those who didn't overdo it on the wine at the festival, the chef also offers a multi-course wine dinner (prior notice required).
After a morning cappuccino, spend the day at Epcot. Try a few bites and sips, but make sure to eat lunch at the Italian restaurant Tutto Italia or the new pizza restaurant Via Napoli. Via Napoli is the Naples pizza--the real deal, with certificate hanging on the wall to prove it. Water for the pizza dough is shipped in from outside Philly, while the flour comes straight from Naples, Italy, of course.  (True confessions: I did all of the above in one afternoon!)
[caption id="attachment_26025" align="alignnone" width="488"]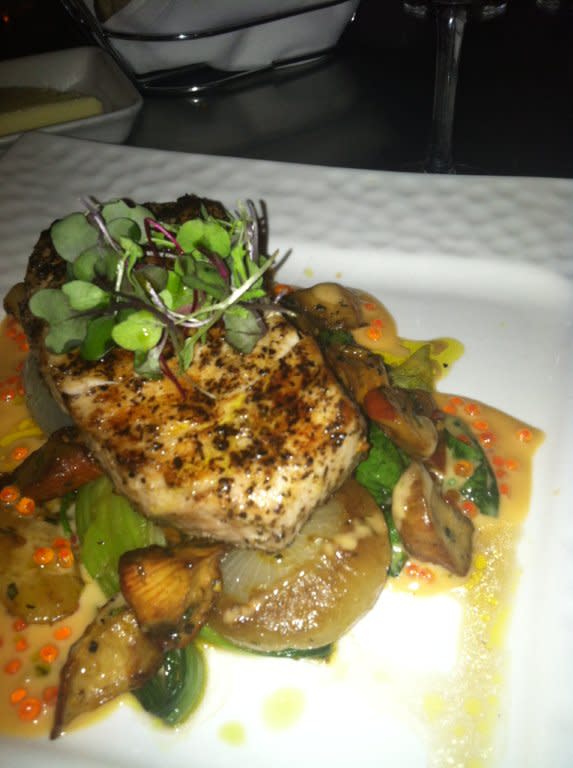 The Flying Fish Cafe uses Mote caviar in many of its dishes.[/caption]
[caption id="attachment_26026" align="alignnone" width="488"]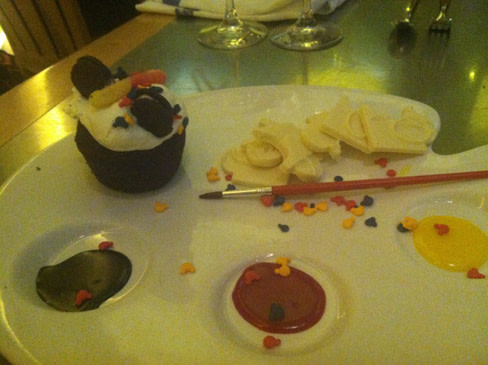 Children can order a "painting palette" at the Flying Fish Cafe.[/caption]
[caption id="attachment_26027" align="alignnone" width="488"]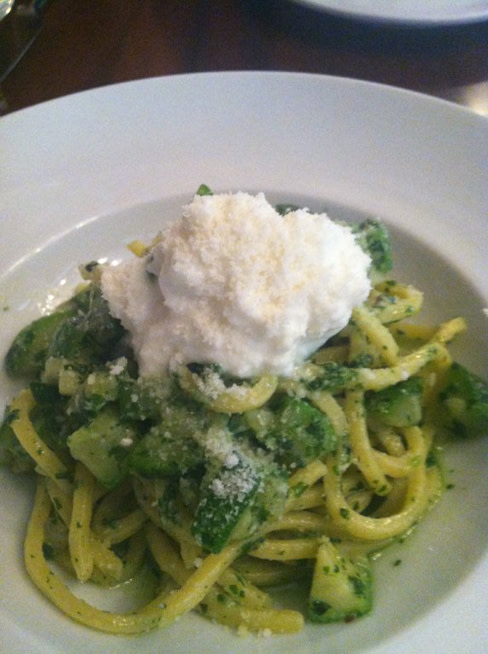 Pasta, pasta, pasta at Tutto Italia.[/caption]
[caption id="attachment_26028" align="alignnone" width="488"]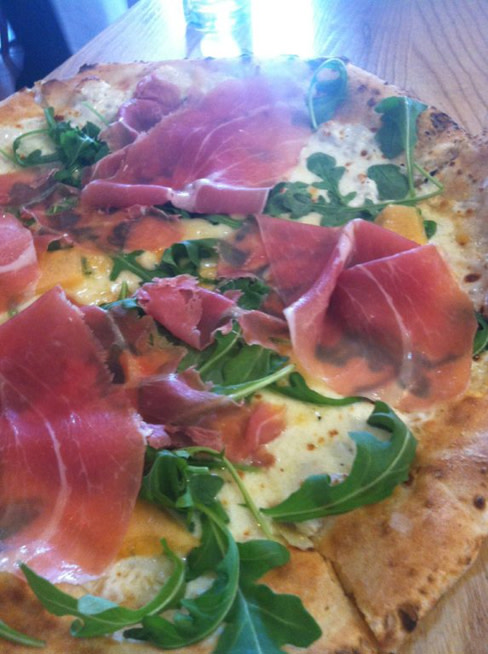 Real Neapolitan pizza at Via Napoli.[/caption]
If you stay an extra night, sip a cocktail in the lobby of the Grand Floridian Hotel and relax on soft sofas as the music wafts from the staircase above before you wander into Citrico's, an impressive but more relaxed restaurant than the Victoria and Albert's experience. Dining with your grandchildren gives you the best of both worlds--a fine-dining experience where children can relax with coloring books and mac 'n' cheese. While the executive chef could not compete with the reaction of our little Sophie meeting Mickey Mouse at the Character Breakfast the next morning, she was still pretty impressed with the grand service while we savored pan-seared grouper and clams over pasta.
The Epcot Food & Wine Festival runs until November 12. Eat up!