Article
Food & Wine: Cheese, Please
There's a new kid on the Sarasota dining scene: Parker and Louise Converse's Artisan Cheese Company.
Downtown Sarasota's Artisan Cheese Company wants to be your neighborhood cheese shop.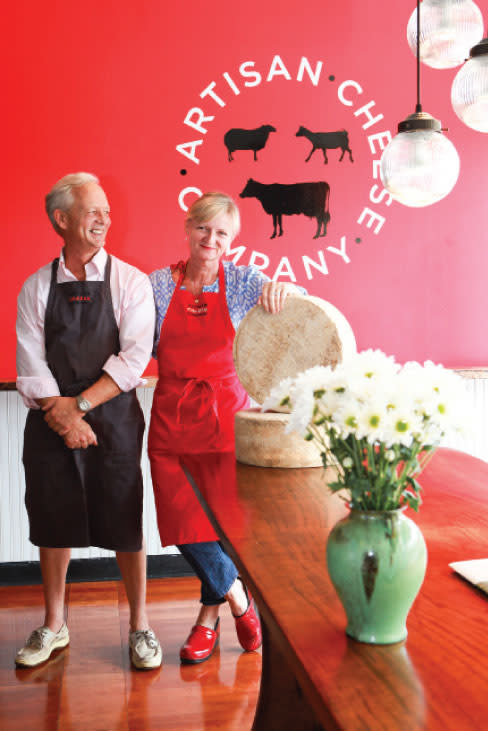 With a love for all kinds of cheese—from the mild to the stinky—Parker and Louise Converse offer shoppers hand-cut, to-order artisanal fromage from all over the United States and Europe in their Artisan Cheese Company on Main Street. The shop, which opened a few months ago, also stocks other pantry items like honey, jams and chocolate, and offers eat-in and take-out options that showcase its variety of cheeses, as well as fresh, local, seasonal ingredients.
Cheese: "We want to take the intimidation out of cheese," Louise says. "Our most popular right now is a goat cheese from Prodigal Farm, N.C., that's called Field of Creams—but it changes all the time. Last month it was a Tarentaise from Spring Brook Farm, Vermont. And our most popular cheddar is Montgomery, from England. We bring it directly from the U.K., all 58 pounds of it in one wheel!" Adds Parker, "We're always getting new cheeses and different taste sensations, and we're constantly discovering new cheesemakers."
Working together all day, every day: "We've never worked together before, so it's been interesting, but rewarding," says Louise. "But we both have our own separate interests outside and inside the shop. For example, I would like to be the best cheesemonger I can be. I don't think Parker has that aspiration, but he supports me as I try." Parker, who is also a master woodworker, echoes that sentiment: "We have our boundaries," he says. "We're both very independent."
What people don't know about cheese: "The American artisanal cheese movement is strong and growing in leaps and bounds. You don't have to cross the Atlantic to get great cheese," Louise says. "Also, contrary to popular belief, you can indeed eat raw milk cheese in this country, as long as it's aged 60 days. About half of our firm cheeses are raw milk cheese."
What's next: "In August, I trekked up to Raleigh, N.C., and participated in the American Cheese Society annual conference," Louise says. "And after that, I feel like we're on the path to tracking down really good, interesting cheeses. We're also going to bring in more seasonal, festive cheeses for the holidays—a third, maybe 50 percent more. I think our cheese case will explode."