Family Friendly Fun
24 Great Things to Do With Kids in Sarasota
An insider's guide to finding fun for the little ones.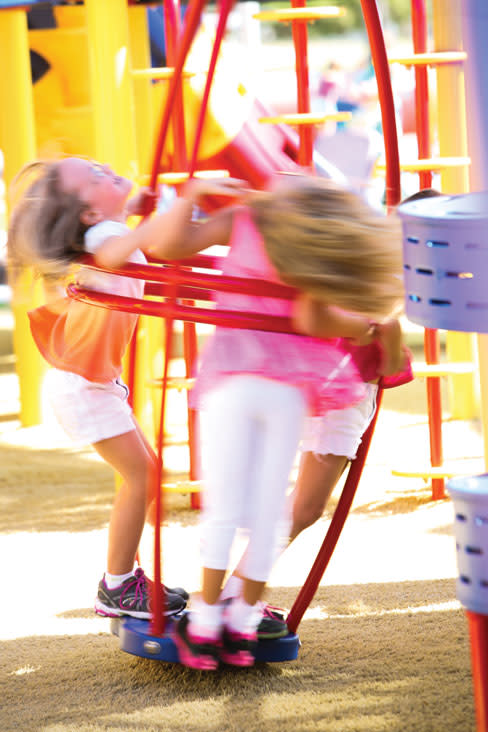 Magic abounds in Southwest Florida, and through a child's lens, it's a cinch to spot. A sand dollar on Siesta Beach, a dive-bombing pelican in the Gulf, even a rain puddle after a tropical storm seems big and bewitching to those who are 4 feet tall. Our region offers lots of adventures and attractions that are specially designed for kids—and fun for the parents (and grandparents) who accompany them, too. From natural wonders to artistic exploration, we've scouted out some of the best local ways to keep the kids in your life entertained and engaged. Tack this guide onto the refrigerator next to the glittery finger paintings and get going.
Selby Public Library
1331 First St., Sarasota
(941) 861-1100
Marvel at the aquarium above the entrance to the children's book section, and engage in free events like preschool story time and "Partners in Play" (a weekly morning play session for walkers to 5-year-olds, run by Forty Carrots Family Center). Tip: Count how many species are swimming in the aquarium, hunt for a book on ichthyology and match the fish to the photos.
South Florida Museum
201 10th St. W., Bradenton
(941) 746-4131
Don't miss stargazing in the Bishop Planetarium (which has a new Digistar 5 dual projection system that makes the astronomical shows brighter and crisper). Tip: The first Saturday of most months is family night, when the museum is open until 8 p.m. and admission is half price after 4 p.m.
Ted Sperling Park at South Lido Beach
2201 Ben Franklin Drive and 190 Taft Drive
Lido Key
(941) 861-5000
Embark on a self-guided canoe or kayak tour, get an up-close view of the mangroves, and then settle in for a sunset picnic at a wooden table while the children hit the playground. Tip: Before venturing to Lido Key's southern tip, stop by the main pavilion's Lido Beach Restaurant and snag peanut butter and jelly sandwiches for supper.
Big Cat Habitat and Gulf Coast Sanctuary
7101 Palmer Blvd., Sarasota
(941) 371-6377
Go face-to-face with a lion, tiger, liger, bear, camel, lemur or monkey. These sweet, rescued creatures are part of the "Animals in Action" adventure at Big Cat Habitat. There is even a petting zoo.
Sarasota Jungle Gardens
3701 Bay Shore Road, Sarasota
(941) 355-5305
Feed the flamingos at this 10-acre wildlife mecca, where the pink Florida birds literally eat out of the palm of your hand. More than 150 animals, including birds of prey, primates and alligators also call this lush habitat home.
John and Mable Ringling Museum of Art
5401 Bay Shore Road, Sarasota
(941) 359-5700
The David F. Bolger Playspace at the Ringling Museum encourages children to play outdoors on the 66-acre bayfront campus (because let's face it, energetic kids can only peruse the Peter Paul Rubens paintings in the inside galleries for so long). Tip: Visit the museum on "Free Mondays" and pay no admission fee; there's never a fee to visit the grounds.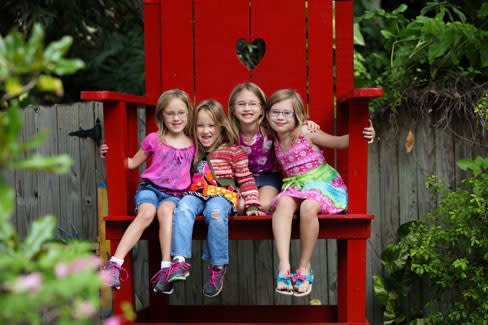 Sarasota Children's Garden
1670 10th Way, Sarasota
(941) 330-1711
Whimsy is the word at this two-acre garden, where fairy gardens of lore come to life and a kid-sized Black Pearl ship awaits imaginative pirates. Enroll in an arts and crafts class, have a birthday party at the Caterpillar Cottage or simply watch the butterflies flutter. Tip: Let the little ones play dress up in their favorite costumes (think sparkly wings and antennae) for a truly imaginative afternoon. 
Bayfront Park
1 Marina Plaza, Sarasota
(941) 365-5318
From April to October, this park's Children's Fountain is an ultra-cool outdoor hotspot. Between splashing and romping, youngsters can towel off to climb on the adjacent playground. Tip: After the watery mirth, walk over to O'Leary's Tiki Bar and Grill for a hot dog from the kids' menu (and a well-deserved melon colada for the 21-and-older chaperones).
Bradenton Riverwalk
452 Third Ave. W., Bradenton
(941) 681-0708
The 1.5-mile Bradenton Riverwalk along the Manatee River has it all, from an amphitheater and fishing pier to a skate park and family fun zone with two playgrounds. Tip: Bring a volleyball, stake out one of the courts, start a game, work up a sweat and end the night with a low-key bag dinner by the water.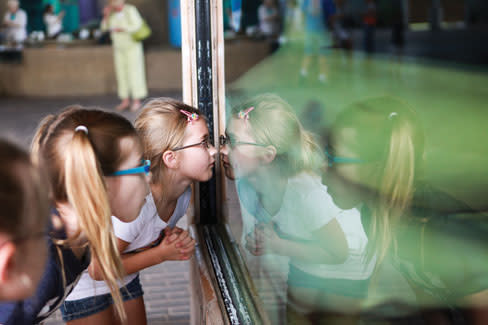 Mote Marine Laboratory and Aquarium
1600 Ken Thompson Parkway, Sarasota
(941) 388-4441
Pet a stingray and spy on a jellyfish before sailing off with the Sarasota Bay Explorers, a group that operates guided nautical eco-tours and nature safaris directly from Mote. Next door, Save Our Seabirds is filled with rescued Florida birds. Tip: From February to May, catch a free Sarasota Ski-A-Rees water show on a Sunday afternoon at the adjacent ski stadium.
Hermann's Royal Lipizzan Stallions
32755 Singletary Road, Myakka City
(941) 322-1501
Thrill to the grace and power of the Royal Lipizzan stallions, which spend the winter in Myakka City, at their practice sessions, Thursday and Friday at 3 p.m. and Saturday at 10 a.m., from December through early May. Refreshments and souvenirs available. Tip: Pack a picnic lunch and be sure to tour the stables for an even closer view of the legendary horses.
Sailor Circus
2075 Bahia Vista St., Sarasota
(941) 355-9805
"The Greatest Little Show on Earth" hosts yearly youth productions by acrobatic students (ages 8 to 18). These performers have worked with stars like Nik Wallenda and the Platchov Duo to hone their spectacular skills. Tip: Look into Big Top Education, an affiliated Circus Arts Conservatory program that gives elementary school students a thrilling scholastic experience with a circus slant.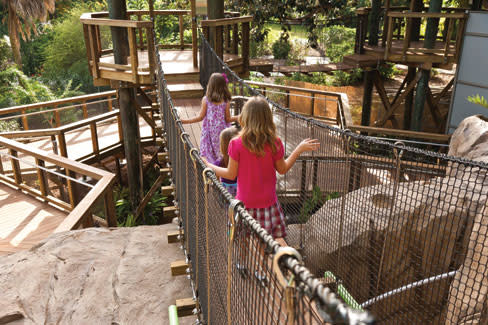 Marie Selby Botanical Gardens
811 S. Palm Ave., Sarasota
(941) 366-5731
Hike up to a banyan tree canopy, be wowed by a waterfall and explore epiphyte caverns at the Ann Goldstein Children's Rainforest Garden. Tip: If your child is 5 or younger, join the Little Sprouts' Club—an educational drop-in program on the first Tuesday, Wednesday and Saturday mornings of the month from October through May.
Crowley Museum and Nature Center
16405 Myakka Road, Sarasota
(941) 322-1000
The 3/8-mile Children's Discovery Path has five interactive stations for kids to stop and learn about indigenous animals, insects and birds. Test your zoological knowledge of bats, gopher tortoises, Florida panthers and spiders. Tip: Request an educational tour guide to discuss the native flora and fauna along the path.
Kids Comedy Lab at Florida Studio Theatre
1241 N. Palm Ave., Sarasota
(941) 366-9000
This improv and music extravaganza is completely made up on the spot every week based on audience suggestion and your participation. The cast of FST Improv will perform scenes, make-up songs and tell stories that are appropriate for all ages. No two shows are alike, and those who want to jump on stage will have the chance to interact. Ideal for family outings, birthday parties, and school field trips.
Mixon Fruit Farms
2525 27th St. E., Bradenton
(941) 748-5829
In the wildlife refuge at this Bradenton farm, a plethora of birds, animals and reptiles are rehabilitated before being released back into nature. Meet the inhabitants, and then feed the koi in the farm's garden pond, take a tram tour of the orchards, and scoop up an orange-vanilla ice cream cone. Tip: Check out their events calendar online for news about Mixon's various family-friendly festivals and Concerts in the Grove.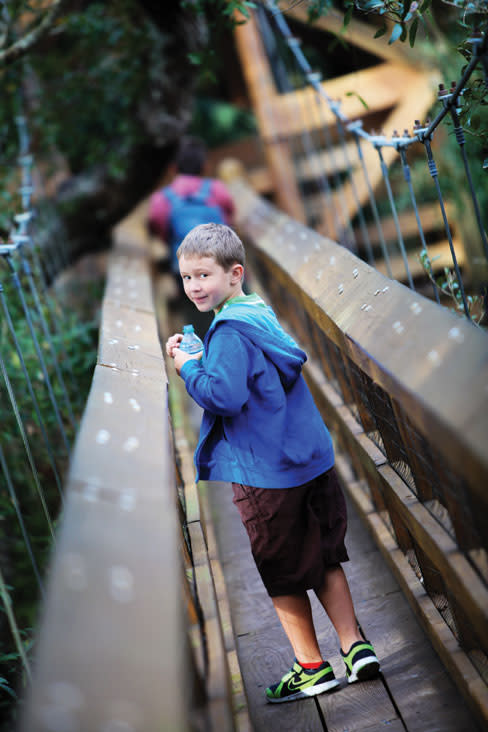 Myakka River State Park
13208 S.R. 72, Sarasota
(941) 361-6511
The Gator Gal and the Myakka Maiden are the go-to guides for exploring Myakka River State Park's 57 square miles of wetlands, woodlands and prairies. These air-powered boats get into the grassy, shallow waters that are usually out of human reach. Tip: If your little one is intimidated by the airboat and its proximity to alligators, opt for the Tram Safari instead. Operating mid-December through May, it sticks to marked nature trails.
Siesta Beach
948 Beach Road, Sarasota
(941) 861-9930
A Sunday sunset drum circle is an obvious must, but in the afternoon, consider renting recreational beach gear from a local company like Siesta Sports Rentals. Snorkels, fins, chairs, umbrellas and boogie boards are among the family-friendly equipment options. Tip: Look for the hair wrap kiosk near the concession stand and get a lasting souvenir for your kiddo's salty mane.
Payne Park
2050 Adams Lane, Sarasota
(941) 861-5000
At this circus-themed red, yellow and blue playground in downtown Sarasota, push the toddlers on swings, let the preschoolers whiz down slides and cool off by the misting rings, and watch the teens climb rock walls and do half-pipes at the skate park. Tip: Take a family bike ride along the park's half-mile, tree-lined trail before heading to Main Street for some frozen yogurt.
Take a Little Day Trip
Museum of Science & Industry (MOSI), 4801 E. Fowler Ave., Tampa, (813) 987-6000 mosi.org
Kids In Charge! The Children's Science Center at MOSI is a 40,000-square-foot creative space for children ages 12 and younger, where space missions are simulated, music making is encouraged and tiny feet can bounce in a moonwalk.
Manatee Viewing Center, 6990 Dickman Road, Apollo Beach, (813) 228-4289 tampaelectric.com
Stand watch at the Manatee Viewing Center from November to April as sea cows swim toward the warm waters generated by the Big Bend Power Station. There are even butterfly gardens, a tidal walk and a collection of manatee bones in the environmental education center.
Busch Gardens Tampa, 10165 N. Malcolm McKinley Drive, Tampa, (888) 800-5447 buschgardens.com
Treetop Trails—a three-story play area in Jungala—offers climbing nets, crawl tubes, mazes and water zones for mini explorers. Even smaller adventurers can stroll through the Sesame Street Safari of Fun or board a train at the Serengeti Railway to tour the wildlife habitats.
Glazer Children's Museum, 110 W. Gasparilla Plaza, Tampa, (813) 443-3861 glazermuseum.org
More than 170 "interactivities" in multi-themed areas allow children to pilot their own cruise ships, build noodle sculptures, design cities, paint with light, fly airplanes and slide down firefighter poles.
Lowry Park Zoo, 1101 W. Sligh Ave., Tampa, (813) 935-8552 lowryparkzoo.com
Voted No. 1 by Parents magazine, this zoo has popular guided safari tours in open-air trams. Book a 15-minute narrated ride through the 56-acre property's habitats and watch the 1,500 animals roam.