Article
Best of Sarasota 2013: Shopping
Our readers and editors' choose the best of Sarasota shopping.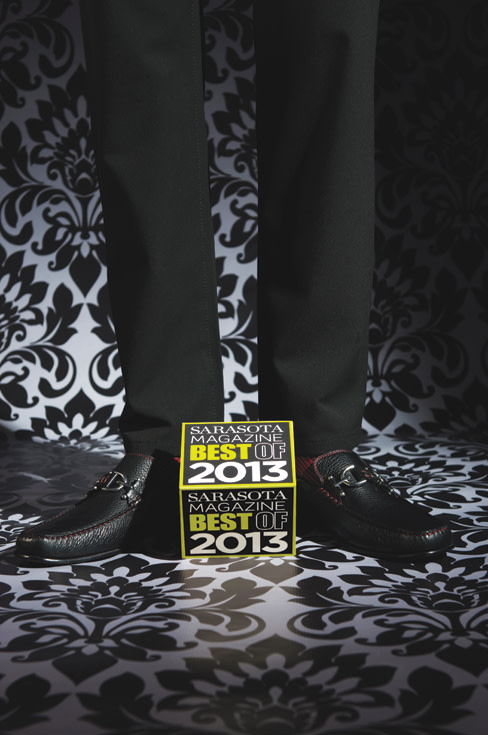 Editors' Picks: Best of the New
Best New Boutique Design
Reasons left its longtime digs on St. Armands Circle for a luxurious new downtown emporium. The vibe is younger, more fashion-forward and yet far more elegant, with striking artwork, glamorous seating and displays. Reasons also tweaked its mix, keeping the iconic European and American brands adored by its fans while adding hip new lines that will draw new clients into the fold. 20 N. Lemon Ave., (941) 388-1602.
Best New Bed Fashions
Mélange
Palm Avenue's chic new home decor boutique brings a welcome component to the downtown shopping experience: bed fashions. And that's a good thing, since Sarasota lost its primary source for upscale bedding (Square in the Circle) in 2012. Mélange is filling the void with coveted brands and sumptuous ensembles from Yves Delorme, Peacock Alley, Wildcat Territory, Ann Gish and more. 60 Palm Ave., (941) 444-7969.
Best New Men's Specialty Store
Men who thought they'd never recover from the loss of Maus & Hoffman on St. Armands Circle are rejoicing over the service and assortment at Martin Freeman. Proprietors Nelson Martin and Harold Freeman offer impeccable tailoring and head-to-toe dressing. They combine Anglo silhouettes and Italian fabrics ideal for Florida's climate for a look they've dubbed "Britalia." 75 S. Palm Ave., (941) 953-2948.
Best New Local Clothing Line
Local designer Camilyn Beth is making a name for herself both here in Sarasota (her designs are sold at Pink & Navy and Influence) and nationally. She mixes classic pieces with current trends (think candy-colored skirts and jackets and flirty dresses with a hit of sparkle), and her clothes easily transition from a day at the office to a night out with friends. This is one to keep an eye on. camilynbeth.com
Best New Outdoor Furniture
Brown Jordan at Home Resource
The best American name in outdoor furniture, Brown Jordan is now in Sarasota—again—at Home Resource. Fans of the line's quality and design when it was a featured brand at now defunct Robb & Stucky Outdoor have had to travel great distances to dress their patios with the stuff, but now its award-winning legacy pieces and fashion intros are here to stay. 741 Central Ave., (941) 366-6690.
Best Addition to Longboat Key
The new Publix
After an eight-month hiatus, last December Longboat Key welcomed back its Publix, now a bigger, better, 49,000-square-foot store. The new building, a prototype for future Publixes, features thoughtful lighting, artistic displays and an even bigger product selection, as well as free Wi-Fi and indoor and outdoor dining for its extended selection of prepared foods. 525 Bay Isles Parkway, Longboat Key, (941) 383-1326.
Best New Figure Flattery
Palm Beach brand Evelyn & Arthur has finally opened an outpost in Sarasota. Conceived by an ex-Northerner who couldn't find the right combination of style and comfort in the Citrus State, the line's contemporary clothes are perfect for leisure and travel. Insiders love the pants and tops that make those who are less than model-thin look slimmer. 1480 Main St., (941) 365-2210.
Best New Shop within a Shop (Tie)
Gleaming fixtures built by Gucci in Italy are the perfect setting for the iconic international brand's exclusive new shop at McCarver & Moser. You'll find classics as well as high fashion pieces in men's and women's watches, women's gold and silver jewelry and chic men's designs from dog tags to cuff links and more. 482 John Ringling Blvd., St. Armands, (941) 388-3666.
Downtown Sarasota's June Simmons Jewelry has opened a shop at the Met with cases overflowing with items hand-picked to complement the store's sophisticated apparel. Look for high-fashion couture brands as well as Simmons' custom pieces. 35 S. Boulevard of Presidents, (941) 321-1737.
Best New Preppy-Chic Fashion
J. McLaughlin is the perfect fit for women who want to go preppy with a chic edge, offering high-end quality, fabrics that are comfortable and travel well, and a corporate commitment to giving back to the community. It's all about easy care, classic styling and fun prints and patterns in fashion colors.1503 Main St., (941) 706-3587.
Best New Venice Store
From shabby chic to chic resort, this new women's apparel store bring a fresh young aesthetic to Venice. Seaside Chic Boutique is the style-setting equivalent of its popular home furnishings counterpart (Seaside Chic) down the street on Venice Avenue. A roster of trendy brands from XCVI to Johnny Was keeps fashionistas on Venice island. 305A W. Venice Ave., Venice, (941) 484-1313.
Best New Fashion Makeover
The transformation is palpable at St. Armands Circle's iconic men's resort wear store, right down to its new name. Taffy's has morphed into Marcello Sport, the brand name of its new owner, Fashion Concepts of Delray Beach. Look for colors and styles with a contemporary fashion edge reflective of a younger, ever more sophisticated golf and leisure clientele. 18 S. Boulevard of Presidents, (941) 706-1357.
Best New Gourmet Shop
Food and wine aficionado Douglas Gourley is educating Sarasota's palates at As Good As It Gets, an intriguing new temple honoring the world's finest foods. The shop is a culinary sampler of irresistible charcuterie, pâté, cheeses, caviar, Swiss and Belgian chocolates, and more. Wine is Gourley's hobby, and he's hand-selected every one of the shop's 172 bottles.49 S. Palm Ave., (941) 373-1839.
Best New Bargain Shopping
Shoppers went bananas when the long-awaited Costco opened its latest wholesale warehouse in August at Westfield Sarasota Square. The draws: top-quality meats and produce, an excellent wine department, jewelry, appliances, even the Kirkland brand men's dress shirts that Mitt Romney swore by. Not to mention those $1.50 hot dogs. 8201 S. Tamiami Trail, (941) 554-2800.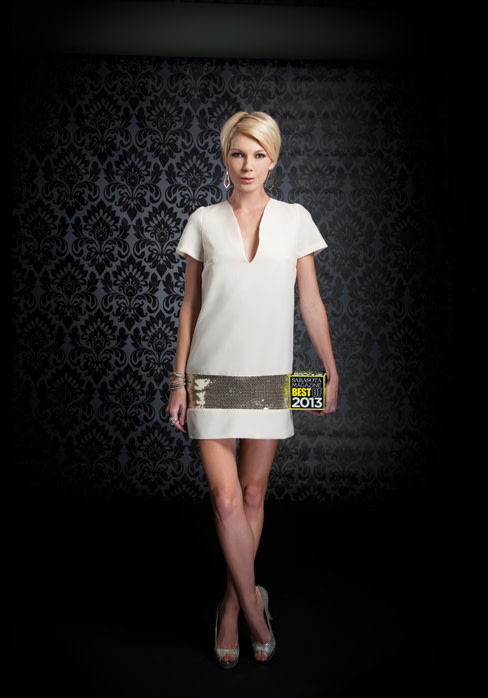 Readers' Picks
Best Place to Buy Women's Shoes
Dillard's
Peltz Shoes, T Georgiano's
Best Store for Kids
Children's World, Toy Lab (tie)
Children's Place, L. Kids
Best Hair Salon
Nuovo
Cutting Loose, Yellow Strawberry
Best Skincare
L. Spa
Ana Molinari, Melody's Centre for Authentic Beauty, Neoderm (tie)
Best Spa
The Met
L. Spa, The Ritz-Carlton, Sarasota
Best Men's Clothing Store (chain)
Dillard's
Brooks Brothers, Macy's
Best Men's Clothing Store (non-chain)
The Met
Influence, Jackie Z
Best Women's Clothing Store (chain)
Dillard's
Macy's, Saks Fifth Avenue
Best Women's Clothing Store (non-chain)
L. Boutique
Foxy Lady, Jackie Z
Best Women's Formal/Cocktail Attire Store (chain)
Saks Fifth Avenue
Dillard's, Macy's
Best Women's Formal/Cocktail Attire Store (non-chain)
Foxy Lady
L. Boutique, The Met
Best Swimsuits
Swim Mart
Bealls, Swim City
Best Jeweler (chain)
Kay
Bond, Mayor's
Best Jeweler (non-chain)
Coffrin Jewelers
Diamond Vault, Shrode Jewelers
Best Home Accessories Store (non-chain)
Black Bird Home Gallery
Feng Shui Sarasota, Sarasota Architectural Salvage, Wish on Main (tie)
Best Furniture Store (chain)
Rooms to Go
Baer's Furniture, Haverty's
Best Furniture Store (non-chain)
Black Bird Home Gallery
Home Resource, The Pamaro Shop
Best Consignment Shop
Woman's Exchange of Sarasota
Fifi's, Laura Jean's Consignments