Article
Best of Sarasota 2013: Arts and More
The best of Sarasota 2013: Best Sarasota arts, entertainment and more.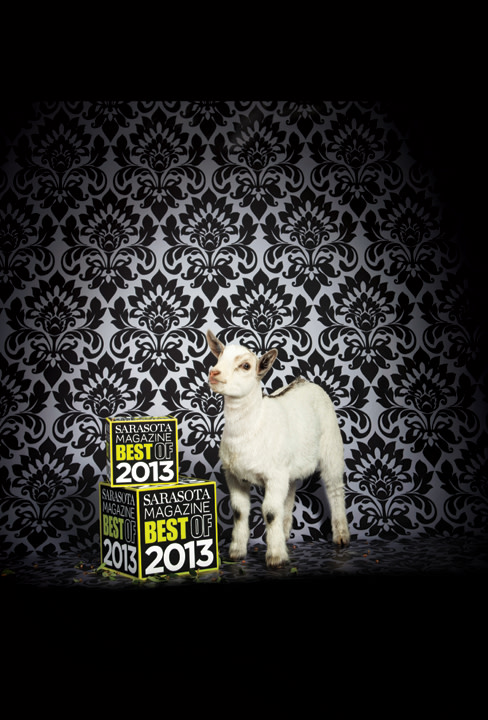 Editors' Picks: Best of the New
Best New Music Venue
Fogartyville Community Media and Arts Center
Tucked away in downtown's Kumquat Court, the nonprofit Fogartyville Community Media and Arts Center hosts small concerts, often in collaboration with community radio station WSLR 96. The mellow vibe is in tune with the center's mission of promoting peace and social justice, as is the drinks menu, which includes beer, wine and (of course) coconut water. 525 Kumquat Court, (941) 587-6588.
Best New Public Space
Decades in the making, Riverwalk is the crown jewel of Bradenton's revitalized downtown area. Families love the innovative playground and splash area, the skate park is heralded around the country, and the amphitheater and lawn are perfect venues for concerts, films and other community events. 452 Third Ave. W., Bradenton.
Best New Farmer's Market
With its new location at the Old Miakka Schoolhouse, the old Miakka Farmer's Market is a trip to Florida as it once was. Local farmers sell produce, honey, crafts and more—including raw goat milk and cheese and yogurt. Bring the kids—they can coo over baby chicks or pet a baby goat—and enjoy lunch on a picnic table under the mossy oaks and palms. 15800 Wilson Road, (941) 322-1014.
Best New Athletic Challenge
Whether you want to build your own fitness or your corporate team, Tree-Umph Adventure Course offers heart-racing challenges in its treetop courses (sometimes as much as 60 feet high), including rope bridges, dangling nets, tightropes and a 650-foot zip line. Don't worry; you'll be safely harnessed the whole time. There's even a senior option. 21805 S.R. 70 E., Bradenton; (941) 322-2130.
Best New Exercise Class
CircusoulYoga, owned and operated by trapeze artist Kerry Tice, is structured just like a regular yoga class, but with one big exception: Students are suspended in the air in bright-colored fabric hammocks, designed by Tice himself. Don't feel like leaving the ground? Circusoul offers other yoga classes for all levels—but there's something liberating about taking to the air. 1862 Seventh St., (941) 467-5884.
Best New Theater (Tie)
Florida Studio Theatre/Manatee Performing Arts Center
For Sarasotans, it's Florida Studio Theatre's renovated Gompertz, plus its brand-new John C. Court Cabaret, both of which have been welcoming patrons delighted with bigger lobbies, more restrooms and expanded auditoriums. For Manateeans, it's the long-awaited Manatee Performing Arts Center, adding to the luster of the riverfront in downtown Bradenton. Luckily, we can cross county lines to attend both.
Best New Work of Art
Out in Front
Sarasota Museum of Art scored a hit with Patrick Dougherty's newest "stickwork" sculpture, Out in Front, on the grounds of the old Sarasota High School, where thousands pass by every day on U.S. 41. Park your car and stroll around this intriguing fusion of nature and craft. Best part: Eager local volunteers got to help Dougherty create it.
Best Facelift for a Landmark
Bradenton's McKechnie Field was built in 1923 and is often called, because of its charm and history, "Florida's Fenway Park." For more than 40 years, fans have watched the Pittsburgh Pirates play spring training games there. Now a $7.5 million renovation has added new seating, fan plazas and better restrooms, sound and scoreboard—even a tiki bar. Ninth Street West and 17th Avenue, Bradenton, (941) 748-4610.
Readers' Picks
Best Art Gallery (not a museum)
Dabbert Gallery
Clothesline Gallery, State of the Arts Gallery
Best Festival or Special Event
Sarasota Chalk Festival
Forks and Corks, Ringling International Arts Festival
Best Fund-raising Gala
Wine, Women and Shoes
Cattle Baron's Ball, Van Wezel Foundation Gala
Best Performing Arts Group
Asolo Repertory Theatre
Florida Studio Theatre, Sarasota Ballet
Best Place to Hear Local Bands
5 O'Clock Club
Cock and Bull, Mattison's City Grille
Best Free Fun
Beach
Sarasota Bayfront,
Sarasota Farmer's Market
Best Place to Take Your Kids
Mote Aquarium
Beach, Sarasota Bayfront
Best Place to Meet Singles
Evie's
Beach,
Miller's Sarasota Ale House
Best Place to Work Out
Crunch
Sarasota YMCA, YouFit
Best Retirement Community
The Glenridge on Palmer Ranch
Sarasota Bay Club, Sunnyside Village
Best Veterinarian
Sarasota Animal Hospital
David Watkins (Animal Health Center), Gulf Gate Animal Hospital
Best Home Healthcare
Take Care Home Health
Approved Home Health, Comfort Keepers
Best Controversy
Public art
Homeless, Wal-Mart
Best Tourist Attraction
Beach
Mote Aquarium, Ringling Museum of Art
Best Citizen
Jack Ivins
Gil Waters, Paul Caragiulo
Best Local TV Personality
Scott Dennis
Bob Harrigan, Lauren Dorsett
Best Thing That Could Happen Here
Noise ordinance lifted
More flights out of SRQ, More jobs